In this article, we will discuss the following stocks: Apple Inc. (NASDAQ:AAPL), Microsoft (NASDAQ:MSFT), IBM (NYSE:IBM), Intel Corporation (NASDAQ:INTC), Cisco Systems, Inc. (NASDAQ:CSCO), Qualcomm (NASDAQ:QCOM) and Emerson Electric Co. (NYSE:EMR).
The stocks discussed are S&P 500 large cap or better and have above industry average returns on equity. Additionally, these stocks have great stories and positive catalysts for future growth. Nevertheless, they are being sold off hard by approximately three percent due to negative macroeconomic headlines from the Eurozone. If you have powder dry, this is an excellent opportunity to pick up some shares in the following stocks.
Company Reviews
Apple Inc., together with its subsidiaries, designs, manufactures and markets personal computers, mobile communication and media devices and portable digital music players, as well as selling related software, services, peripherals, networking solutions and third-party digital content and applications worldwide. The company is trading significantly below analyst estimates. Apple has a median price target of $500 by 47 brokers and a high target of $700. The last up/downgrade activity was on Oct. 14, 2011, when ISI Group initiated coverage on the company with a Buy rating.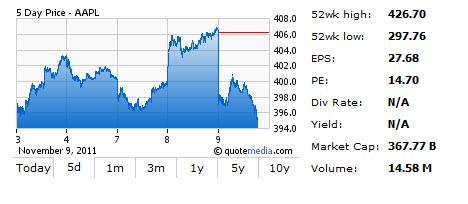 Microsoft develops, manufactures, licenses and supports a range of software products and services for various computing devices worldwide. Microsoft was founded in 1975 and its headquarters is in Redmond, Washington. The company is trading below analysts' estimates. Microsoft has a median price target of $32 by 26 brokers and a high target of $36. The last up/downgrade activity was on Sep 9, 2011, when Standpoint Research downgraded the company from Buy to Hold.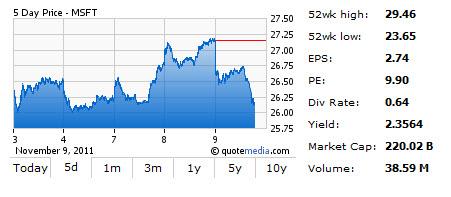 IBM provides information technology products and services worldwide. The company is trading slightly below analysts' estimates. IBM has a median price target of $200 by 21 brokers and a high target of $210. The last up/downgrade activity was on Oct 14, 2011, when Macquarie initiated coverage on the company with an Outperform rating.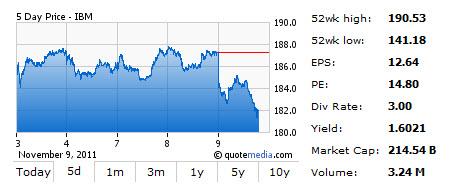 Intel Corporation engages in the design, manufacture and sale of integrated circuits for computing and communications industries worldwide. Intel Corporation was founded in 1968 and is based in Santa Clara, California. The company is trading slightly below analysts' estimates. Intel has a median price target of $27 by 38 brokers and a high target of $33. The last up/downgrade activity was on Oct 13, 2011, when Avian downgraded the company from Positive to Neutral.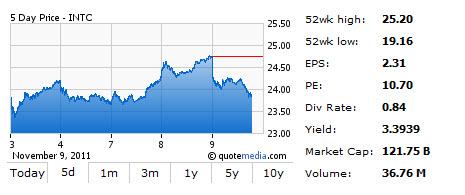 Cisco designs, manufactures and sells IP-based networking and other products related to the communications and information technology industry worldwide. The company is trading below analysts' estimates. Cisco has a median price target of $18 by 35 brokers and a high target of $25. The last up/downgrade activity was on Nov 1, 2011, when MKM Partners initiated coverage on the company with a Buy rating.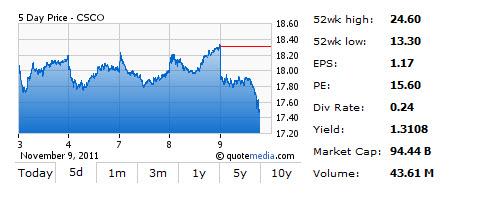 Qualcomm engages in the development, design, manufacture and marketing of digital wireless telecommunications products and services. The company is trading below analysts' estimates. Qualcomm has a median price target of $65 by 36 brokers and a high target of $75. The last up/downgrade activity was on Apr. 8 when MKM Partners upgraded the company from Neutral to Buy.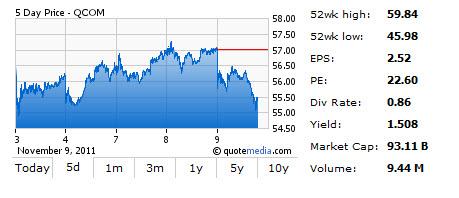 Emerson Electric Co. operates as a diversified manufacturing and technology company. The company is trading below analyst estimates. Emerson has a median price target of $54 by 20 brokers and a high target of $65. The last up/downgrade activity was on Oct 14, 2011, when Barclays Capital initiated coverage on the company with an Equal Weight rating.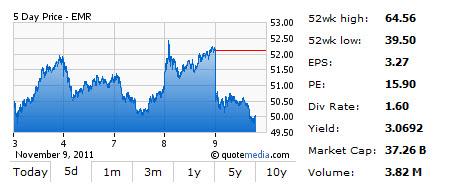 Compelling Fundamental Statistics
Above Industry Average Return On Equity
Return on equity [ROE] measures the rate of return on the ownership interest (shareholders' equity) of the common stock owners. It measures a firm's efficiency at generating profits from every unit of shareholders' equity (also known as net assets or assets minus liabilities). ROE shows how well a company uses investment funds to generate earnings growth. ROEs between 15% and 20% are considered desirable.
High ROE yields no immediate benefit. Since stock prices are most strongly determined by earnings per share [EPS], you will be paying twice as much (in Price/Book terms) for a 20% ROE company as for a 10% ROE company. The benefit comes from the earnings reinvested in the company at a high ROE rate, which in turn gives the company a high growth rate. The benefit can also come as a dividend on common shares or as a combination of dividends and reinvestment in the company. ROE is presumably irrelevant if the earnings are not reinvested.
Moreover, most of these stocks are trading well below consensus analysts' estimates, have recent upgrades, positive analyst comments and some pay dividends. Below are two tables with detailed statistics regarding each company's current summary and fundamental information.
Click to enlarge images
Summary Statistics
Fundamental Statistics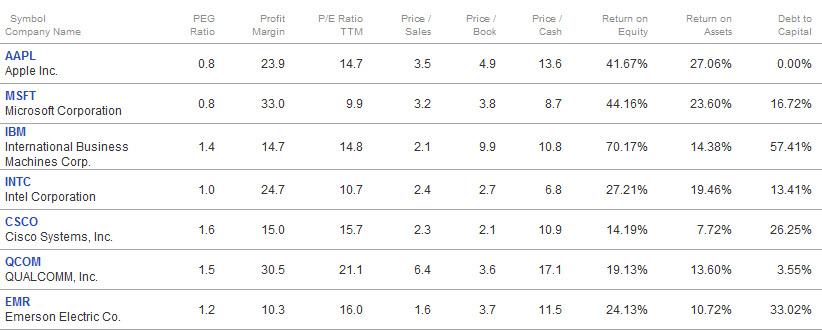 Market Backdrop
Today's sell-off has totally reversed advances attained in the prior two sessions. The market ascended two percent over the past two sessions. Worries about Italy's ten year bond vaulting above the seven percent mark spooked the market. The seven percent mark is seen as the point of no return by many due to the fact that this was the level where Greece's debt burden eventually became unsustainable. Market sentiment took a nose dive as investors were blindsided by Italy's negative reaction to Silvio Berlusconi's impending resignation. Many analyst though this announcement would sooth the markets nevertheless, the markets seems to be saying Berlusconi isn't leaving soon enough.
The U.S. market turned abruptly lower. The drop is broad based. All ten sectors are being driven lower. The telecom sector is down the least, with a one percent drop, while the financial sector has posted the largest loss, with a three percent loss. The Volatility Index has surged more than 15% after dropping in the previous five sessions. Traders have embraced a flight to safety pouring into the U.S. ten year bond and the dollar.
Based on several bullish technical indicators, the market's unending resilience in the face of continual negative headlines, the performance of S&P 500 stocks this earnings season and a bullish outside month in October, I believe the market is setting up for a year-end rally. Additionally, top analyst Joe Terranova of CNBC's Fast Money and Virtus Investments made some prescient points in his latest blog regarding the positive developments to come based on current event. Joe stated;
Italian bond yields (Figures 1.1 & 1.2) have risen rather dramatically this week despite some political actions that should eventually lead to a favorable resolution for the European Union's third largest economy, Italy.

Prime Minister Berlusconi has pledged to resign after losing his majority.
The removal of Berlusconi is a necessary component in order to give confidence a chance to reemerge.
Currently absent is confidence in the ability of Italian government officials to navigate its budget away from a bond default.
Answer this question: How many times has the stock market roared back after a correction? The fact is, every time. If you told someone in 1987 on Black Monday that the Dow would be almost ten-fold higher within 20 years' time, that person would have called you crazy, but you would have been correct. Who is to say how high the market can climb from here? Bespoke Investment Group is always digging up interesting statistics. Here is one I feel pertains to the current environment.
Bespoke Investment Group stated on CNBC's Street Signs:
Since 1928, S&P (NYSEARCA:SPY) averaged gain of 5.55% in quarter after a 10%+ down quarter and 17 of the last 21 economic indicators have come in better than expected, indicating the fourth quarter could be a snap back quarter.
Those are pretty good odds. I believe the European sovereign debt issues will be resolved. The stranglehold they have had on the markets is soon to be released, so we can go back to focusing on fundamentals. 70 percent of companies in the S&P beat estimates this earnings season-- a statistic lost in the whirlwind of Eurozone turmoil. Today is a great buying opportunity.
Conclusion
It is hard to think beyond the current state of affairs when negative preoccupations always seem to repeat themselves, and you are stuck on a roller coaster ride of continual highs and lows, but the ride inevitably ends, the storm clouds clear, and you feel the first ray of hope shine down. The problem is that it's already too late to buy due to the fact all the savvy investors bought in and ran up the price while you were hiding in your storm cellar. Fortune favors the bold. Hopefully, you can take advantage of these amazing buying opportunities.
I'm not saying that you should buy into a full position today, but this may be a good opportunity to start picking up some shares, maybe a tenth or a quarter at a time. There may be more volatility in front of us, even with the more than 10% drop in the market recently and the restructuring of Greek sovereign debt. Nevertheless, this may be a good point to start a position in buying opportunities.
Disclosure: I have no positions in any stocks mentioned, but may initiate a long position in AAPL, MSFT, IBM, INTC, CSCO, QCOM, EMR over the next 72 hours.
Disclaimer: This is only the first step in finding winners for your portfolio. Please use this as a starting point for your own due diligence.