Youku (NYSE:YOKU) will announce its 3Q11 results on November 16th. The Street expects the company to report a net loss of $0.03 on $39.85 million in revenue.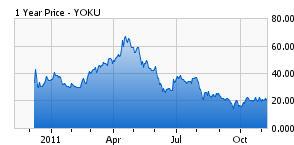 Last quarter, the company reported a net loss of $4.3 million (-55% y/y) on $30.6 million (+178% y/y) in revenue. The number of advertisers on Youku increased to 260 in 2Q11 from 203 a year ago, and average spending per advertiser more than doubled. However, the content cost also increased by 169% from a year ago and accounted for 25% of the revenue. For 3Q11, the management gave an upbeat guidance of Rmb 241 to Rmb 253 million (+110-120% y/y) in revenue, compared to Street consensus of Rmb 232 million.
Heading into the earnings, Youku needs to show that it has the ability to maintain its market share while controlling the content cost.
China's online video industry is highly unattractive and unprofitable because none of the proven North American online video models is successful in China. The YouTube (NASDAQ:GOOG) model, which is widely successful here in the U.S., is difficult to monetize because it is heavily based on user-generated content (UGC) and Chinese viewers prefer professionally produced content (PPC), such as dramas and movies. Netflix's (NASDAQ:NFLX) subscription-based model is also difficult to monetize due to widely available pirated contents in China. Finally, Hulu's revenue sharing model is also unattractive because Chinese content producers are unwilling to venture into the online video market due to its unproven environment.
Because Chinese viewers mostly prefer PPC, the majority of online video sites focus on building their PPC library, which has resulted in skyrocketing content cost (+100-200% y/y) due to aggressive bidding wars and little differentiation in content among the video sites. Needless to say, user stickiness on any one of the sites is close to nonexistent because the user can find similar PPC on multiple sites.
Youku also faces many competitors, including Sohu Video, Tudou (NASDAQ:TUDO), Baidu's (NASDAQ:BIDU) Qiyi, Tencent, Renren's (NYSE:RENN) 56.com Xunlei, and Ku6 (NASDAQ:KUTV). Management needs to focus on increasing user stickiness by not wagging on expensive bidding war but to creating unique and attractive in-house productions to differentiate its content from that of the competitors. For example, Sohu Video has seen the biggest jump in market share over the in the first half of the year partially due to its success in in-house dramas, including Leftover Lady (钱多多嫁人记) and Crazy Office Dream (疯狂办公室), which had over 50 million and 80 million viewings, respectively, two months after launch.
Continued acquisition of PPC is an unsustainable business model. Content cost is likely to rise in the foreseeable future and bidding wars can only increase Youku's cost and squeeze its margins. Ideally, Youku should place greater emphasis on in-house productions to lower its cost and differentiate its content from those of the competitors.
Disclosure: I have no positions in any stocks mentioned, and no plans to initiate any positions within the next 72 hours.