Agency mREITs continue to provide excellent dividend yield returns to investors. The turbulent sovereign euro debt crisis has directly impacted mortgage real estate investment trusts (mREITs). Agency mREITs make money by borrowing funds at short term yield curves and investing in higher yielding government sponsored entity (GSE) mortgage backed securities (MBS). GSE securities are guaranteed by the federal government.
Net Yield Curve Impact Upon Dividends
The net yield curve is the extent an mREIT earns income and, in turn, pays dividends. The euro debt crisis has continued to draw money into Treasury Bonds, thus lowering longer duration Treasury Bonds and GSE mortgage backed securities. This has decreased the net yield curve, and potentially will cause future dividends to decrease from present levels. Regardless of any dividend decreases, the yields would drop from presently lofty dividend levels of 14% to 20%. The net result would be a high yield, but not quite as high as recent dividend payouts. The top tier mREITs have book values which will provide support for their stock prices.
Article Focus
I will highlight agency mREITs that are excellent buys for a portfolio. There is one hybrid mREIT which should be avoided by investors. An agency mREIT has an implicit 100% backed guarantee from the U.S. federal government. Agency mREITs own only GSE MBS. Hybrid mREITs, on the other hand, own agency mREITs and non agency mREITs. Non agency MBS have zero guarantees from the U.S. federal government.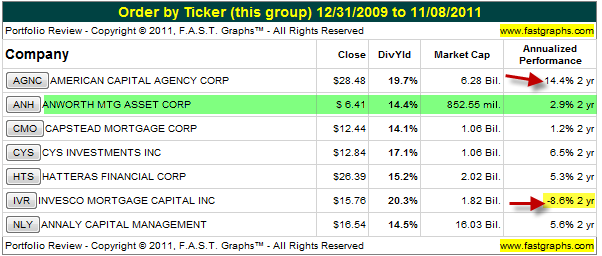 Anworth Mortgage Asset Corporation (NYSE:ANH)
Anworth, in the agency mREIT sector, is trading at the best valuation. Per the below table, Anworth's November 9th close of $6.28 represents a price to book value per share of 90.62%. Anworth owns only agency MBS. Agency MBS can be traded in volume and quickly during the trading market hours.

Anworth's yield is 14.4%. This is based upon historical data, and the dividend could go down due to the flattening short term and long term Treasury Bonds yields. I believe Anworth offers the best value in terms of buying an agency mREIT today. My personal belief is the largest agency mREITs offer the best management teams to manage agency MBS.
To play devil's advocate, Anworth has provided a very low return when compared to other agency mREITs. Anworth has provided shareholders a total annualized rate of return - between December 31, 2009 through November 8th 2011 - of 2.9%. This assumes dividends are not reinvested by the shareholder.
AGNC: Best Agency mREIT
I personally believe American Capital Agency Corp. (NASDAQ:AGNC) provides investors the optimal agency mREIT holding. The table above highlights American Capital Agency's total annualized rate of return of 14.4%. Management is highly competent and focused upon mitigating risk. American Capital Agency has outperformed, on a consistent basis, its peer group. The company has paid a $1.40 dividend for nine consecutive quarters.
Investors recognize American Capital Agency's out performance. American Capital Agency trades at the highest price to book value per share. The shares trade at a 3.22% premium versus the discount to net asset value in other mREITs.
I also own CYS Investments (NYSE:CYS) and Hatteras Financial Corp (NYSE:HTS). Both companies have provided positive returns to shareholders via capital appreciation and dividends. CYS Investments offers a current 17.1% dividend yield and Hatteras offers a 15.2% dividend yield.
Owning a collection of agency mREITs can reduce the exposure to serious hedging mistakes on the part of any one one company. The net yield should be very favorable in a declining interest rate environment.
Biggest Agency mREIT
Annaly Capital Management, Inc. (NYSE:NLY) has the largest agency MBS assets under management. Founders Michael Farrell and Wellington Jamie Denahan-Norris have formed Annaly into a multi dimensional enterprise. The company is an external manager for other publicly traded mREITs. In addition, Annaly provides a diverse collection of MBS related duties for itself and the industry. This is the name investors should seek due to the size and respect of the entire organization.
Agency mREIT with Insider Buying
Capstead Mortgage Corp. (NYSE:CMO) has insider buying as of November 1st. Here is the insider buying transactions:

As most investors know, an insider purchase can sometimes be perceived as a positive sign. The insider has in depth knowledge of the company and may be convinced the company is on the right track for out performance. Capstead manages a leveraged adjustment rate mortgage (ARM) portfolio.
Hybrid mREIT To Avoid
Invesco Mortgage Capital (NYSE:IVR) has done very little right since its initial public offering. The negative 8.6% annualized rate of return is financially embarrassing. The book value per share has continued to decrease.
In my humble opinion, most mREIT investors should focus on agency mREITs. This way they know the holdings are guaranteed by the U.S. government. Owning non agency MBS, which Invesco does, in a declining economy does not make sense. Mortgage payment delinquencies has recently increased, which is a notable event. As unemployment is not improving, more and more households can not make their mortgage payments. If the mortgage is not guaranteed by the U.S. government, then the mortgages loses its luster and value.
At this point, my belief is avoid Invesco Mortgage Capital. At the very least, let management prove they are on the right track. I do not possess any reliable knowledge the company is on the right track. Words are words, but facts and results speak for themselves.
Summary
The demand for agency MBS is incredibly strong right now. Sovereign credit default swap prices are escalating at an alarming rate. The U.S. has the lowest risk of credit default. Greece, Spain, Italy, Portugal - to name a few - are displaying a very high risk on traders' minds. This table provides a glimpse of the increase in credit default swap prices based upon November 9th trading:
Click to enlarge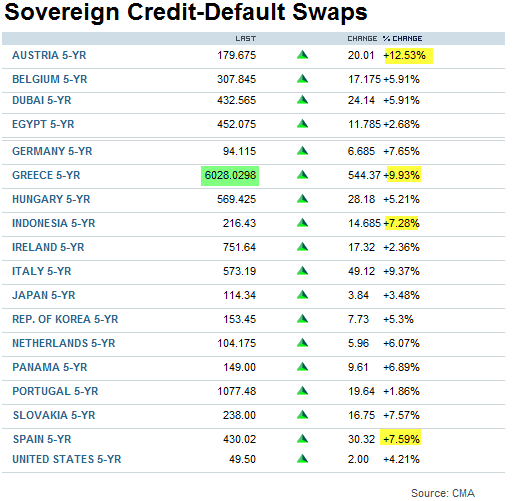 If investors own currency which may default, many are selling the riskier currencies and flooding funds into U.S. guaranteed bonds. This has caused the U.S. Treasury to report the current 30-year Treasury Bond yield at 3.03% as of November 9th: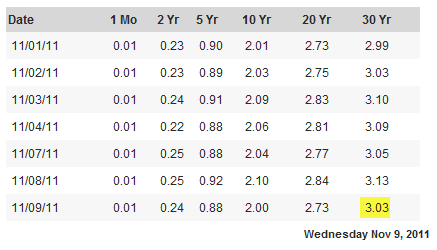 The fact that agency mREITs hold MBS guaranteed by the U.S. government is reassuring to investors. Investors are seeking preservation of capital. There will be a time where they will move their money out of U.S. Treasury Bonds for higher return on capital investments, but right now it is time to protect the capital. The U.S. is the best choice at the present time.
My recommendation is to buy a basket of agency mREITs: Anworth Mortgage Asset Corporation (ANH), CYS Investments (CYS), Hatteras Financial Corp (HTS), Annaly Capital Management, Inc. (NLY), and American Capital Agency Corp. (AGNC).
Disclosure: I am long AGNC, ANH, CYS, HTS, NLY.