The Indian rupee could be in a position to move higher against the Japanese yen as low inflation is fueling consumer confidence and economic activity measures. The rupee is represented by WisdomTree Indian Rupee (NYSEARCA:ICN).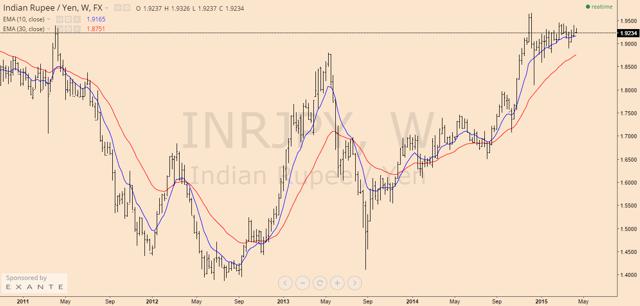 Data provided by Trading View
Falling inflation has aided sentiment and spending over the last year. In March, the inflation figure came in at an annual pace of 5.17%, down from the previous month's reading of 5.37%, while also missing estimates for 5.5%. Since the beginning of 2014, inflation has fallen from 11%, to current levels, seen below. India is a net-importer of energy, and consumers have been aided by falling prices.
"The RBI said last week that it expects consumer inflation to stay at current levels in the April-June quarter, helped by weak oil and food prices, but rise to 5.8 percent by the end of the year," according to Reuters.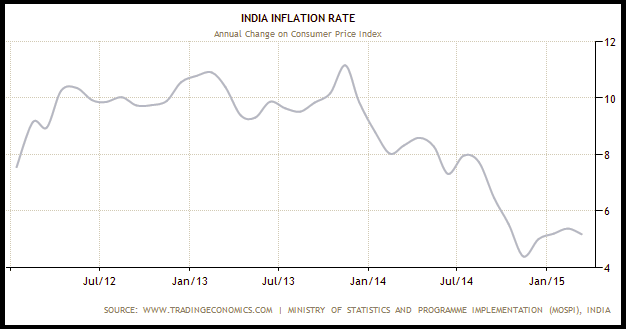 Moreover, falling consumer prices have improved sentiment measures. In the fourth quarter, the consumer confidence figure came in at 129, up from a reading of 126 the previous. As interest rates have been cut, and price pressures fell, the consumer confidence measure has risen by 18% in the last year, seen below.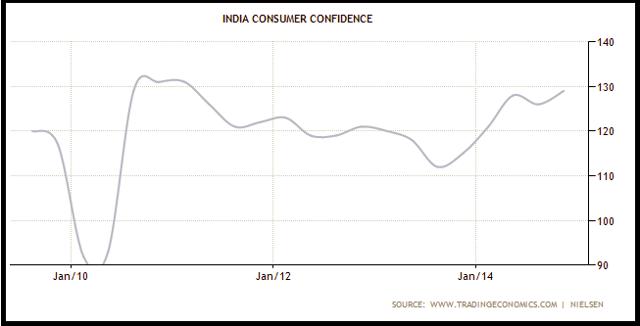 With strengthening consumer spending, economic activity in India accelerated higher. In the fourth quarter, the economic growth figure came in at an annual pace of 7.5%, down from the previous quarter's revised reading of 8.2%, but well above estimates for 5.5%. Since bottoming in 2012 at 4%, economic growth has trended steadily higher. Alongside household spending, a number of sectors in India saw increasing activity.
"According to new numbers, in the last three months of 2014, the highest growth rates were reported for services: electricity, gas, water supply and other utility (10.1 percent); trade, hotels, transport, communication and services related to broadcasting (7.2 percent); financial, real estate and professional (15.9 percent) and public administration, defense and other services (20 percent)," according to Trading Economics.
India's economy is clearly trending higher, and compared to many of its Asian counterparts, its currency could strengthen. Falling inflation measures are aiding India as it is a net-importer of energy. Moreover, consumer confidence has increased with falling price pressures. With economic activity trending higher, expect the rupee to outperform slower growth currencies, such as the yen, in coming months.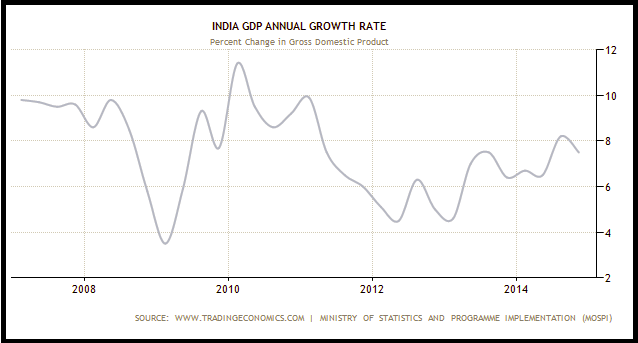 Disclosure: The author has no positions in any stocks mentioned, and no plans to initiate any positions within the next 72 hours.
The author wrote this article themselves, and it expresses their own opinions. The author is not receiving compensation for it (other than from Seeking Alpha). The author has no business relationship with any company whose stock is mentioned in this article.