With Greece's Prime minister resigning and Italy's prime minister promising to do the same, the global economy is being shaken to the core. Stocks tumbled 3 percent on Wednesday as Italy joined the European debt crisis.
Italy's bond yields shot up to 7.5 percent, a new high since the euro was introduced in 1999. Greece, Portugal and Ireland were forced to get bailouts after their rates rose above 7 percent.
Is the U.S. vulnerable?
A European recession won't necessarily pull the U.S. under, but it will move the U.S. stock market, more specifically the financial sector, and it will hinder U.S. recovery and growth.
As evident Wednesday, the S&P financial index (NYSEARCA:XLF) was the hardest hit sector, dropping 5.4 percent. U.S. banks stocks, such as J.P. Morgan Chase (NYSE:JPM), fell 7%, Morgan Stanley (NYSE:MS) fell 9% and Goldman Sachs (NYSE:GS) fell 8%.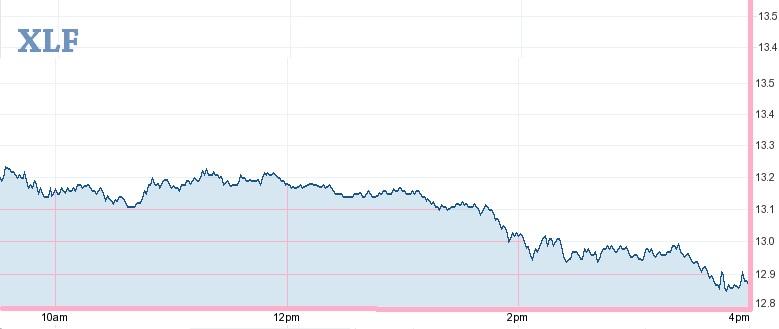 XLF sank because U.S. financials such as JPM, GS, and MS, may be exposed to French banks. This can pose a problem in the event that financial problems deepen in Italy leading to defaults.
Unlike Greece, Portugal, and Ireland, Italy's 1.9 trillion euros ($2.6 trillion) of debt is too high to bail out. Italy has too much debt, almost six times as much as Greece, and Italy's economy is not growing strong enough.
Since Italy is the third largest bond market in the world and the third largest economy in Europe, French banks are severely exposed to debt from Italy.
A more pressing concern is the obstacle the Eurozone poses to U.S. recovery and growth. The Eurozone is one of the largest destinations for American exports, so trouble in Europe consequentially impacts America's exports and domestic jobs, and dents its growth.
American companies doing business with Europe are also not spared. For instance, General Motors (NYSE:GM) said that its third-quarter net profit dropped 15 percent from last year due to losses in Europe. The drop in income is forcing GM's management to look at more ways to cut costs in the region.
However, Italy's problem is different from Greece and other European countries. Italy has a pretty diverse economy with high gross domestic product (GDP) standing at about 120 percent. Italy has a lot of industrial companies in manufacturing, fashion, tech, and agriculture. Italy remains at the mercy of the region's political circus that needs to be sorted out before any real economic progress can be made. With the right support from the government, Italy can get its act together.
Uncertainty over who will be Greece's next leader and Italian Prime Minister Silvio Berlusconi's decision on resignation will continue to move the U.S. stock market in the coming days. Most exposed will be the U.S. financials first and later U.S. companies that rely heavily on exports to Europe.
Disclosure: I have no positions in any stocks mentioned, and no plans to initiate any positions within the next 72 hours.