Experienced investors have learned a very important thing about investment timing: when financial experts sing in the chorus about buying a stock, it is time for investors to sell or short that stock.
Homebuilder stocks are a good example. In 2005-7, as these stocks were heading for the moon, popular stock analysts raved about their "solid" fundamentals. They argued that any pull back would be short-lived, as the FED is standing by to provide "insurance" by lowering interest rates. As it turned out, the pull back in homebuilder stocks wasn't temporary, even as the FED cut interest rates to near zero. The rest is history.
Click to enlarge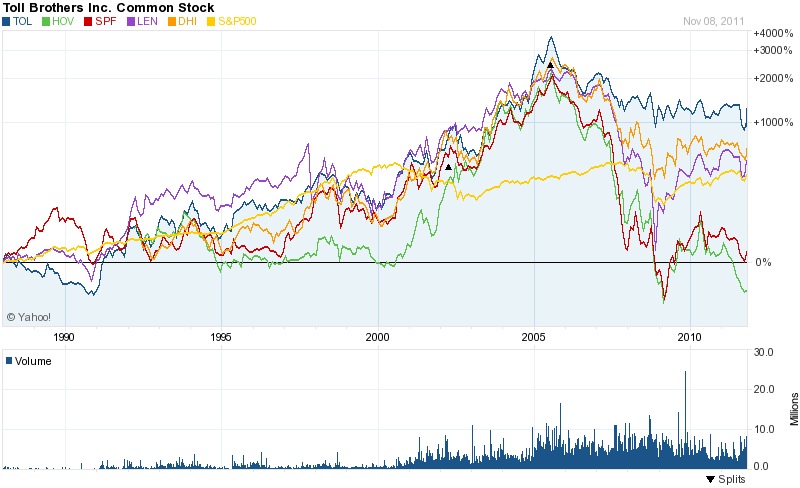 Now, the same analysts are prompting their followers to sell or stay away from homebuilder stocks as they trade at historically low levels. It is time to buy. Besides, economic fundamentals for the industry have been improving: New home inventories are declining; homebuilder confidence is improving; home prices are stabilizing; and industry leaders like Toll Brothers (NYSE:TOL) have been reporting better than expected earnings results. But which homebuilder stocks offer the best appreciation potential?
Conservative investors may want to bypass this question by buying an ETF investing in homebuilder stocks like SPDR Homebuilders (NYSEARCA:XHB) and Ishares Dow Jones Home Builders (BATS:ITB), or buy the shares of diverse homebuilders like D.R.Horton (NYSE:DHI). Aggressive investors may want to accumulate the shares of individual homebuilders that have been taking steps to address the housing crisis early, like Lennar Corporation (NYSE:LEN), Toll Brothers, Standard Pacific (SPF), and Honvanian Enterprise (NYSE:HOV)—though due diligence is recommended.