Tricon Capital Group (OTC:TCNGF) is a great Canadian company that mostly operates in the US. It is an asset manager and principal investor focused on the residential real estate industry in North America with approximately $2.3 billion of assets under management.
Tricon has numerous streams of revenue, its Private Funds and Advisory fees comprise 15% of its total revenue, the remaining 85% where Tricon earns its revenue are further divided into three areas:
Tricon Housing Partners - development oriented investment funds.
Tricon American Homes - investment and management of U.S. single family rental homes.
Tricon Lifestyle Communities - investment in manufactured housing communities.
Tricon owns a diversified portfolio of residential rental homes in both the U.S. and Canada. Their main focus is on single family rental homes, manufactured housing communities and co-investments in residential properties which they manage for a fee. Their objective is to invest in projects that offer both investment income and capital appreciation.
Tricon is focused on four major geographic markets in Canada (Toronto, Calgary, Edmonton and Vancouver) and eight major geographic markets or regions in the United States (Northern California; Southern California; Dallas and Houston, Texas; Phoenix, Arizona; Charlotte, North Carolina; Atlanta, Georgia; and Southeastern Florida). [Source: triconcapital.com]
Tricon is very progressive in their Environmental, Social and Governance philosophy(NASDAQ:ESG). they partner with organizations and individuals who share their values of responsible real estate development. This philosophy is central to their business and guides their approach to corporate citizenship. This approach centers on the philosophy of good ESG, which has been shown to produce superior returns.
Tricon is aware of the impact real estate development can have on the environment and try's to act as a responsible developer of the "urban environment". In the past, they have backed projects rehabilitating brownfield sites by cleaning away environment damage.

Data source: GlobeInvestorGold.

Data source: GlobeInvestorGold.
In the last year their revenue has more than doubled, and the last 3 years of revenue growth have been phenomenal. Their business model has paid off with more years of positive N/I then not, and the size of the profits is only increasing.
TCN just declared a dividend. Which will provide a decent dividend yield of 2.11% based on April 10, 2015 prices.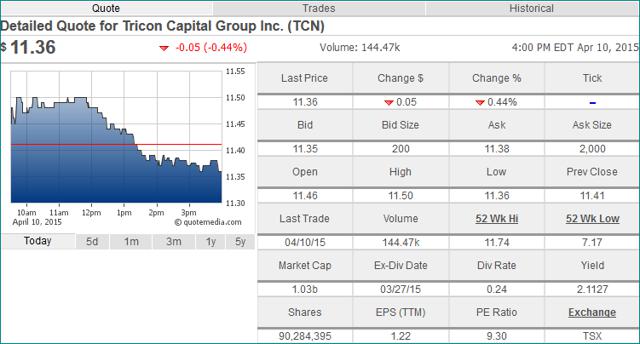 Source: triconcapital.com.
Why I like the company
Long-term prospects
a. Industry prospects
Tricon's success is highly dependent on the overall economic health of the housing sector which as we have seen in recent years is very dependent on the overall health of the US economy. All evidence points to a strengthening of the US economy over the last year, especially in its ability to grow jobs. The housing market is only starting to reap the rewards. Naturally with jobs growing and inflation in check, there is still further momentum in the U.S. economy. The out-going CEO of Tricon recently went on BNN(Business News Network in Canada) to talk housing. He remains very optimistic on the future of housing and the US economy. This is what he had to say: "The price of oil is low, consumer confidence is high, and there are job creations. As for the state of the housing market, it is still in its early days".
Recent predictions that have been made by various sources:
Prices will rise, but a little slower: Realtor.com predicts an annual gain of 4%-5%.
Rent increases will overtake home price appreciation: Dr. Stan Humphries, Zillow chief economist forecasts that rents will rise 3.5% in 2015, outpacing his predicted 2.5% for annual home price gains.
Most important, markets will be driven by fundamentals: "Next year the housing market will be driven more by underlying economic fundamentals-job growth, incomes, household formation-than by macro-economic factors such as national price crashes. Mortgage interest rates and price recovery have driven the housing market nationally for a long time now, notes Richardson. "Now we're seeing that those factors aren't nearly as important as local economics: how is the economy doing in Detroit, Baltimore, Denver," she says." [Source]
b. Management
Composition of senior management is great, they are not leaving unexpectedly. Recently the CEO David Berman retired but will be replaced with someone that has been with the company for a long time. The departing CEO will still be active as he chairs the company's investment committee. He will be replaced by long time Senior manager Gary Berman. "Gary Berman has been an invaluable member of Tricon's senior team for many years now", Co-Founder and Director Mr. Matus Said. "As President and COO he has led much of the Company's growth, and its diversification into new business verticals in recent years, which made him the obvious choice to succeed David and continue building on our success". [Source]
They are Able to execute growth plans while turning a profit! Recently Tricon Increased its portfolio of US single-family rental homes by nearly 30 per cent. They are also accelerating American Homes' growth strategy by purchasing homes in target markets at attractive prices. Average purchase prices have approximately been USD$108,000 per home with average existing rents of approximately USD$1,070 per month. This translates into yearly rental return of (12*1070.00)/108,000=11.88%. This return measure does not take into any price appreciation that will most likely push the return number higher.
Valuation
Valuation will be based on the H-model of the DDM. This method has been picked because of the current super fast growth rate that TCN is experiencing. But as with all fast growing sectors more competitors will eventually enter.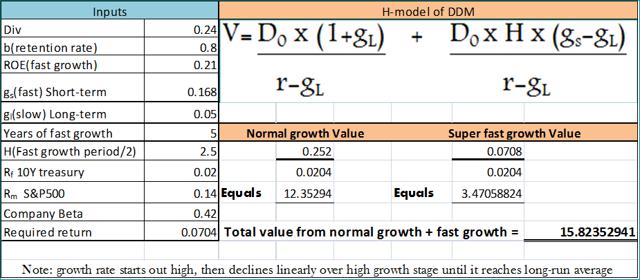 The calculation, based on reasonable and conservative estimates predicts share price should climb to $15-16. This is a 35% increase in prices compared to recent trading averages. I feel that TCN should experience above average growth for a few years to come; I have chosen 5 years for above average growth rates. Required return is based on the CAPM and 14% return on the S&P500 is based on price appreciation and dividend yield.
Key Risks
Housing prices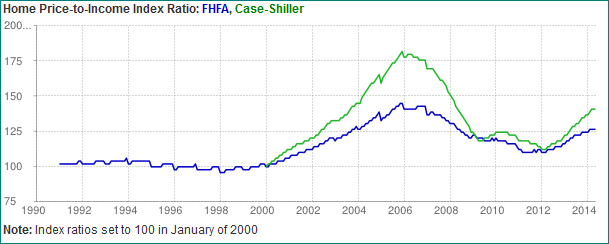 Housing prices are higher then their historical norms but TCN is looking to make most of their money from rental income and advisory fees. As you can see from the Economist's title, prices are higher, but not hyper.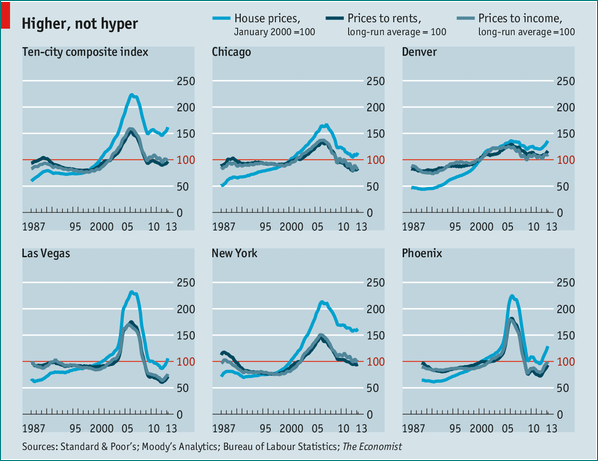 The Bottom Line
Tricon is well poised to make above average returns for the foreseeable future. With their long-term and very experienced management team they will keep making profitable decisions.
Disclosure: The author has no positions in any stocks mentioned, but may initiate a long position in TCNGF over the next 72 hours.
The author wrote this article themselves, and it expresses their own opinions. The author is not receiving compensation for it (other than from Seeking Alpha). The author has no business relationship with any company whose stock is mentioned in this article.