The past week was packed with fresh concerns over Greece, combined with renewed ECB Italian bond purchases and RBA and ECB interest rate cuts and that only got us to Thursday. Despite the relative strength of equity and risk markets, the economic situation here in the US and abroad is tenuous at best, and we believe the next few months will turn fears of renewed recession into reality.
The following charts show the CRB Raw Industrials as well as the GSCI Total Return index.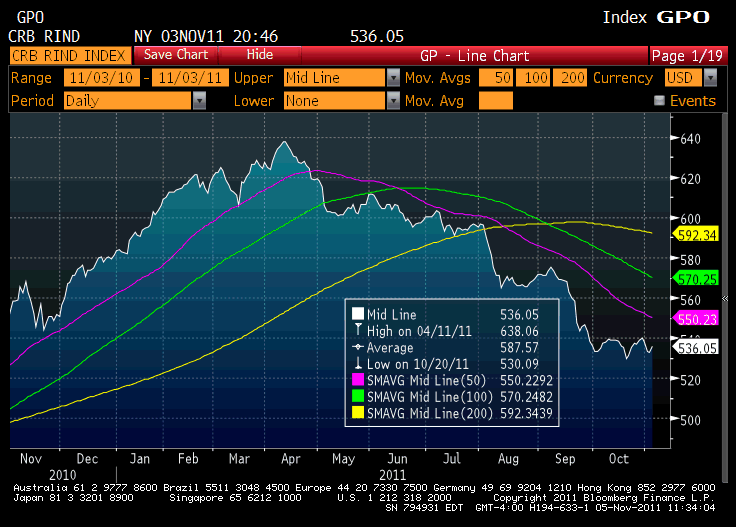 Chart Courtesy of 11/04 Commodity Analyst Newsletter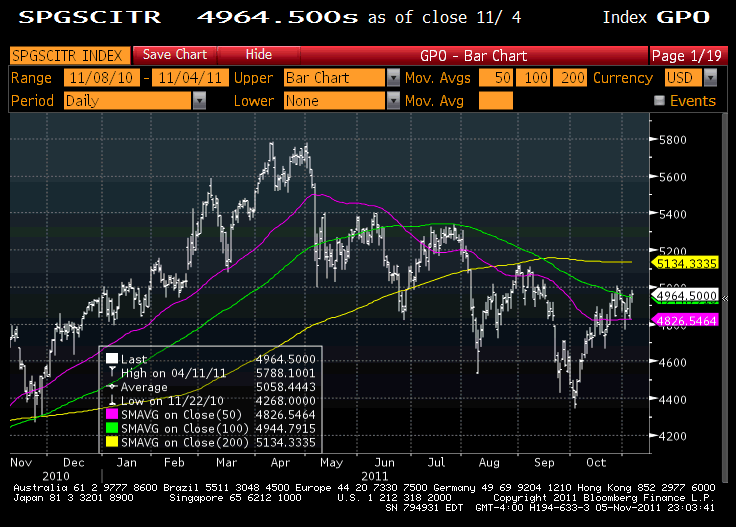 Chart Courtesy of 11/04 Commodity Analyst Newsletter
As can be seen, the CRB RIND continues to show no signs of rallying despite the GSCI index as well as the S&P 500 remaining at elevated levels as compared to early October. This ongoing situation is consistent with our view that the global economy is suffering from a lack of aggregate demand rather than simply dealing with the European debt crisis. By contrast, the equity and speculative commodity markets have already priced in a fairly rosy economic future after October's spectacular run. As we will discuss below, it is our view that the bulk of the economic softening has yet to begin, and that this optimism will quickly fade as recession becomes reality in the developed world.
Europe
The following charts show the German, Italian and French Purchasing Managers Indices. This is a survey of purchasing managers in these countries, and is frequently used as a forward gauge of economic activity.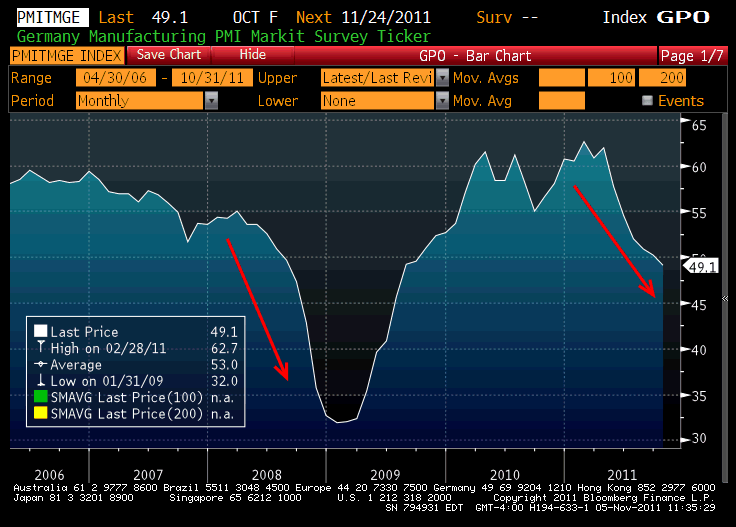 Chart Courtesy of 11/04 Commodity Analyst Newsletter -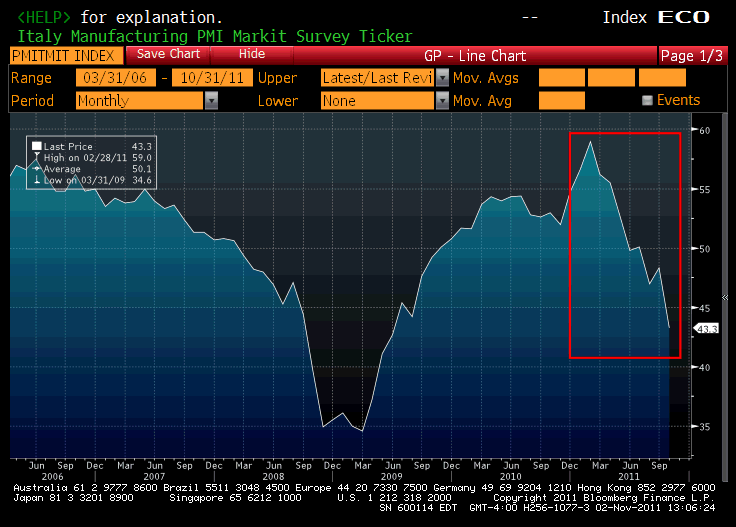 Chart courtesy of 11/04 Commodity Analyst Newsletter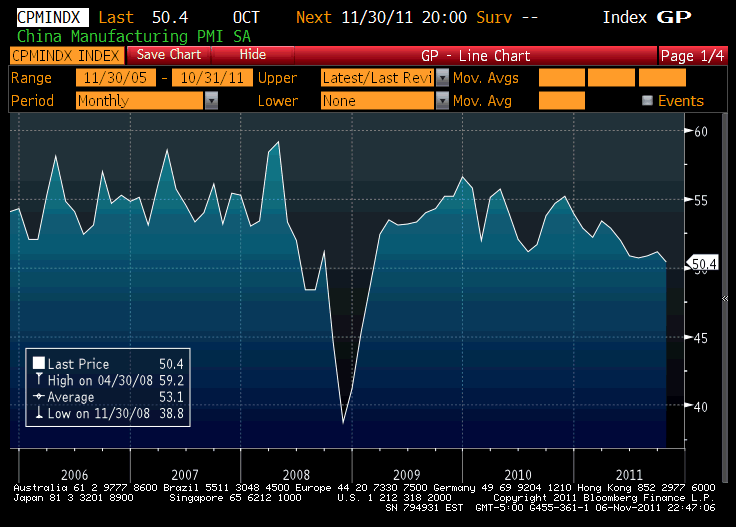 Chart courtesy of 11/04 Commodity Analyst Newsletter -
Viewing these charts is downright scary given their aggressive, vertical dropoffs recently. Italy and France are trending almost straight down, with multiple months under 50, which signals contraction. Now, even Germany has crossed below 50. These figures are consistent with Europe re-entering recession.
Indeed, even Mario Draghi, the new ECB President, indicated that Europe is headed for a "mild recession" by year-end. Considering how massively overleveraged both Europe's banks and Europe's sovereigns are, is there really a possibility that this recession will simply be "mild"? Given how deeply even countries like France are now cutting spending, these austerity measures will cut deeply into European GDP and cause already weak economies enter protracted recessions.
Also, European banks must refinance 1 trillion euros of senior debt in the next year, a truly staggering amount. The drastic coincident dropoff in bank lending that is about to happen in Europe will cripple growth in the region for years. As we detailed last week, European banks are massively overleveraged and undercapitalized as compared to their American and Asian counterparts. Because of the concern around European banks, there has only been one debt deal done by a European bank, Deutsche Bank, in the last 3 months.
The European Banking Authority has already asked that the EFSF be used to guarantee some bank debt to jumpstart the bank debt market, but there is absolutely no money for this. The EFSF is already stretched to its limit (and much farther in our opinion) by the implied guarantees on Italian debt, so there is not a single cent left for bank guarantees.
Instead, the EU's decision was to have each nationality assist in recapitalization of their own domestic banks, if necessary. The problem with this is that the European banking system is so bloated as compared to the size of the European economy that this is an impossible task. BNP Paribas alone has 809b euros in short-term borrowings, while France as a country has only 1.6 trillion euros in outstanding debt! Even a slight, partial guarantee of bank financing by France would cause an immediate French sovereign downgrade, which would cause this crisis to come to a head very quickly.
Since the ability of the EFSF and/or nationalities to assist bank refinancing is limited at best, European banks will be forced to make up the bulk of the capital shortfall and bond maturities by firesaling assets. Herein lies yet another problem, in that the majority of European banks' assets are proprietary bank loans, not publicly-traded stocks and bonds. Because 80% of private capital in Europe comes from direct bank lending rather than public stock and bond markets, European banks are bloated with private loans. Disposing of these illiquid, proprietary assets will be an extraordinarily difficult and lengthy process due to the one-off nature of these loans and the fact there are no ready buyers. While private equity firms and other banks will be willing to absorb some of the more attractive loans at bargain prices, the aggregate buying power of these parties is capped in the low 10s of billions, while the European banks will likely need to offload at least half a trillion.
The recent decision of the EU that banks increase their tier-1 capital ratio to 9% by June 2012, combined with the massive bank refinancing, means that banks will not only be disposing of assets, but that their new lending will be severely constricted. Without new credit, a massively overvalued currency, and no engine for organic growth, Europe will and has already begun to fall into a deep recession. As European GDP decreases, their debt and deficit to GDP metrics will get worse and worse, further exacerbating the problem. And if you think the US will somehow be spared from this, think again. The following chart from Google Public Data Explorers shows US GDP growth vs. Germany over the past 40 years.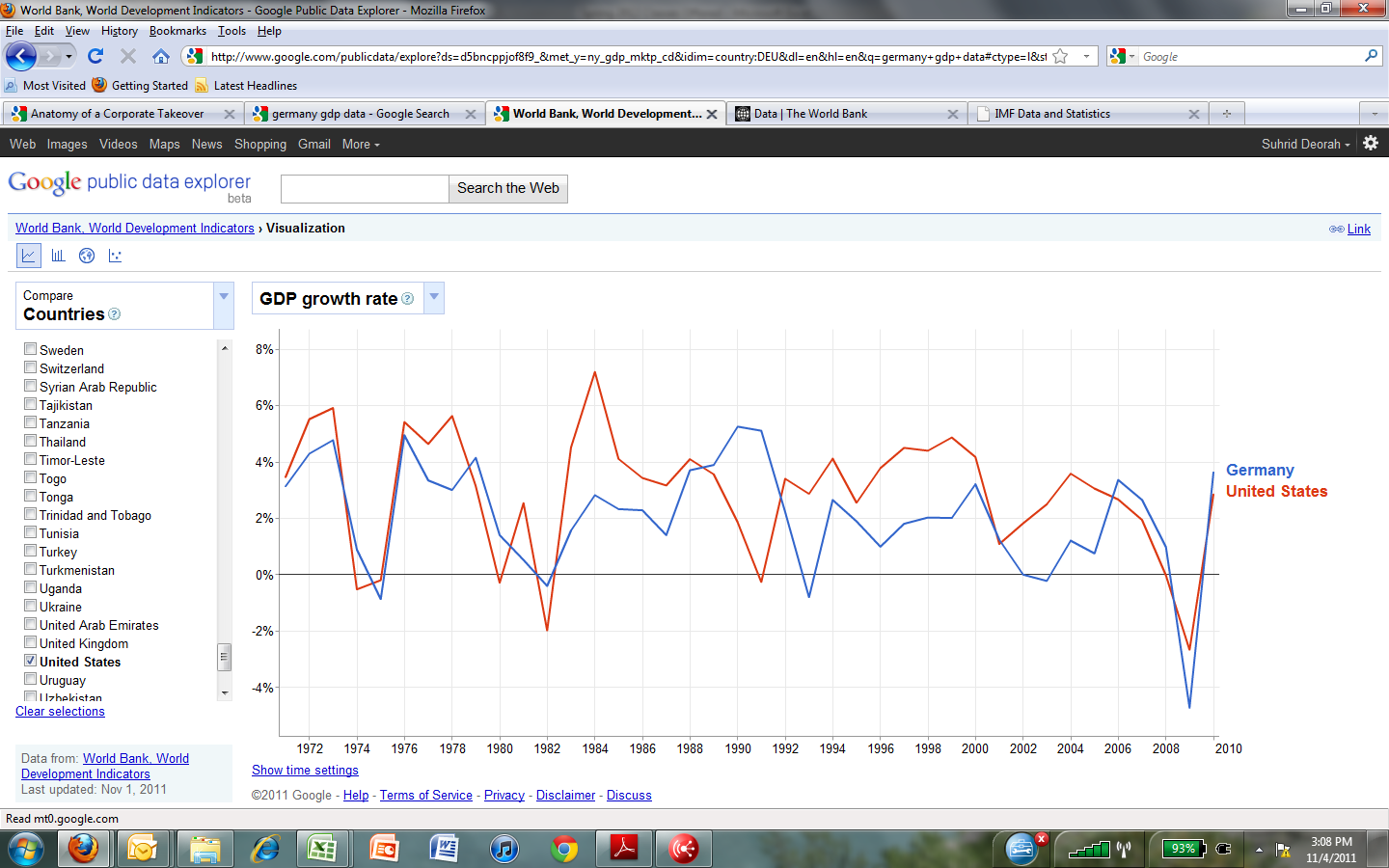 Chart courtesy of 11/04 Commodity Analyst Newsletter

As can be seen, there has never been a period in which either the US or Germany suffered a growth slowdown without the other following suit. In short, if Europe goes into recession, so does the United States.
Trade Recommendation
While our economic thesis continues to revolve around Europe, our trade recommendation may be somewhat surprising. We recommend shorting the Australian dollar at a price of 1.035 or better.
As the Australian economy is basically entirely dependent on China, the Australian dollar has become a great proxy of both risk aversion and global economic concerns. If things go badly in Europe, China will undoubtedly slow as China's largest trading partner, Europe, enters recession. Also, because Australia has the highest interest rates in the developed world, traders' reliance on its "carry," meaning holding long positions in the AUD while funding it with short positions in low-yielding currencies like the USD, means that traders will sell AUD and buy back USD shorts quickly as risk aversion takes hold.
Posted below is a chart of the spread between the RBA cash interest rate target and the Fed Funds target vs. the price of the AUD.USD currency cross.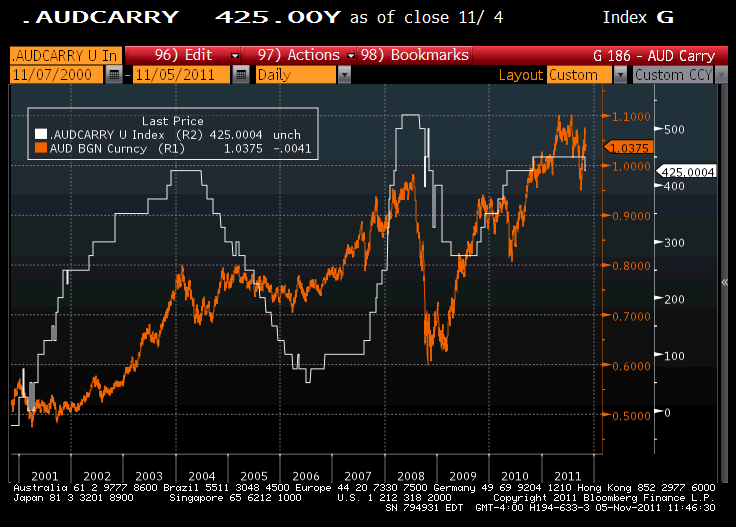 Chart courtesy of 11/04 Commodity Analyst Newsletter
As can be seen, the AUD carry rate decreased for the first time since 2009 last week, as the RBA rate was decreased by 25 basis points last Monday. While this is not a huge decrease, it does mark a symbolic shift away from rising rate spreads to declining rate spreads. This was the main fundamental driver for the increase in exchange rate over the past 5 years, as more and more traders jumped on the long Australian dollar trade to generate both capital appreciation and interest rate returns. However, as seen in 2008, this trade can unwind alarmingly quickly, and can produce heavy losses in a hurry as traders buy back their USD shorts. The last period in which the carry rate was at 425 basis points, between May and November 2010, the Australian dollar traded in a range from 0.81 to 0.98. With the Australian dollar trading at 1.035 today and Europe quickly entering recession, this seems like a highly attractive risk/reward trade.
Also, the massively bearish sentiment in the euro is another reason to add to Australian dollar shorts rather than euro shorts at this level. The chart below shows speculative longs in the AUD futures vs AUD price.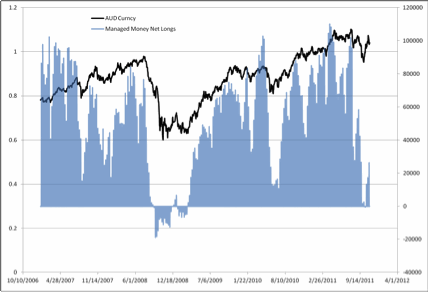 Chart courtesy of 11/04 Commodity Analyst Newsletter
As can be seen, the AUD futures longs increased this week to over 26k contracts from a small net short position just 3 weeks ago. This means that there are 26k contracts worth of prospective sellers of the Australian dollar is things take another turn for the worse. By contrast, here is the chart for the euro.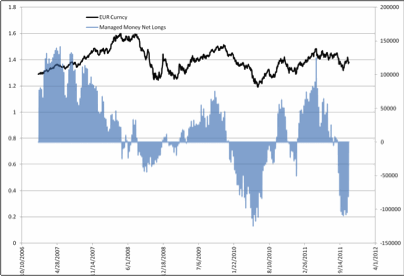 Chart courtesy of 11/04 Commodity Analyst Newsletter
As can be seen, while euro shorts have come in somewhat, they remain at a highly elevated position. While this is one reason the euro is staying stubbornly high, we believe there may be more subversive market factors at play in supporting the euro, including Chinese buying in support of the euro. However, with respect to the Australian dollar, China has no reason to support the AUD and in fact has a vested interest in its depreciation, as Australia is one of their largest suppliers, so they could theoretically benefit from a weak AUD. Even though most of Australia's exports to China are priced in USD anyway, the Chinese government has no reason to support the Australian dollar, and will gladly let it depreciate.
While we remain short the euro, the believe that the short Australian dollar position may be a better candidate for size increase over the coming weeks and months due to its continued support by carry traders.
Disclosure: I have no positions in any stocks mentioned, and no plans to initiate any positions within the next 72 hours.
Additional disclosure: "short crude futures, short euro futures, short AUD futures"
Disclaimer: All information included herein is the opinion of the firm and should not be considered investment advice. Past performance is not necessarily indicative of future results.