The take-away for both liberals and conservatives is repugnant: They need to identify the most justifiable spending cuts - lots of them - and the least damaging tax increases, which will still be sizable.

They need to come clean with reality. For years, they've exuded self-serving platitudes. Conservatives should acknowledge that Big Government is a permanent part of the social fabric and that much of what it does is popular. It needs to be financed. Liberals should concede that Big Government can become so big that its crushing taxes weaken the middle class and economic growth. Government then promotes conflict and degrades social justice.

The supercommittee cannot solve America's budget problems with one sweeping plan…. But it can elevate popular understanding by proposing a plan justified by a vision of government's collective responsibilities and the public's reciprocal obligations.
- Robert Samuelson, "Let's Banish The Budget Fictions Of Left And Right", The Washington Post, Monday November 7
Most of the significant stock market action for 2011 is in the rear view mirror. There are a few significant events on the calendar but seasonality and the performance chase will condition the market for the remainder of the year.
Europe will continue to be in the headlines. Greece is at the forefront and I am hearing more and more chatter about Italy the last few days as well. All of us in the investment business are having to educate ourselves about European politics. "You can't ignore the power of politics when you invest in Thailand, Brazil or Argentina. But I have to say it now has become an important factor in all markets," said Didier Saint-Georges, a member of French investor Carmignac Gestion's investment committee ("'Papandemonium' shakes investors", Richard Milne, The Financial Times, Friday November 4).
Starting this week, focus will shift to the Debt Super Committee. Congress is supposed to pass a deal for $1.5 trillion in deficit reduction over the next 10 years by Thanksgiving. As the deadline approaches, "Our backs are finally against the wall", said Jeb Hensarling, Republican co-chairman of the 12 member committee ("A Look Inside the Super Committee", Stephen Moore, The Wall Street Journal, November 7). Let's hope a compromise in the long term interests of the country can be worked out.
Third quarter earnings are mostly in and continue to be excellent. Last week, Qualcomm (NASDAQ:QCOM) reported 40% top line growth and Starbucks (NASDAQ:SBUX) a 10% increase in U.S. same store sales. There are still a trickle of reports in the next few weeks from companies whose fiscal quarter ends a month later such as Cisco (NASDAQ:CSCO), Disney (NYSE:DIS), Wal-Mart (NYSE:WMT) and Hewlett Packard (NYSE:HPQ).
The last Fed Meeting of the year on December 13 looks like a non-event.
Technically, the correction over the last week puts in place overhead resistance at the recent rally highs around 1300 and the 200 DMA around 1275. I still expect a solid close to the year but am waiting for a better entry before putting more money to work.
Click to enlarge: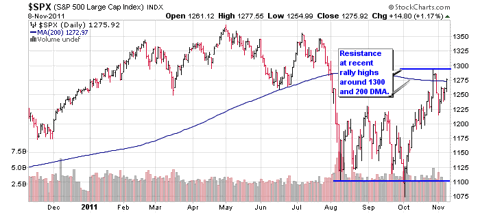 *****
October was a great month for the stock market and Top Gun also performed well:
Top Gun: +4.15%
S&P: +10.77%
DJ Total: +11.48%
Here is the performance Year-To-Date (YTD) through October 31:
Top Gun: +0.80%
S&P: -0.35%
DJ Total: -1.25%
Over the last 6 months (May-Oct) Top Gun has begun to outperform again:
Top Gun: +3.81%
S&P: -8.09%
DJ Total: -9.07%
My sense is that this will continue to be the case in 201.