On November 9th, General Motors (NYSE:GM) released its quarterly earnings and the stock fell 10.9%, almost 3 times more than the 3.67% drop in the S&P 500.
I had previously taken a negative view of the company in a June 28, 2011, article and a May 17, 2010 article. As I alluded to in the May 2010 article GM was going to need to have a lot of lipstick put on it, and now it appears the truth is shining through.
Here is some select financial data comparing Q3 2011 to Q3 2010.
| | | | |
| --- | --- | --- | --- |
| (In Millions) | Q3 2011 | Q3 2010 | % Change |
| Net Sales | $36,719 | $34,060 | 7.8% |
| Net Income | $1,726 | $1,959 | -11.9% |
| Accounts Receivable | $10,512 | $8,725 | 20.5% |
| Inventories | $15,220 | $13,044 | 16.7% |
One can see that although sales increased 7.8% YoY, net income fell by almost 12%. The company expanded credit greatly, with 20.5% growth in accounts receivable. This is much higher than sales growth.
GM has also grown inventories by over twice the growth rate of sales. If any global slowdown takes place, because of European problems spreading, this would be even more negative for GM's bottom line.
Cost of goods sold = beginning inventory + purchases - ending inventory
Since inventory is being built up, COGS is depressed and allows GM to report a higher gross profit margin in the short term. Look at the - ending inventory in the above equation.
Operating cash flow, over nine months, is also down in 2011 compared to 2010.Also, $8.3 billion was reported in 2010 while only $6.7 billion in 2011, a drop of 19.2%.
The following is how GM's CEO described the results in the conference call:
In summary, we produced a solid quarter. Generating our best results in North America and China, the world's most important markets where GM is a market leader. Today's results are an affirmation that we continue to make steady progress on our long-term goal, sustained financial performance. Having said that, it's also clear, we have a lot more work to do. Especially in Europe, which is being hurt by challenging economic conditions and in South America.
So far the market has voted this as not a solid quarter. Net Income dropping compared to a year ago is not a good thing.
Why are accounts receivable and inventories growing significantly faster than sales? When will operating cash flow go up? Until these ratios stabilize and the world economic outlook improves, I intend to avoid GM no mater how much blush and rouge is used, along with the lipstick, to tout the "value of GM."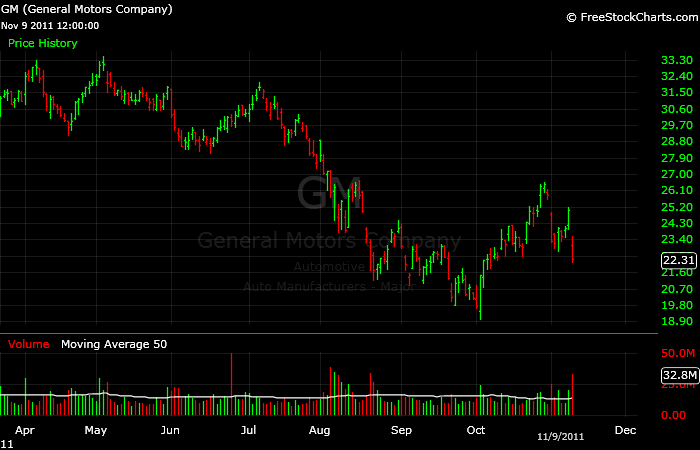 Source: freestockcharts.com.
Disclosure: I have no positions in any stocks mentioned, and no plans to initiate any positions within the next 72 hours.