We've had a nice one-day correction (Wednesday, Nov.9th) where the market averages plummeted between 3 and 4%.
This has helped lower the prices of our favorite gold and silver mining stocks which I've written about in recent articles.
The gold-producing stocks are less of a bargain than they were three or four weeks ago, but there's some compelling evidence that they could move higher in the near future.
The following chart (printed with permission from Casey Research's BIG GOLD publication) measures the stock prices of major and intermediate gold producers against their Net Asset Value, based on the daily price of gold.
In the simplest terms, we'd expect that a company would be worth more as the product it sells rises in price faster than the cost of those sales.
In this case, gold has doubled in price over the past three years while costs have not kept up, dramatically increasing the intrinsic value of a reasonably well-run gold producer such as Goldcorp (NYSE:GG). Yet look what the stocks have done when measured against this higher value.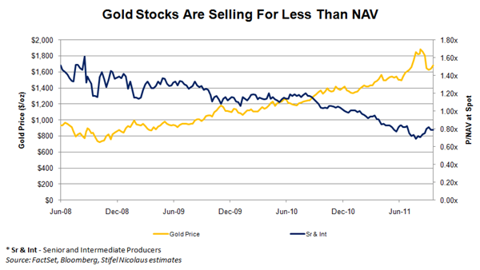 So keep your eyes on the Market Vectors Goldminers ETF (NYSEARCA:GDX) and if it falls below $59 it probably would be a good time to buy some or add to your holdings.
If you want some individual names other than GG to consider, look at IAMgold (NYSE:IAG) below $20-a-share and Kinross Gold (NYSE:KGC) especially if it dips below $14.
KGC is selling at a ridiculously low 10 times next year's projected earnings, partly because it has some exposure to Argentina. Check out the web site here and take special note of third quarter results.
The Real Bargain Right Now May Be Platinum And Platinum Producers
No too many investors realize that platinum is selling below the price of gold by almost $150-an-ounce. That's historically an anomaly.
This is only the second time in 20 years that platinum is cheaper than the price of gold.
Is it that worth getting excited about? It is if you consider that during the last decade, platinum has averaged a 64% premium over gold.
Today, platinum is at $1,627 per ounce, while gold is around $1,773.
This doesn't happen very often, and as I stated it's happened only twice in the last 20 years. When it does, it's often a strong buy signal.
The last time platinum was cheaper than gold was in November 2008. Platinum suffered an historic meltdown. Its close ties to the imploding automobile industry affected the metal mightily. It tumbled from over $2,000 per ounce all the way down to $774.
But over the next two years, platinum rose 145%.
From a technical standpoint, support for platinum is around $1,600. Primary resistance is at $1,666.
Fortunately, the metal is currently trading in the middle of that range. And we're also significantly below its 200-day moving average.
Industry expectations are for platinum to trade within $1,450 to $1,650 for the remainder of the year. But many of us think it will be back around $2,000 before the end of 2012.
This is the kind of investment opportunity that we are often looking for, and one thing that I really like about the platinum market is the relatively small number of publicly traded companies that mine and process it.
There are the big three name in the industry - Impala Platinum (OTCQX:IMPUY), Anglo American Platinum (OTCPK:AGPPY) and Lonmin (OTCPK:LNMIY) that trade on the pink sheets.
But there's only one company in the United States that develops the platinum group of metals, which includes palladium, and that is Stillwater Mining (SWC).
In fact, it's the only significant producer of the metal in the entire Western Hemisphere. I encourage you to carefully study the web site here.
Stillwater's third-quarter results basically went unnoticed. Revenue came in at $253.7 million, up 77.5% compared to the third quarter of 2010. And net income on that revenue increased to $40.7 million, up 589.8% compared to the same quarter last year.
We can take those good numbers and look at diluted earnings per share. In the first nine months of 2011, diluted EPS is $1.10. That's an increase of 223.5% compared to the same time period in 2010.
Stillwater is enjoying a nice rebound from its 52-week lows set in October. But the company is still less than half of where it was in July, following the major sell-offs in August and September.
With platinum and palladium undervalued by investors - the two metals that Stillwater produces - there's substantial upside for the miner.
Miners typically have exponential movements comparative to the metal they produce. For example, platinum has pushed upward 8% in the last month, while Stillwater has moved up several times that.
We don't want to buy high and sell higher, especially in this very volatile market.
We want to set our sights on what many aren't noticing, especially when an industry is oversold. This way we can "mine"even greater rewards later when everyone else jumps on the bandwagon.
Platinum companies like Stillwater look poised to experience just that. After yesterday's almost 8% correction the timing may be just right.
The one-year chart below speaks for itself and may be useful in your decision to buy.
Obviously it's at least above its 50-day MA but well below the 200-day MA. That's why we should do our own "due diligence" and study the fundamentals before investing.
Perhaps a "buy in tranches" approach would make sense. That means buy some now and buy more if it really "goes on sale" in the next day or two.
Disclosure: I am long GG, IAG, GDX, KGC.
Additional disclosure: I'm likely to buy some SWC within the next 72 hours.