By Brendan Gilmartin
Lowe's (NYSE:LOW) is scheduled to report 3Q 2011 earnings before the bell on Monday, November 14. The results are typically available at 7:00 a.m. EST and will follow with a conference call at 9:00 a.m. EST. The earnings from Lowe's come a day ahead of its closest rival, Home Depot (NYSE:HD). Both home improvement companies are seen as indicators on the state of consumer spending and the housing market.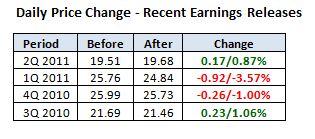 Outliers and Strategy
In its prior release, Lowe's provided the following guidance for the Q3 2011 period:
Earnings Per Share: Diluted earnings per share of $0.30 to $0.33 are expected, which includes $0.01 to $0.02 per share impact from additional expenses associated with seven stores that closed August 14.
Comparable Store Sales Guidance: "approximately flat."
Total sales are expected to increase approximately 2% from 2010. That equates to $11.819 billion.
Lowe's also provided the following guidance for FY 2011:
Earnings Per Share: Diluted earnings per share of $1.48 to $1.54 are expected for the fiscal year ending February 3, 2012. On 10/17, the company added that the closing of 20 underperforming stores would have a $0.17 - $0.20 impact.
Comparable Store Sales Guidance: -1.0%.
Total sales are expected to increase approximately 2 percent, including the 53rd week.
Given that Lowe's telegraphs its guidance in advance, the actual results for the quarter tend to fall within the boundary of investor expectations. The forward guidance will therefore be watched very closely and may dictate price movement.
Lowe's is expected to report EPS $0.33 per share for the 3Q 2011 period (source: Yahoo Finance), the high end of the company's range provided in August. Revenue is seen at $11.7 billion, versus the company forecast of $11.819 billion. Keep watch an eye on guidance for the Q4 period, with earnings expected to reach $0.23 per share.
Recent News
11/07: According to Barron's, RBC Capital upgraded Home Depot from Sector Perform to Outperform, as it appears spending on home-related activities has stabilized. The firm noted investors should also consider an Overweight position in Lowe's.
10/24: Citigroup raised its price target on Lowe's to $23, according to Benzinga.com, citing relatively attractive valuation.
10/17: Lowe's announced it is closing 20 underperforming stores in 15 states. The expected financial impact of $0.17 to $0.20 per diluted share was not contemplated in the business outlook for fiscal 2011.
08/22: Lowe's authorized the repurchase of up to $5 billion of the company's common stock.
Technical Review
Lowe's shares recently climbed to a 4-month high before stalling out at resistance near the 200-Day SMA of $23. That will be the initial hurdled in the event of a positive Q3 earnings release, followed by the July peak near $24. Beyond that, there is room to run toward the 52-week high of $27.45. Initial support is at $22.00, followed by the 20-day SMA (near $21.50) and $20.50 (just above the 50-Day SMA). (Chart courtesy of StockCharts.com.)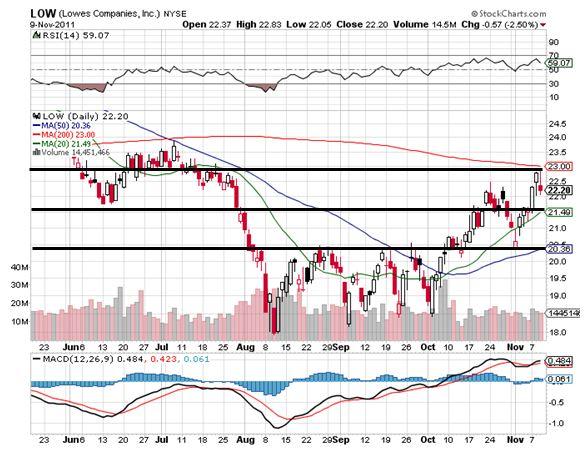 Summary
Lowe's shares have been on a nice run ahead of the Q3 2011 earnings release, gaining about 20% from the October lows (near $18.50). At a mere 15x trailing earnings (5-year average is 15.6x; HD is trading at 16.7x) and 0.6x sales, Lowe's is still trading at a discount to its historical valuation. The company is also buying back stock, closing underperforming stores, slashing expenses, and benefiting from a slightly improved consumer spending backdrop. But with the recent advance in the stock, the open question is how much of the positive news is priced in at these levels.
Disclosure: I have no positions in any stocks mentioned, and no plans to initiate any positions within the next 72 hours.
Disclaimer: By using this report, you acknowledge that Selerity, Inc. is in no way liable for losses or gains arising out of commentary, analysis, and or data in this report. Your investment decisions and recommendations are made entirely at your discretion. Selerity does not own securities in companies that they write about, is not an investment adviser, and the content contained herein is not an endorsement to buy or sell any securities. No content published as part of this report constitutes a recommendation that any particular investment, security, portfolio of securities, transaction or investment strategy is suitable for any specific person.