Cybersecurity is becoming more important than ever with the exponential rise in cyberattacks. In fact, 2014 has seen an unprecedented surge in cyberattacks, with cyberattacks on corporations rising 30-40% across the board. Government entities experienced similar increases in cyberattacks, with notable breaches in military and classified documents. The increasing digitization of the modern world coupled with the increasing sophistication of cybercriminals have made cybersecurity a clear priority in recent years.
Many legacy cybersecurity firms have been unable to keep up with the rapidly evolving cyber landscape. Because of this, newer cybersecurity firms such as Palo Alto Networks (NYSE:PANW) or Fortinet (NASDAQ:FTNT) have rapidly risen through the ranks. Many of these companies' innovative cybersecurity products/solutions, for instance Palo Alto Networks' Next-Generation Firewall, have vastly outperformed those of legacy cybersecurity firms. As cybersecurity will undoubtedly become an even bigger threat moving forward, the new generation of cybersecurity firms will likely take center stage.
Increasing Complexity
With increasingly powerful computational hardware and software technologies, cyberattacks have become significantly more complex over the past few years. For the large part, cybersecurity has not caught up with the growing sophistication of cybercriminals, who have increasingly found ways to get around outdated cybersecurity systems. Many legacy cybersecurity firms are unable to effectively deal with the constantly changing threat landscape, and with the exponentially increasing capabilities of cybercriminals, this problem will only get worse over time.
A recent study done using FireEye (NASDAQ:FEYE) data shows that legacy cybersecurity products failed to protect a stunning 97% of clients in recent years. With the approximately $100B that organizations/entities spend on cybersecurity, much of this money has been spent on obsolete products/solutions. Such legacy cybersecurity products/solutions have proven to be woefully inadequate in protecting against advanced malware and other forms of cyberthreats. Fortunately, newer cybersecurity firms, i.e. FireEye, Palo Alto Networks, Fortinet, Check Point Software (NASDAQ:CHKP), etc, are much more well equipped to handle the perpetually morphing threat landscape.
New Generation of Cybersecurity Firms
Many of the successful cybersecurity firms founded over the past decade have a more innovative and modern mindset. These firms are more well suited to protect against the increasingly sophisticated cyber landscape, and have come to increasingly dominate the cybersecurity industry. Unsurprisingly, many of these firms, such as Palo Alto Networks, have been increasingly taking customers away from older cybersecurity firms such as Cisco (NASDAQ:CSCO). With these companies' refreshingly innovative approaches to cybersecurity, their products generally offer much more reliable protection.
As organizations of all types become more digitally oriented, much more will be at stake on the cyber front. While digitization has certainly allowed businesses to run more smoothly and become more productive, this also means that a larger proportion of sensitive data will be prone to cyberattacks. In fact, nearly all large organizations' data are stored online now, which makes the issue of cybersecurity paramount among such organizations. This will likely mean that exponentially larger sums of money will be dedicated to cybersecurity, which translates into huge upside for cybersecurity companies.
Palo Alto Networks' huge stock growth over the past year is indicative of both the increasing need for cybersecurity solutions/products and the rise of next generation cybersecurity firms.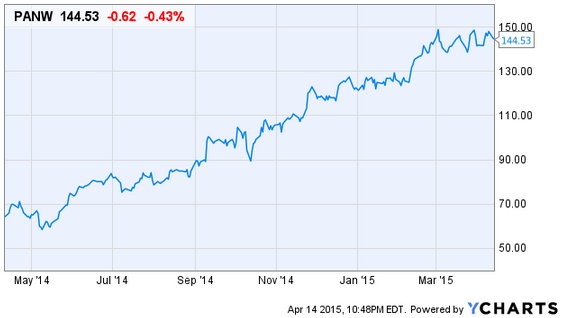 Source: YCharts
Big Business
With some of the largest and most financially powerful companies being targeted by more frequent/severe cyberattacks, the cybersecurity industry will likely become larger than ever. Organizations have spent tens of billions of dollars per year on cybersecurity over the past decade, with a noticeable increase in recent years. The huge surge in attacks against big businesses should easily allow this figure to reach into the hundreds of billions over the next decade. With cyberattacks particularly honing in on big businesses, such as large financial institutions or fossil fuel companies, there is no telling how much money these businesses will be willing to throw at cybersecurity firms.
JPMorgan's (NYSE:JPM) unprecedented hack is a prime example of the increasing need for cybersecurity among big businesses. In JPMorgan's specific case, the account information of 7 million businesses and 76 million households were put in jeopardy. While JPMorgan has been one of the most severe cases of cyberattacks on financial institutions, dozens more were targeted. There is no doubt that such financial institutions will significantly ramp up cybersecurity spending moving forward, which will result in a huge windfall for cybersecurity firms. Surprisingly, financial institutions have not even been the top target for cyberattacks. Energy companies actually suffer the highest frequency of such cyberattacks, with such attacks similarly ramping up in recent years.
With the increasing frequency/severity of cyberattacks on the largest corporations, the cybersecurity industry will likely see an explosion in business moving forward. With the amount of financial resources that big corporations possess, there is truly no limit to how big the cybersecurity industry could get if the situation warranted it. As such, the cybersecurity industry is one of the most promising industries today, with the leading new generation cybersecurity firms such as FireEye and Palo Alto Networks having the most to gain. With such ample opportunity ahead, such companies should enjoy immense upside in the coming years.
Obstacles
While new generation cybersecurity firms are most well prepared to handle the influx of increasingly sophisticated cyberattacks, even these companies risk obsolescence. Computer hardware and software technologies have followed an exponential trend since their inception, which means that the future cyberthreat landscape could change at an unimaginably fast pace. The rapidly evolving cyber landscape could mean that even the newest and most innovative cybersecurity firms may have extremely short lifespans. While this is certainly a possibility, the cybersecurity firms that have emerged over the past decade have been created in the fast-evolving digital landscape, which means that these companies are likely prepared for the increasingly fast-paced nature of the cyber environment.
Conclusion
The cybersecurity industry has extraordinary growth potential moving forward, especially with the rise of increasingly sophisticated and frequent cyberattacks. With the rise of an increasingly technologically adept China and a destabilizing Russia, the cyberthreat is only going to get more pronounced over the next decade. Next generation cybersecurity firms like FireEye, Palo Alto Networks, Check Point Software, and Fortinet all have immense upside in light of the changing threat landscape. As legacy cybersecurity products/solutions become increasingly obsolete, these newer companies will have a huge growth opportunity in the years ahead.
Disclosure: The author has no positions in any stocks mentioned, and no plans to initiate any positions within the next 72 hours.
The author wrote this article themselves, and it expresses their own opinions. The author is not receiving compensation for it (other than from Seeking Alpha). The author has no business relationship with any company whose stock is mentioned in this article.