There are few sectors of the U.S. stock market where valuations are cheap, pessimism is high, and fundamentals have plenty of room for improvement. The primary area that we at T&T Capital Management (OTCQB:TTCM) see opportunity is in financials, where outrageous legal costs and low interest rates have pressured profitability over the last half-decade. I believe that market participants and analysts are underestimating the consistently strong profit potential of the big banks; their efforts spent in meeting higher capital ratios have delayed, but not halted, significant increases in capital returns to shareholders via stock buybacks and dividends. JPMorgan (NYSE:JPM) is an example of a bank that has thrived and improved its businesses throughout the downturn. Because of this, the bank trades at a higher multiple than many of its peers, but is still too cheap on an absolute basis, and this disconnect offers above-average return potential for long-term investors.
JPM doesn't get nearly enough credit for how well it has held up and improved its competitive position over the last decade. Barron's recently noted that JPMorgan has the country's No. 1 credit-card company, based on outstanding loans; the No. 1 investment bank by revenue; the top private bank; and the third-largest asset manager, behind BlackRock (NYSE:BLK) and UBS Group (NYSE:UBS). I believe that it is very likely that if JPM were to ever split up, the short-term stock price would actually benefit, because many of these divisions are deserving of a multiple far higher than what JPM currently trades at. For the long-term investor, though, I believe that the benefits of staying together outweigh the short-term considerations, as JPM clearly has revenue synergies through cross-selling, and the larger asset base offers scale on legal and technical costs, which have been skyrocketing.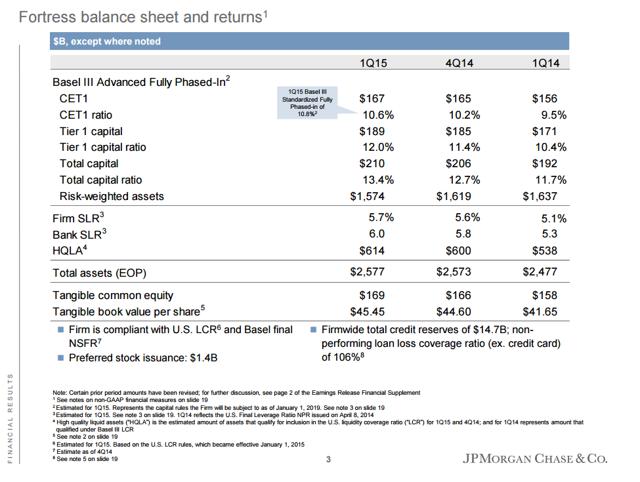 (Source: JPM 1st Quarter 2015 Earnings Presentation)
Oftentimes, I've heard and read market commentators say that the big banks are just too risky to own. They reference concerns such as lawsuits, derivatives and the devastation that most of these stocks had on shareholders during the financial crisis. At TTCM, we define risk as the permanent loss of capital, and don't concern ourselves with short-term volatility - which, we believe, is unavoidable unless one is willing to substantially reduce long-term profit potential. From this view, we don't believe the big banks are risky at all, based on current prices and net asset values. Every quarter, JPM and its major competitors are improving their balance sheets, with capital and liquidity ratios that are 2 times greater than they were prior to the financial crisis. Litigation and multi-billion dollar lawsuits have been haunting the banks for 7 years, and are mostly in the past at this juncture. Derivatives are much more alarming to those that don't understand the way they work. International conglomerates and municipalities etc. have a need for products such as interest rate and foreign exchange swaps. Usually, the big banks hedge their exposures with reputable counterparties. In essence, they are making a market. Often, notional amounts can look alarming, and I believe that the increasing use of exchanges will be a positive development, but the derivatives risks are overblown dramatically.
What we have now is a banking system that is extremely resilient and strong. Lower leverage ratios do indeed reduce the potential for full-cycle ROEs in excess of 15%, like before, but 10-15% ROEs are still very reasonable when one considers the lower levels of risk. Consider a bank that trades at book value and that earns only a 10% return on equity. Assuming the bank is well capitalized, a 50% payout ratio would mean a 5% dividend, and the other 50% of profits can be put back into the business. The strongest banks, such as Wells Fargo (NYSE:WFC) and JPM, are already earning returns on equity of 11-13% in the worst interest rate environment imaginable. These returns have been achieved despite record legal and compliance costs, a slow-growing global and U.S. economy, and in an environment where the banks have had to shut down various businesses that no longer make sense in this regulatory climate. Quarter by quarter, as the results get cleaner, I expect the market to reward many of the big banks with more utility-like multiples. Earnings have plenty of potential to improve, with rates rising; and if the economy can get out of second gear at some point, you have a growth story in addition to an increasing valuation story.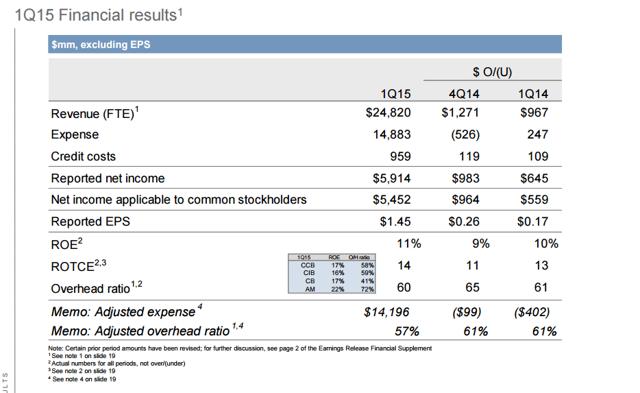 On April 14th, JPM reported a very strong 1st quarter, with net income applicable to common stakeholders of $5.452 billion, or $1.45 per share. These numbers represent a return on equity of 11% and a return on tangible common equity of 14%. JPM has made major headway in reducing its adjusted overhead ratio in the quarter to 57%, from 61% in the year-ago period. The efficiency ratio will vary, but there is still a major opportunity in cutting costs, which will ultimately hit the bottom line. JPM's Consumer & Community Bank continues to improve its competitive advantages with the fastest deposit growth in the industry and its leading position in credit cards. Low interest rates and tepid loan growth are masking the earnings power that this business can produce. The key to the strong quarter was improved performance in the Corporate & Investment Banking division. Higher volatility in equity markets and currencies helped JPM generate $2.537 billion in net income in the quarter, which was $412MM higher than the previous year's 1st quarter. JPM arguably has the strongest investment bank in the world, and with others pulling back, it should generate an increasing windfall of profits when the animal spirits of the financial markets return.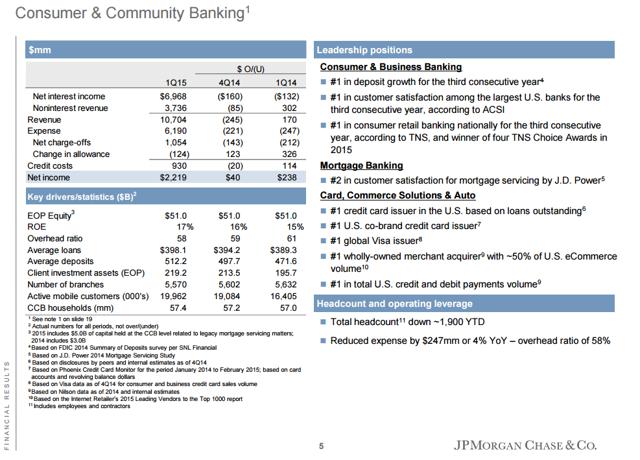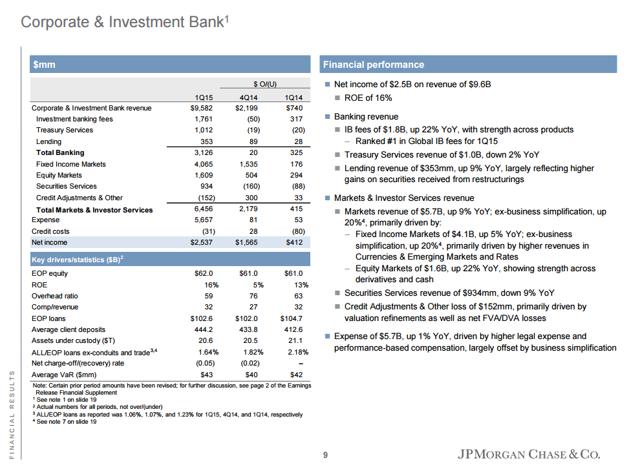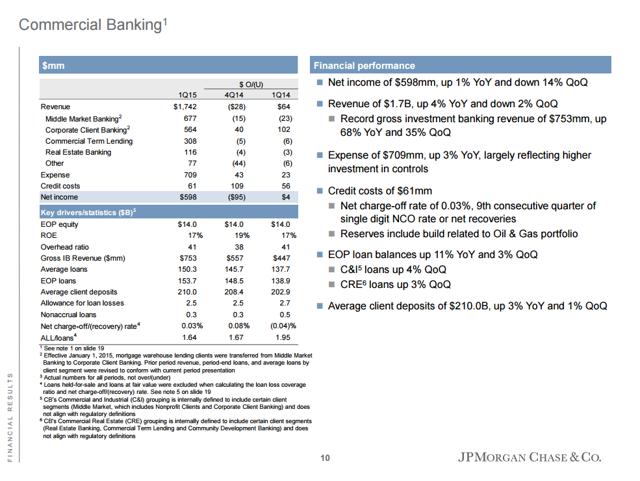 From a valuation perspective, JPM is still quite cheap. At a recent price of $62-63, it trades at about 107.3% times book value and 130% of tangible book value. Earnings per share should fall between $6-7 this year, so JPM is only trading around 10 times earnings, which is quite reasonable in an expensive market. I believe the bank should trade around $70-80 per share, given its potential to increase both earnings and dividends over the next 3-5 years. Both tangible book and book value have been growing steadily over the last few years. I see no reason why this shouldn't continue, which increases the floor to JPM's share price. Of course, over the short term, the stock could fall below book value again, but for long-term investors, I believe there is a much higher probability that the premium spread between the share price and book value will actually increase. Banking has rarely, if ever, been safer than it is right now, but the sentiment in the market is still overwhelmingly negative. In 5-10 years, the opportunity will seem so obvious - especially if you believe, like I do, that the overall market is not likely to offer too favorable of returns because of the high current valuation.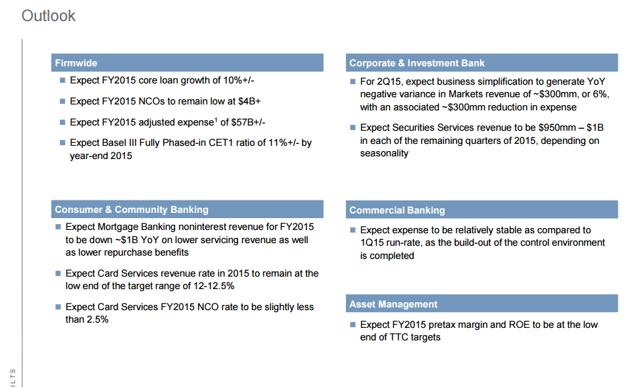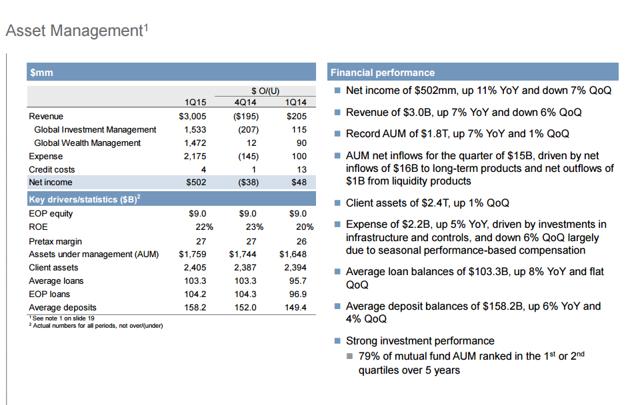 Disclosure: The author is long JPM.
The author wrote this article themselves, and it expresses their own opinions. The author is not receiving compensation for it (other than from Seeking Alpha). The author has no business relationship with any company whose stock is mentioned in this article.