As recently as August 9, 2011, Cisco (NASDAQ:CSCO) was trading as low as $13.94/share. To watch the impressive run CSCO has been on since then can only be described as impressive. I wrote an article on Seeking Alpha in early October explaining why I thought being patient with CSCO will lead to some very nice profits.
I continue to believe that CSCO will be trading in the upper $20's by next year at some point, which would still represent a very nice move upward from the current price-per-share. Today, three firms have upped CSCO to a buy rating, Citigroup (NYSE:C), Deutsche Bank (NYSE:DB), and Raymond James (NYSE:RJF).
CSCO reported earnings for the fiscal first-quarter after the closing bell on Wednesday. For the second straight quarter, the results were well-received by analysts. The re-organization is going well.
Today, on Thursday morning, CSCO is now trading at $18.76/share. The 52-week range is $13.30 - $22.34.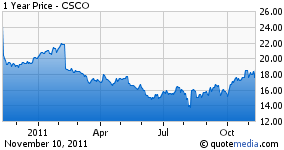 | | |
| --- | --- |
| 52wk high: | 24.51 |
| 52wk low: | 13.30 |
| EPS: | 1.17 |
| PE: | 15.10 |
| Div Rate: | 0.24 |
| Yield: | 1.3629 |
| Market Cap: | 100.28 B |
| Volume: | 62.61 M |
CSCO CEO John Chambers has certainly taken some well-deserved criticism over the years. The stock went from being a darling in the technology sector to just another boring one that kept falling in price or doing absolutely nothing.
The truth is that CSCO was trying to always do too much, instead on focusing on what it does well. It also began hiring too much. Although it has taken a long time for Chambers to finally fix these problems, he does derseve credit for recognizing it and planning a complete re-organization of the company, which included thousands of layoffs. Although it is unfortunate that so many people had to lose their jobs because of this, at least CSCO now looks well on its way to having stability.
I, like most people, grew tired of CSCO years ago when the stock did absolutely nothing. However, I figured it only had to be a matter of time before something was done to change it. Chambers knew that he couldn't continue to anger shareholders with continuing under-performance.
Among the highlights of CSCO's recent earnings report was ISI Group analyst Brian Marshall, who said CSCO's results were "Solid, indicative of Cisco doing slightly better [and] making slow, steady progress." While I agree that it's been steady progress, It has gone even faster than I initially thought it would.
Deutsche Bank analyst Brian Modoff upped his price target to $22.00/share from $17.00, but I think this is a very conservative estimate. Cisco's is out of the dark times it has been living in for so many years.
It is well known that CSCO is sitting on a lot of cash (about $45 billion). Besides acquisitions, I think that a dividend increase is very likely by next year at some point. Here is a closer look at Cisco's balance sheet:
Balance Sheet
Total Cash (mrq):
44.58B
Total Cash Per Share (mrq):
8.28
Total Debt (mrq):
16.82B
Total Debt/Equity (mrq):
35.60
Current Ratio (mrq):
3.27
Book Value Per Share (mrq):
8.70
Cash Flow Statement
Operating Cash Flow (ttm):
10.08B
Levered Free Cash Flow (ttm):
5.93B
CSCO's earnings-per-share (EPS) is also expected to steadily improve in 2012 and beyond, as this graph shows:

CSCO is also going hard after its competitors, such as Juniper Networks (NYSE:JNPR), whose stock has been really slammed hard since May 2011, when it was trading in the upper $30s. JNPR is currently trading at $23.86/share.
Besides EMC Corp. (EMC), I still have CSCO as a top buy right now based on valuation and improvements CEO John Chambers has made to the company. If analysts and Wall Street are rewarding CSCO with upgrades and a rising stock price right now, where will this stock be once the reorganization is fully complete? The stock will not be trading at these low levels, as it is still under-valued even with the nice run-up it's had over the last few months. Now is still a great time to buy CSCO and hold for the long haul.
Disclosure: I am long CSCO, EMC. I own long call options on CSCO and EMC.