China reported its first-quarter economic growth measure that largely confirmed what many analysts have been reluctant to accept, the Chinese economy is in a downward spiral. While some of the slowdown is attributed to societal shifts imposed by the government, a weak global economy is also weighing on output in China. China's equity market is represented by iShares China Large-Cap (NYSEARCA:FXI).
In the first quarter, the economic growth figure came in at an annual pace of 7.0%, down from the previous quarter's reading of 7.3%, while in line with estimates for 7.0%. Since peaking at near 12% in 2010, economic growth has fallen broadly lower. The recent slowdown on growth has not been lost on policymakers.
"Premier Li Keqiang told a forum of Chinese economists on Tuesday, 'But on the other hand we must see that downward economic pressure indeed continues to grow. Some of our traditional sources of strength are receding, and at the same time there are newly emerging sources of growth, and some sunrise industries are experiencing explosive growth.'

Foreign trade, by contrast, has been buffeted by lackluster overseas shipments and signs of even weaker demand at home. Exports of goods by value rose only 5% in the first three months of the year, while imports slumped 17%, weighed down by lower global prices for oil and other commodities," according to the New York Times.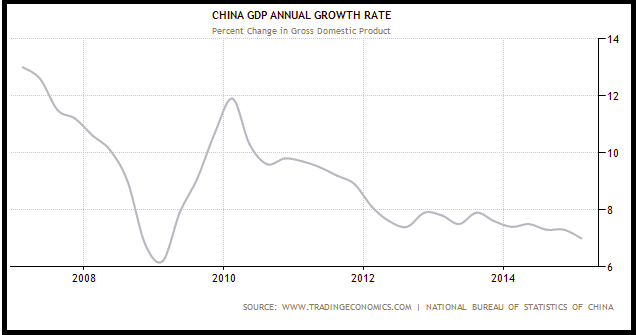 Moreover, industrial production has been a large negative weight on economic growth in recent years. In March, the industrial production figure came in at an annual pace of 5.6%, down from the previous month's reading of 6.8%, while also missing estimates for 6.9%. Since peaking at nearly 20% in 2010, much like the growth measure, industrial production has trended significantly lower.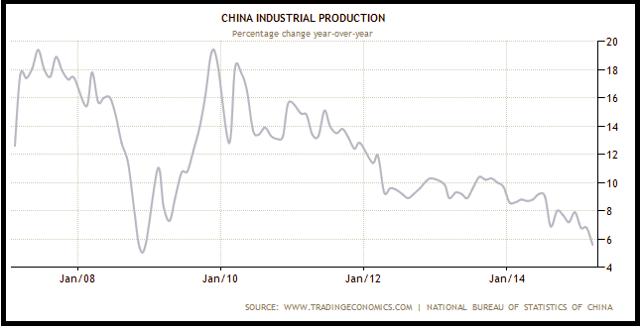 Alongside weaker industrial production, exports have also fallen. The relationship makes sense as China has had a robust product export sector in the past, with the two falling as global demand declined. I highlighted the export measure in an article earlier in the week. Below is an excerpt from the article:
"In March, the exports figure came in at an annual pace of -4.95% contraction, down from the previous month's reading of 9.27%. Since peaking in 2011 at over a 32% annual pace, exports have fallen drastically lower, seen below. Falling exports now put economic growth measures, releasing later this week, in jeopardy of surprising significantly to the downside."
Falling currencies, and still recovering economic growth measures in Japan and the euro area have weighed on exports recently.
"The yuan's strength was one factor in March's 19.1% on-year decline in exports to the European Union and 24.8% drop to Japan," according to Reuters.
Economic growth in China is slowing as exports and industrial output decline. Weaker global demand has been an externality of falling currencies in Japan and the euro area, but multi-year trends signal that there is more to it. China simply cannot sustain the rate of growth it once could, which is weighing on all of its major growth indicators.
A structural shift imposed by policymakers is having its effects, but with the change, target growth rates have been consistently missed, or revised lower. Policymakers are limited in ways to combat weakness, with cutting lending rates being their tool of choice as of late. Further rate cuts in an attempt to spur growth should benefit financial markets, pushing up Chinese equities in coming months.

Data provided by the OECD
Disclosure: The author has no positions in any stocks mentioned, and no plans to initiate any positions within the next 72 hours.
The author wrote this article themselves, and it expresses their own opinions. The author is not receiving compensation for it (other than from Seeking Alpha). The author has no business relationship with any company whose stock is mentioned in this article.