In March 2014, I published a short piece entitled "Explaining Recent Commodity Performance" (seekingalpha.com/article/2110173-explaining-recent-commodity-performance).
At that point in time, commodities were the best performing asset class with the DJUBS Commodity Index up 6-7% between Jan and March/April 2014. I was bearish commodities and pointed out that the majority of commodities were oversupplied, the EUR was too strong/ the U.S. dollar too weak, and that the run-up in prices was likely short-lived. The correction came, and the DJ Commodity Index TR (Chart 1) is currently trading 26% lower than it was a year ago. Commodity prices have returned to pre-QE1 levels.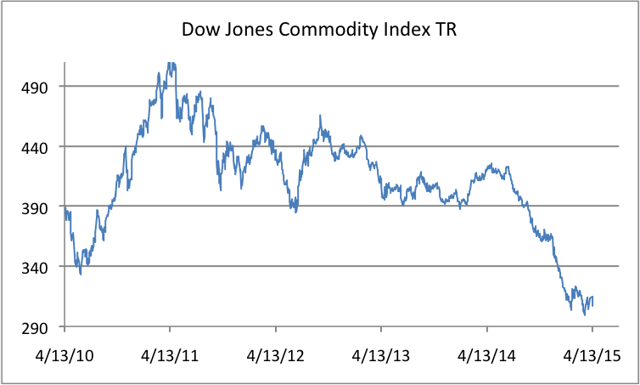 The volatility regime has also returned to "normal," with commodities printing a 30-day rolling window volatility between 15-20%.
This behavior is in contrast to both equities and fixed income where prices are at all-time highs, and equity volatility is artificially low. There is only one explanation: equities and fixed income are far from a "normal" regime, being heavily affected by central bank action, while commodities - for some reason - have returned to reality.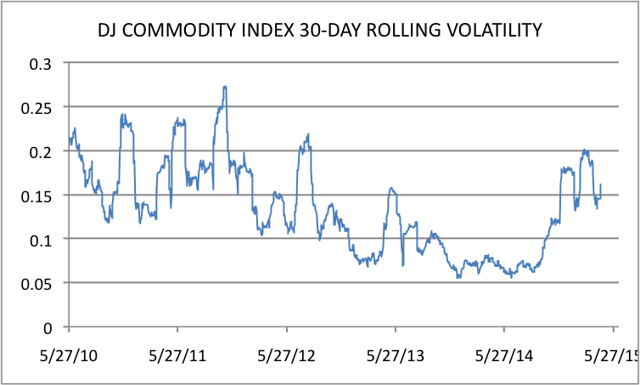 Fundamentals for commodities are still not great, but I am no longer bearish: there comes a point where all the negative news -including oversupply, dollar, etc has been priced in. And commodities may have just reached that point.
On the macro side, the headwind from the dollar appreciation is mostly over for now; the EUR currently trading at around 1.06 - 1.07 and will go at most to parity with the USD.
It takes serious imagination to see the EUR much weaker than the USD for a protracted period of time. There is already damage to U.S. earnings from the stronger dollar, and Chart 3 shows that there have been few recessions (the grey bars) without an appreciating U.S. dollar. The Fed will likely delay the start of the interest rate increases as higher rates would only strengthen the dollar further, putting the U.S. economic recovery at risk.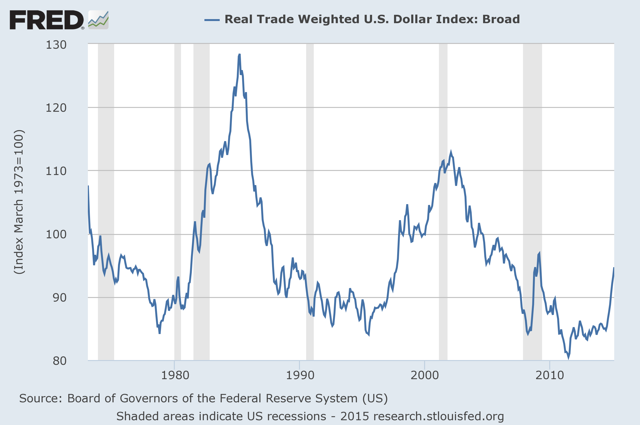 Although some dollar volatility is possible as heavy positioning is being unwound, if this logic holds there is no further risk to commodities from additional dollar strength.
On the fundamental side, there is still oversupply, but the situation is comparable (potentially better) than last year, while prices are considerably lower.
Below are some charts to get a better sense of how far certain commodities have fallen:
Crude is trading in the 50-dollar range, where it has found support - proof that investors are willing to buy at these levels. Technically, WTI has not yet escaped the problem area, but it is easier to imagine a range-bound consolidation phase after last year's drop ($40-$55/barrel) rather than sharp moves up or down.
Natgas is trading at $2.5 - a point where not so long ago shorts would have taken profits. Again, the very low price point is not encouraging fresh short positions, but potentially a short covering rally.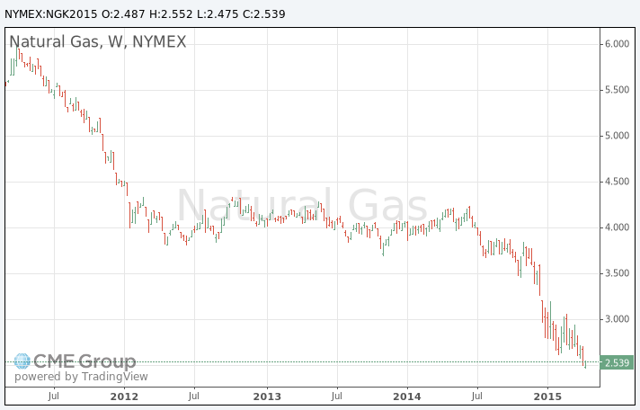 On the industrial metals side, Dr. Copper is already trading at cost of production for some producers; similar to the situation with Natgas, shorting at these low levels requires the type of conviction that many investors (for good reason) don't have. (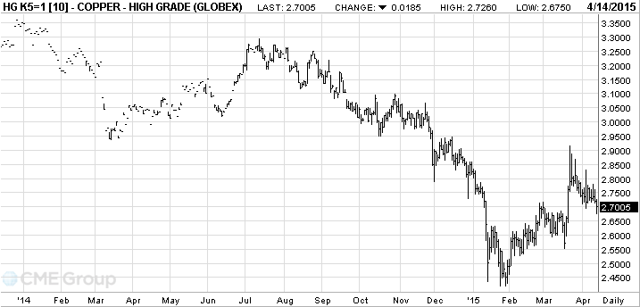 In the precious metals space, Gold is somewhat of a lost cause; a $1000/oz target appears within reach and is a fairly round number - easy for traders to fixate on. Even with Gold losing its shine, other precious metals such as palladium & platinum deserve attention buyer attention due to healthier fundamentals.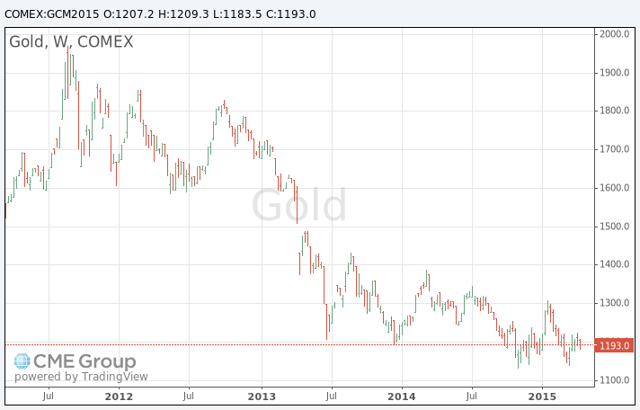 Lastly, all three major grain categories are at very low price levels (soy could be vulnerable, but it appears to be developing a head-and-shoulder pattern).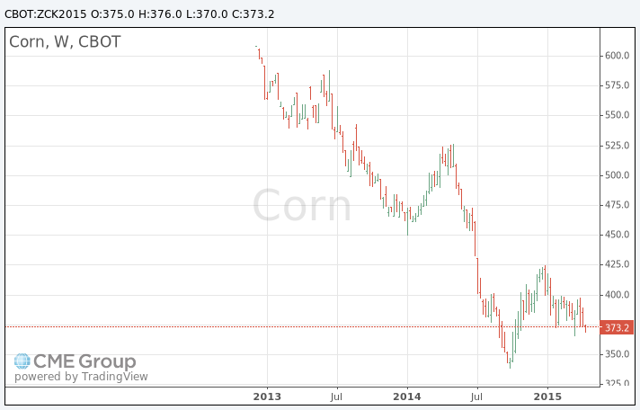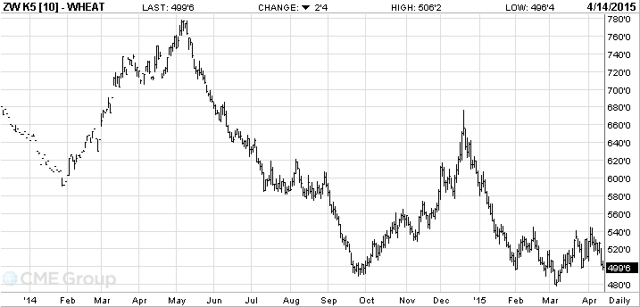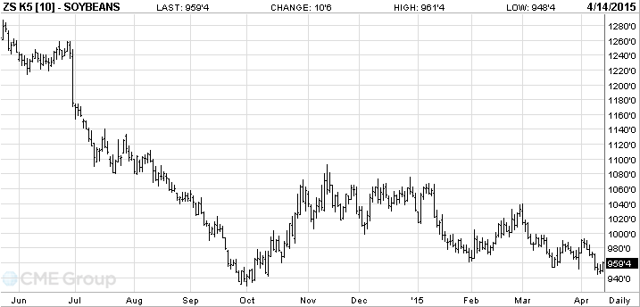 For commodities, the fundamental picture is far from perfect (perfect world: supply deficit and low inventories and neither is the case), but current prices already incorporate negative information and there is no additional threat from the U.S. dollar. Furthermore, many commodities are trading at or below cost of production, which puts a floor on any potential downside.
Commodities have finally arrived at the point where many institutional investors thought these were at the beginning of 2014: negative news priced in and limited downside risk. However, last year's chaotic price evolution has understandably dampened investor appetite: commodities started 2014 as the best performing best performing asset class and ended the year as the worst performing asset class.
On the other hand, investing in equities and fixed income has becomes so tedious due to overvaluation, that we may see some investors digesting their cognitive dissonance and giving commodities another chance. It seems to be the right time to buy some commodity exposure.
Disclaimer: The views expressed in this publication are the personal views of Paul Ticu. This document is not research and should not be treated as research. This document does not represent valuation judgments with respect to any financial instrument, issuer, security or sector that may be described or referenced. This publication has been prepared solely for informational purposes. The information contained herein is only as current as of the date indicated, and may be superseded by subsequent market events or for other reasons. Nothing contained herein constitutes investment, legal, tax or other advice nor is it to be relied on in making an investment or other decision. This publication should not be viewed as a current or past recommendation or a solicitation of an offer to buy or sell any securities or to adopt any investment strategy.
No representation or warranty, express or implied, is made or given by or on behalf of Paul Ticu or any other person as to the accuracy and completeness or fairness of the information contained in this publication and no responsibility or liability is accepted for any such information. By accepting this document, the recipient acknowledges its understanding and acceptance of the foregoing statement.
Disclosure: The author has no positions in any stocks mentioned, and no plans to initiate any positions within the next 72 hours.
The author wrote this article themselves, and it expresses their own opinions. The author is not receiving compensation for it (other than from Seeking Alpha). The author has no business relationship with any company whose stock is mentioned in this article.