A lot has been discussed about the upcoming earnings "recession," where S&P 500 earnings are projected to post their first year over year decline since 2012. It has been well documented that a decline in energy earnings is the main culprit here as S&P earnings ex energy are projected to have a positive growth rate year over year. The strong dollar, which is also related to lower energy prices, has been cited by many companies as the reason for lowered guidance. Although the rapid ascent of the dollar could continue, we would expect companies to adapt going forward and manage their currency risk more efficiently, resulting in improved earnings growth in subsequent quarters.
Despite the decline in overall earnings this quarter, we do not expect it to have much of a negative impact on the stock market. First of all, as the below chart shows, companies have become experts at managing Wall Street's expectations by lowering guidance then subsequently beating that guidance: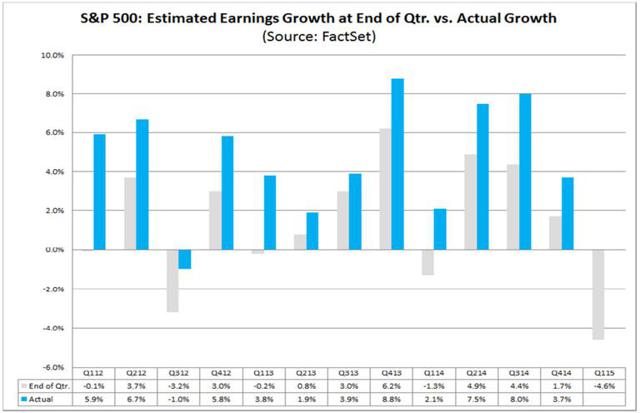 Even though companies are merely beating lowered estimates, by the time it happens, these lowered estimates have generally been priced into the market. Additionally, after economic data was considerably weak in the first quarter we would expect a bounce back in Q2. Economists are calling for Q1 GDP growth to print around 1.5% or even lower. However, a substantial reason for this weak growth is due to an especially harsh winter in many parts of the country as well as the port strike on the west coast, both temporary factors. The same thing essentially happened in Q1 of 2014 when GDP printed negative only to rebound strongly in Q2 (see chart below). Perhaps the rebound will not be as strong as 2014, but improvement can be expected, which should contribute to stronger corporate earnings going forward.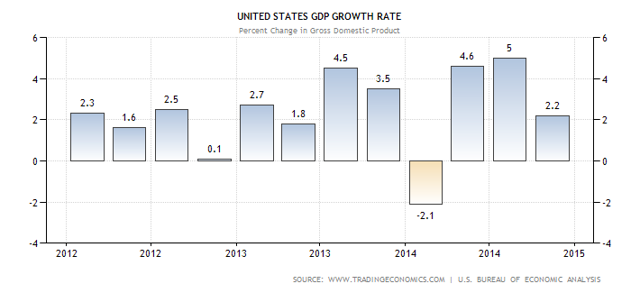 If the stock market is going to have a real correction, I suspect it would come from an event not priced in, such as Greece exiting the euro zone or some unknown event. For now, it seems likely that equities will press on to new highs as the technicals look quite favorable. Both small cap stocks measured by the Russell 2000 and the NYSE advance-decline line have recently broke out to new highs. These have both been good leading indicators for stocks in the past as it shows greater risk appetite and strong market breadth: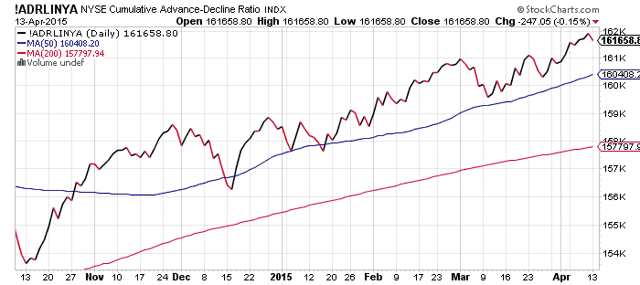 If the earnings "recession" brings greater volatility in the next few weeks, it could present an opportunity for investors to increase exposures. Although equity valuations are on the high end, the slow recovery and massive amount of liquidity in the system could allow this bull market to press on for some time.
This article is distributed for informational purposes only and should not be considered as investing advice or a recommendation of any particular security, strategy or investment product. The author's opinions are subject to change without notice. Information contained herein has been obtained from sources believed to be reliable, but are not assured as to accuracy. No part of this article may be reproduced in any form, or referred to in any other publication, without express written permission of Carbide Capital Inc.
Past results are not necessarily indicative of future results. There is neither representation nor warranty as to the current accuracy of, nor liability for, decisions based on such information.
Futures trading is a high risk investment that should be made after consultation with independent qualified sources of investment and tax advice. The risk of loss from the trading program can be substantial. You should therefore carefully consider whether such trading is suitable for you in light of your financial condition.
Disclosure: The author has no positions in any stocks mentioned, and no plans to initiate any positions within the next 72 hours.
The author wrote this article themselves, and it expresses their own opinions. The author is not receiving compensation for it. The author has no business relationship with any company whose stock is mentioned in this article.