As I was researching the BioShares Biotechnology Products ETF (NASDAQ:BBP) for my ETF-oriented subscriber service, I had occasion to check out an article I had written in November, 2013.1 Out of curiosity I checked how the companies I examined in the piece had been doing, and was pleasantly surprised. The five companies involved were:
Collectively, the five companies had risen in price by nearly 120%; individually, their performance was very good, as reflected in the graph below: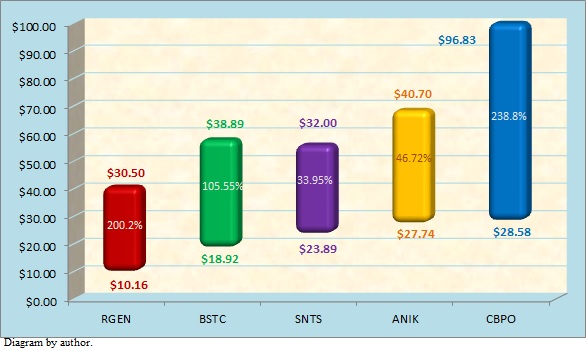 I thought it might be interesting to see if these companies still maintained their "attractive fundamentals," but only two did, and just barely - Anika and BioSpecifics. And, of the top five biotechs, by ranking, those two placed 4th and 5th. Santarus doesn't place at all, because it was acquired by Salix Pharmaceuticals, Inc. (NASDAQ:SLXP). While both Repligen and China Biologics still maintain solid fundamentals, they have been beaten by three "newcomers" to the list:2
NewLink Genetics Corporation (NASDAQ:NLNK)
Enanta Pharmaceuticals, Inc. (NASDAQ:ENTA)
INSYS Therapeutics, Inc. (NASDAQ:INSY)
I will discuss the three new members of the "top five," then update information about Anika and BioSpecifics.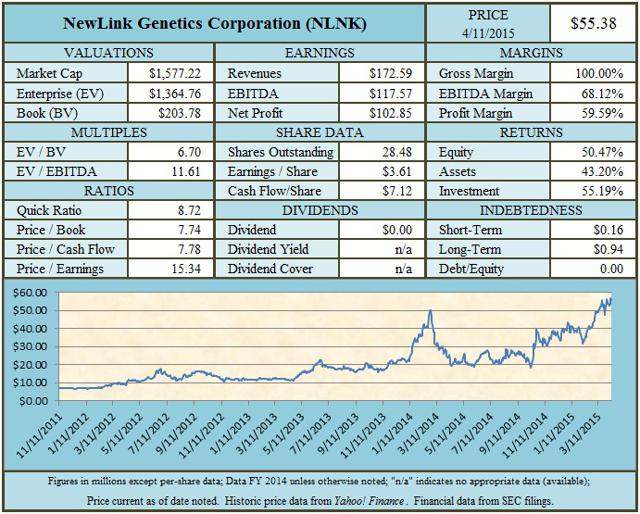 NewLink ranked first among the five companies selected. The Company, founded in 1999, is focused on the use of immunotherapy in cancer treatment; their research takes two approaches:3
Stimulating the immune system to target and destroy cancer cells (HyperAcute™ Immunotherapy;
Inhibiting the ability of the tumor to suppress the immune system (IDO Pathway Inhibitor).
The HyperAcute™ platform has five therapies in their pipeline, with the lead candidate (Algenpantucel-L) in two trials concerning pancreatic cancer, one trial with phase-3 enrollment completed, the second trial currently enrolling for its phase-3 study. The other four drug candidates are:4
Tergenpumatucel-L (non-small-cell lung cancer), currently in phase 2b/3;
Dorgenmeltucel-L (advanced melanoma), phase 2;
HyperAcute™ Prostate, phase 1;
HyperAcute™ Renal, phase 1.
The IDO Pathway Inhibitor platform currently has two drugs in its pipeline:
Indoximod (in two trials): Breast cancer, phase 2; Prostate cancer, phase 2;
NLG919 (solid tumors), early phase 1.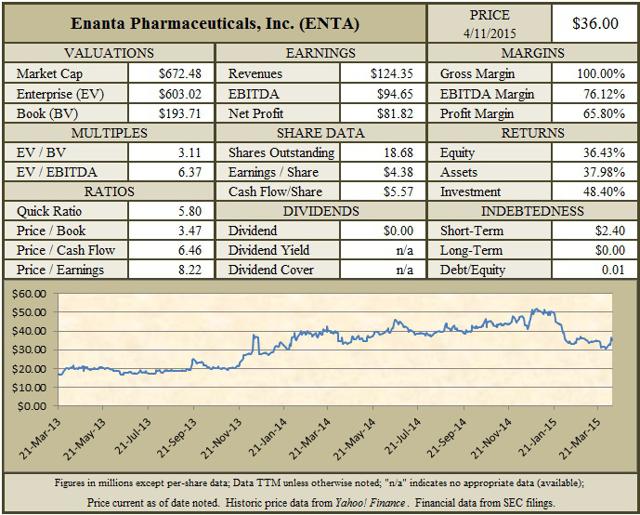 Enanta is focused on treatments for the hepatitis C virus (HCV), as well as liver disease. The Company's lead candidate - paritaprevir (ABT-450) - is a protease inhibitor. Two formulations have been developed in partnership with AbbVie, Inc. (NYSE:ABBV) and are being marketed in the U.S. and the E.U. A New Drug Application has been filed in Japan for a third formulation (also developed with AbbVie).5
Enanta has an active pipeline with six studies underway:6
ABT-493 (a next-generation protease inhibitor), for HCV, phase 2b (in partnership with AbbVie;
EDP-239 (a NS5A inhibitor), for HCV, phase 1 proof of concept;
Cyclophilin Inhibitor, for HCV, preclinical;
Nucleotide polymerase inhibitor, for HCV, preclinical;
Non-alcoholic steatohepatitis (NYSEARCA:NASH), liver disease, preclinical;
Primary biliary cirrhosis (PBC), liver disease, preclinical.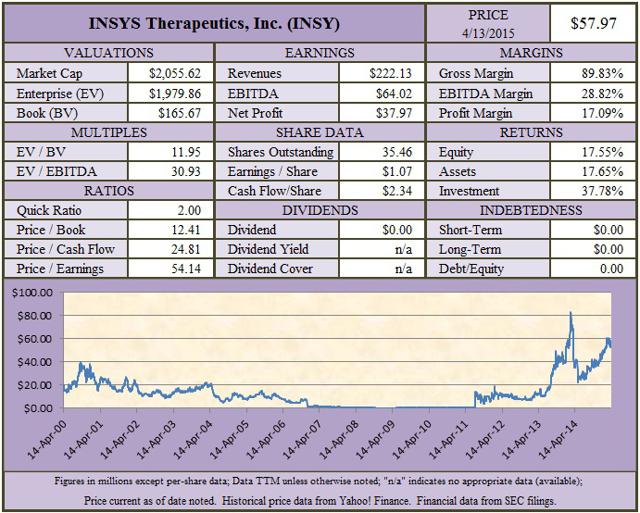 INSYS was founded in 1990 as Oncomed, Inc. In 2010, Oncomed merged with Insys Therapeutics, Inc. After the merger, Oncomed assumed the INSYS name, and Insys Therapeutics became Insys Pharma, Inc., a wholly owned subsidiary of INSYS.7
The Company markets SUBSYS, a sublingual spray drug delivery system and an integral to their Subsys, a sublingual fentanyl spray for "breakthrough cancer pain" in opioid-tolerant cancer patients.8
INSYS also markets Dronabinol SG Capsule, a generic form of Marinol. This drug is used to treat chemotherapy-induced nausea and vomiting; the drug is also used to treat anorexia and to improve appetite in patients with AIDS.9
The Company's pipeline includes an oral-solution version of Dronabinol, currently in phase 3 studies. INSYS has also received orphan drug designation for its Cannabidiol Oral Solution, a treatment for Lennox-Gastaut Syndrome and Dravet Syndrome, two forms of infantile and early childhood epilepsy (this drug is in phase 1).10 In February, INSYS entered into an agreement with Gold Coast Therapeutics, Inc. to develop a treatment of chronic prostatitis/chronic pelvic pain syndrome.11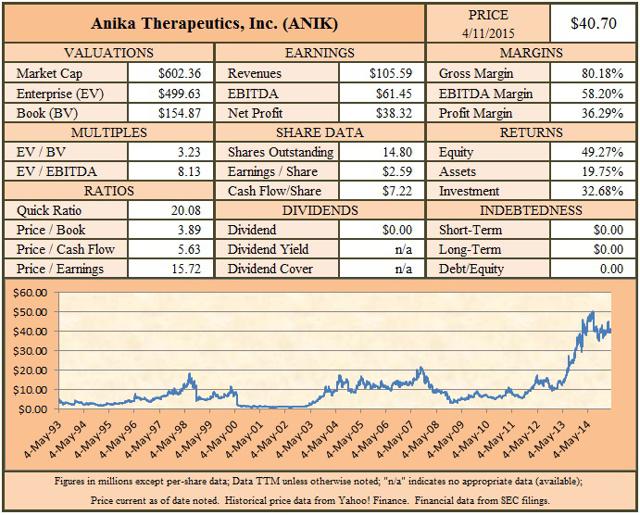 Anika continues to focus attention on its proprietary version of hyaluronic acid (NASDAQ:HA) a naturally occurring polymer that protects soft tissue. The Company produces HA-based treatments in orthobiologics, dermatology, surgery, and ophthalmology; their recently developed Hyaloss matrix extends their product's uses to dentistry. Anika also has developed veterinary applications for their product.
Anika's emphasis on HA continues to be its bread and butter, as their pipeline seems to provide a regular stream of new products and applications. Three new products are readying for launch: Hyalospine and Hyalobarrier, both of which have surgical uses; and Cingal, which has orthobiological application. Another orthobiological treatment, Hyalofast, is currently in clinical trials. A dermal product, Rejuvenation, is currently in the development stage.12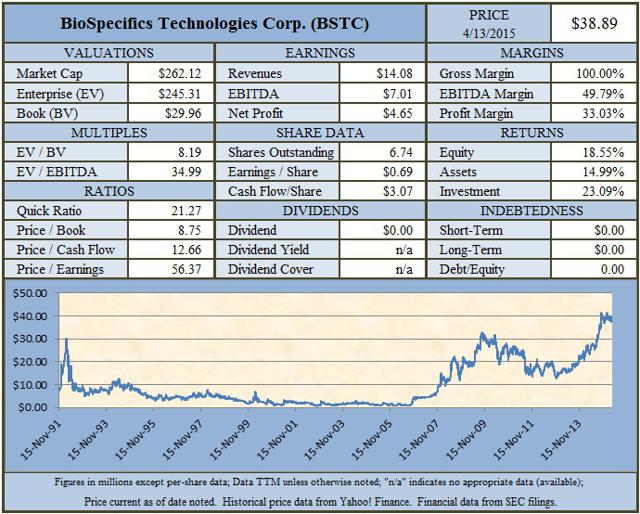 As with Anika and its focus on HA, BioSpecifics has focused on treatments implementing its injectable Clostridial collagenase - a collagenase that is more efficient than natural mammalian collagenase.
BioSpecifics is currently marketing collagenase through its partner, Auxilium Pharmaceuticals, Inc., a wholly owned subsidiary of Endo International plc (NASDAQ:ENDP). The injectable collagenase has been approved for treatment of two conditions: Dupuytren's contracture and Peyronie's disease. Eurasian and African markets are handled through a collaboration with Swedish Orphan Biovitrum AB (STO: OTC:OTC:SOBI) which supplies the treatment under the name XIAPEX; under the name XIAFLEX the product is marketed by Asahi Kasei (Tokyo: 3407) in Japan; Actelion Pharmaceuticals Ltd. (ATLN) handles marketing in Canada, Australia, Brazil and Mexico.13
In addition, Endo's licensed treatments include three indications:14
Frozen shoulder (completing Phase 2 studies);
Cellulite and Canine lipoma (both currently in Phase 2).
Internally, BioSpecifics has three indications under study:15
Human lipoma (currently in Phase 2);
Capsular contracture of breast, and uterine fibroids (both pre-clinical).
Summary
There is a lot to like in this group of companies. Of the five, only NewLink has no product currently on the market, so the commercial viability of its drugs has yet to be determined and - given that its lead candidate is just starting Phase 3 trials - it may be a few years before it brings anything to market. The remaining four companies have established market presence.
Both Anika and BioSpecifics have broad market exposure, and there is every reason to expect that, as they examine new indications for their therapies, they will increase that exposure. Enanta is forging its way in what seems to be a highly competitive HCV market, but its partnership with AbbVie gives it substantial muscle. INSYS has leveraged its way into the generics market and is leveraging that into additional research and development.
Any of these companies would seem to be a worthy biotech holding, with both Anika and BioSpecifics - offering proven performance and market presence - maybe representing the more attractive companies. NewLink may represent the riskiest of the five, but it's focus on cancer, and the apparent breadth of impact its two approaches to treatment present, may give it the potential for significant upside.
Of course, all of this is based on the supposition that fundamentals are a good predictor of a company's worth and likely performance. If the last group of biotechs selected is any indication, the case for the affirmative certainly seems makable.
Disclaimers
This article is for informational use only. It is not intended as a recommendation or inducement to purchase or sell any financial instrument issued by or pertaining to any company or fund mentioned or described herein.
All data contained herein is accurate to the best of my ability to ascertain, and is drawn from the Company's SEC filings to the extent possible. All tables, charts and graphs are produced by me using data acquired from pertinent SEC filings; historical price data from Yahoo! Finance. Data from any other sources (if used) is cited as such.
All opinions contained herein are mine unless otherwise indicated. The opinions of others that may be included are identified as such and do not necessarily reflect my own views.
Before investing, readers are reminded that they are responsible for performing their own due diligence; they are also reminded that it is possible to lose part or all of their invested money. Please invest carefully.
--------------------
1 "5 Biotechnology Bargains With Attractive Fundamentals," Seeking Alpha, 1 November 2013.
2 Another company that placed in the top five in the original article and again placed in the top five was Enzon Pharmaceutical (NASDAQ:ENZN); Enzon - as a company - is no longer in operation, but serves only as a point through which royalties due the company are distributed to shareholders. See my article "What s Left Of Enzon Pharmaceuticals?" Because Enzon is no longer really functional, the company is not dealt with here.
3 NewLink Genetics Corporation website, About Us.
4 Information about the NewLink pipeline can be found here.
5 Information about Enanta Pharmaceuticals can be found here.
6 Information about Enanta's pipeline can be viewed here.
7 Insys Therapeutics, Inc. SEC Form S-1 Registration Statement, March 29, 2011.
8 Insys website, here.
9 See note above.
10 INSYS, products page.
11 INSYS press release.
12 Anika pipeline page.
13 BioSpecifics partnerships page.
14 BioSpecifics pipeline page.
15 See note 14.
Disclosure: The author has no positions in any stocks mentioned, and no plans to initiate any positions within the next 72 hours.
The author wrote this article themselves, and it expresses their own opinions. The author is not receiving compensation for it (other than from Seeking Alpha). The author has no business relationship with any company whose stock is mentioned in this article.