Avra Inc. (OTCQB:AVRN) focuses on solutions in the digital currency markets offering payment solutions to businesses worldwide. Its solutions include AvraPay, a system for merchants to accept Bitcoin for payment; AvraATM for promoting usage and acceptance of digital currencies; AvraTourism that provides cryptocurrency payment processing solutions for merchants, such as hotels and casinos; and AvraNews, a news portal focusing on digital currency news.
If you looked at the company's latest 10-Q and happened to miss the financial statements, you could be left with the impression that Avra isn't that bad of an investment. Avra Inc. used to market and sell SmartTV set-top boxes; recently, they've stated that they want to partially continue this business in addition to providing various services to businesses that use Bitcoins.
The business sounds somewhat intriguing but, while you have the 10-Q open, you should look at the company's financial performance. Disclosed is the following:
Revenue: $0 (since inception in 2012)
Assets: <$150,000 (100% Cash)
Liabilities: $91,000
The company states that its business now revolves around their suite of payment solutions, such as AvraPay and AvraATM. It is unclear whether or not the company actually has any developments to date. The only asset recorded on the balance sheet is cash, so I'd like to know what exactly they plan on selling.
With a market capitalization of around $25M, Avra Inc. is significantly overvalued. My goal here is to outline why you should stay away from or sell this stock if you happen to own it. For novice investors who still haven't realized how penny stocks truly work, an image of their company headquarters might make things a little bit more clear. According the Avra's filings and website, company headquarters is located at here.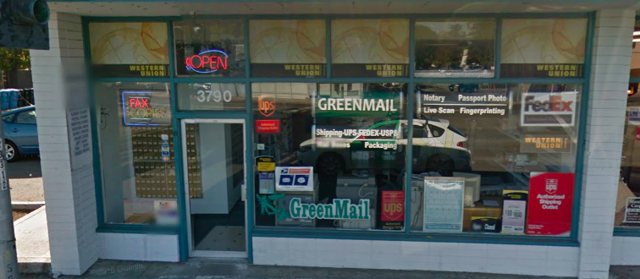 In December of 2014, the company raised $150,000 in an unregistered sale of equity to a non-U.S. investor. Curiously, I was unable to locate any statements from the company as to what the funds would be used for. Given the company's financial performance and the fact that $150K is nowhere near the required capital to start up a bitcoin company, I am raising a red flag.
Despite the numbers and reality, the CEO of Avra has said, "I am very optimistic with Avra's diverse business model along with the international buzz and interest in cryptocurrency,"
Where did all the money go? What is this new capital for?
Apparently, President and CEO, Stephen Shepherd thinks that spending money promoting his stock is a good way to improve the performance of his business. According to HotStocked.com, starting April 6th of this year, a penny stock promoter was compensated $73,000 for one week of promotion of AVRN stock. The company has had a history of penny stock promotion going back as far as its inception; could this be where the money went and is now going?
Stephen Shepherd owns 56.3% of the company's 63M outstanding shares.
According to StockPromoters.com, Avra Inc. is the most promoted penny stock on the market with 40 newsletters pumping the stock.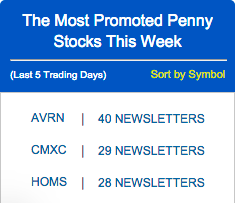 All of the usual suspects are involved-


_________________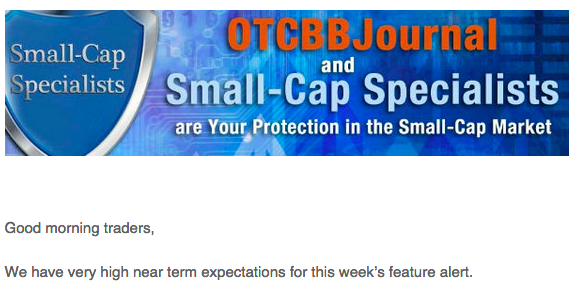 Context: How did we get here? Why AVRN is overvalued-
With Avra Inc., we are looking at a very special situation. After going public in mid-July of 2014, shares are currently down 46% (now down apprx. 60%). Still, just a few days ago, the stock was trading nearly 1000% higher from its 6-month low. I expect shares of AVRN to be trading back around that low of $0.05 within 3 months. Given that the company has never generated any revenue and has no significant assets, logic tells us that the increase in share price is only as a result of stock promoter manipulation, not material growth in the company.
When investing in any company, one should always analyze potential upside and downside risk. In this case, there is significant room for the stock to move lower as it hasn't experienced a pullback since promotion commenced (until today). Experienced traders can look to make a short-term short trade, or even potentially look to take a long-term short position. As stated above, the stock closed yesterday at levels which are astronomical compared to its 6-month low. Given the long and well documented performance record of pumped penny stocks, I believe there is potential for a lucrative trade back down to sub 10-cent levels. While generally I don't recommend touching OTC stocks, there is no denying their predictability -- The stocks are pumped up and once they reach a certain level, the pumpers dump their shares. However, shorting this still has significant risk because it is impossible to gauge when the pump will end.
Still, with shares now down 20% to $0.41 per share, it appears that the pump has begun.
Catalysts:
The company claims on its latest annual report that they will be making announcements about their new Avra payment services in April and June of 2015. This, coupled with compensated penny stock promotion from some of the biggest names in the space, could lead to PPS going higher over the next days or even weeks. Being so overvalued, I think that the "dump" could begin anytime within the next month. With no "public awareness campaigns" today for Avra Inc, April 10th (now April 14th), shares have already dropped 7% (now 27%). While AVRN's average daily volume is only 27K, over the last few sessions its daily volume has been around 300K; price action today seems very weak. It is important to note that daily volume still has not eclipsed 1M shares, which suggests that insiders have not sold any significant amount of stock. Reiteration: We might see this go higher before any insiders feel compelled to sell.
Penny stocks are some of the most predictable stocks there are. They go up for one reason; the stock is promoted by penny stock "newsletters". They go down and collapse for one reason; the pumpers do what is now famously known as "dump". Once price action ceases to show signs of any strength, the tables can turn very quickly.
Conclusion:
I believe that Avra Inc. is promoting its stock so that the large shareholders can dump their shares and effectively pocket huge profits. This should be underscored based on the fact that IR has not responded to any of my three inquiries.
As stated above, since the company's inception it has never generated a single dollar of revenue. It appears that over 50% of the money recently raised was spent on penny stock promoters. Avra has no long term assets, yet they claim to be working on a great new bitcoin payment system? Plain and simple, their story does not add up. If you can't even prove that the company is in operation, it's probably a good idea to stay away.
Based on my projection of the company's cash burn-rate, I expect them to run out of cash by mid-late 2015. The company has stated similar expectations, though not clear. Different methods of valuation don't matter here; Avra Inc. is probably worth less than the few thousand dollars they have in the bank. Ultra-conservatively speaking, let's say based on the company's ability to raise money and their website ownership, the company is worth $5M. If that were the case (and that's a big if), AVRN common stock would be "fairly" valued at $0.10 per share.
The company has not positioned itself in any way to change its current direction, which is heading towards bankruptcy. If they do not begin to generate revenue in 2015, the company will either have to close down or take more money from investors. Having said all that, my price target is $0.02.
Editor's Note: This article covers one or more microcap stocks. Please be aware of the risks associated with these stocks.