Below is the Financial Stability Board's list (by host country) of systemically important financial institutions (SIFIs), alternatively known as the 29 banks which are simply Too Big to Fail.
Twelve different countries are home to these 29 banks. Half of those countries host just one Too Big to Fail institution, and the other half host anywhere from two (Germany and Switzerland) to the U.S.'s eight.
Belgium (1): Dexia (DXBGR.PK) (recipient of a recent joint Belgian-French government bailout, its second bailout in the last three years).
China (1): Bank of China
France (4): Banque Populaire, BNP Paribas (OTC:BNOBF), Crédit Agricole (OTCPK:CRARF), Société Générale (OTCPK:SCGLF)
Germany (2): Commerzbank (OTCPK:CRZBF), Deutsche Bank (NYSE:DB)
Italy (1): Unicredit (OTCPK:UNCFF)
Japan (3): Mitsubishi (OTCPK:MBFJF), Mizuho (NYSE:MFG), Sumitomo Mitsui (NYSE:SMFG)
Netherlands (1): ING (NYSE:ING)
Spain (1): Santander (STD)
Sweden (1): Nordea (OTC:NRDGF)
Switzerland (2): Credit Suisse (NYSE:CS), UBS (NYSE:UBS)
UK (4): Barclays (NYSE:BCS), HSBC (HBC), Lloyds (NYSE:LYG), Royal Bank of Scotland (NYSE:RBS)
U.S. (8): Bank of America (NYSE:BAC), Bank of New York Mellon (NYSE:BK), Citigroup (NYSE:C), Goldman Sachs (NYSE:GS), JP Morgan (NYSE:JPM), Morgan Stanley (NYSE:MS), State Street (NYSE:STT), Wells Fargo (NYSE:WFC)*
* Professor Simon Johnson, author of the excellent 13 Bankers, only characterizes six U.S. banks as Too Big to Fail - Bank of America, Citigroup, Goldman Sachs, JP Morgan, Morgan Stanley, and Wells Fargo. However, the FSB has added two more institutions - Bank of New York Mellon and State Street - to their list.
(Relative) Size Matters
A better measure of risk than the number of banks per country is the relative size of those banks to the host country. Even though these banks have global operations it is typically the country in which the bank is domiciled which provides the bank bailout. For example, Citibank, which is headquartered in the U.S., blows up on average once every decade; the megabank has had to be bailed out three times in the past 30 years by American taxpayers.
Below is a chart showing the ratio of individual bank assets to host country GDP for the world's 25 largest banks (as of Q1 2010). Click to enlarge: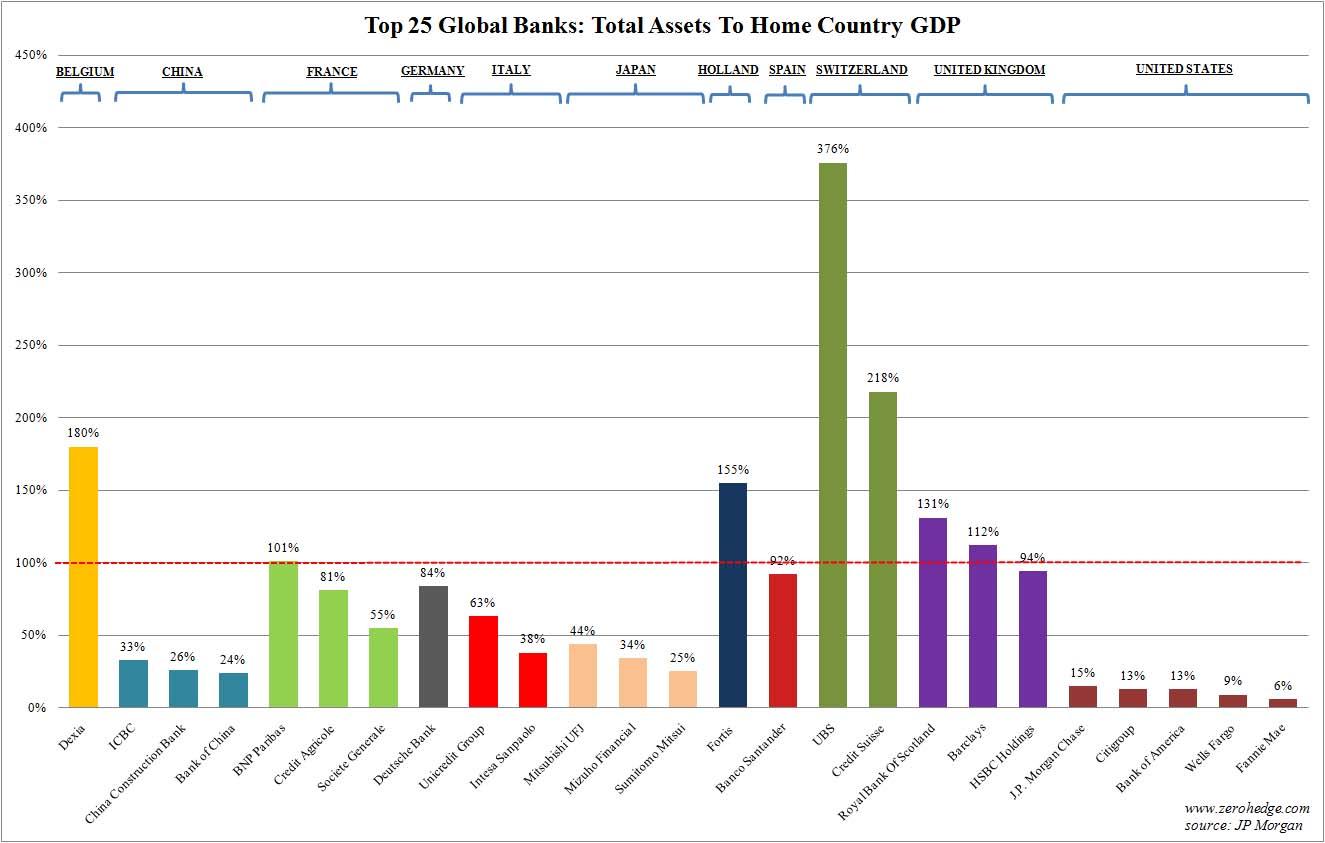 Adding the figures up shows you which countries have the largest banks in relation to national income:
Belgium - Dexia: 180% of GDP
France - BNP Paribas, Credit Agricole, SocGen: 237% (this does not include France's share of Dexia's bailout of Banque Populaire)
Germany - Deutsche Bank: 84%
Italy - Unicredit, Intesa Sanpaolo: 101% (Intesa Sanpaolo is not on the FSB's list)
Netherlands - Fortis: 155% (does not include ING, which is on the FSB list)
Spain - Banco Santander: 92%
Switzerland - Credit Suisse, UBS: 594%
UK - RBS, Barclays, HSBC: 337% (does not include Lloyds, which is on the FSB list)
US - JP Morgan, Citigroup, Bank of America, Wells Fargo: 50% (does not include Goldman, Morgan Stanley, etc.)
The three countries highlighted above - France, Switzerland, and the UK - are those with the largest relative banking sectors. Importantly, these figures understate the relative size of the systemically important banks in France and UK because they do not include all the firms identified by the FSB (nor the portion of the banking system deemed to be non-systemically important).
One last point worth highlighting is that four of the world's 25 largest banks did not make it onto the FSB's list of systemically important institutions: Fortis (Netherlands), Intesa Sanpaolo (OTCPK:ISNPY) (Italy), and ICBC and China Construction Bank (OTCPK:CICHY) (China). Apparently being biggest does not always equate to systemic importance in the eyes of the FSB.
Disclosure: I have no positions in any stocks mentioned, and no plans to initiate any positions within the next 72 hours.