Two exchange traded products tracking master limited partnerships have attracted nearly $1 billion each so far this year as ETF investors continue to explore new areas of the market in their search for income.
MLPs came out in the 1980s to promote energy infrastructure investments. The companies enjoy tax benefits and pay out most of their net income to investors, typically on a quarterly basis. [MLP ETFs]
Alerian MLP ETF (NYSEARCA:AMLP) and JPMorgan Alerian MLP Index ETN (NYSEARCA:AMJ) have seen net inflows of $956 million and $883 million so far in 2011 through October, according to National Stock Exchange data.
MLPs focus on the transportation, storage and processing of energy, including oil and natural gas.
"The operating income from the transportation of fuels tends to be much less volatile than the prices of commodities themselves, where a marginal drop or spike in supplies or demand tend to cause prices to fluctuate wildly," said Morningstar analyst Abraham Bailin in a profile of Alerian MLP ETF, which has an expense ratio of 0.85%. "Pipeline revenues are linked to volume, not the far more volatile prices of the commodities they carry."
MLP stocks overall have a market cap of about $250 billion, said Kenny Feng, president and CEO of Alerian, which provides research and benchmarks on MLPs.
He said the asset class is more volatile than the S&P 500 but that the income MLPs pay out eases the bumps.
Some income investors also like the diversification benefits of MLPs because they tend not to move in lockstep with stocks and bonds.
Exchange traded products that follow MLPs "get away from the single-stock risks and tax issues," Feng said at a recent Morningstar ETF conference. He is a former managing director and portfolio manager of SteelPath Capital Management, an MLP investment manager, and also covered the sector at Goldman Sachs.
MLPS have a 10-year annualized return of 18%, Feng said. There is about $4.5 billion linked to Alerian's MLP indexes.
Since pipelines are monopolies, Feng said MLPs have "toll road" business models. The top holdings in Alerian MLP ETF are Enterprise Products Partners (NYSE:EPD), Kinder Morgan Energy Partners (NYSE:KMP) and Plains All American Pipeline (NYSE:PAA). There are 25 stocks in the portfolio.
The ETF has an annual yield of 6.4%, according to XTF.com, and holds assets of about $1.6 billion.
"Investing in MLP securities directly will require shareholders to complete a number of schedule K-1s. Though AMLP provides exposure to the MLP space, it circumvents the exhausting K-1 filing process. Shareholders will file via the traditional form 1099," Mornigstar's Bailin wrote.
JPMorgan Alerian MLP Index ETN, an exchange traded note, is the larger product with over $3 billion in assets. ETFs and ETNs have different tax treatment and credit risks.
JPMorgan Alerian MLP Index ETN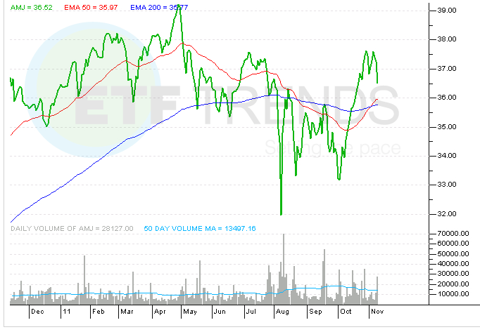 Disclosure: None