Global Oil Supply And Demand
Early 2015 Review
The International Energy Agency recently published its Oil Market Report. In this, it highlights and examines recent global oil supply and demand. It is a great time to take a look at and review the status of the global oil supply/demand balance and make some forecasts about what the rest of this year may look like.
US crude oil stocks have been building steadily since the week of September 26, 2014, when they reached a recent low of approximately 356 million barrels. US oil in storage accelerated steeply in the first quarter of 2015. Last week, US oil stocks were 482 million barrels, a build of 124 million barrels in 6 months. Oil prices reacted accordingly, as seen in the below chart. Prices are 20% above the lows, but still stand 50% below last June's peak.
The US government keeps the most accurate statistics of oil in storage and other supply/demand data of any government or other entity on earth. This is why the US data is widely considered a bellwether for global oil supply and demand by sophisticated traders and investors.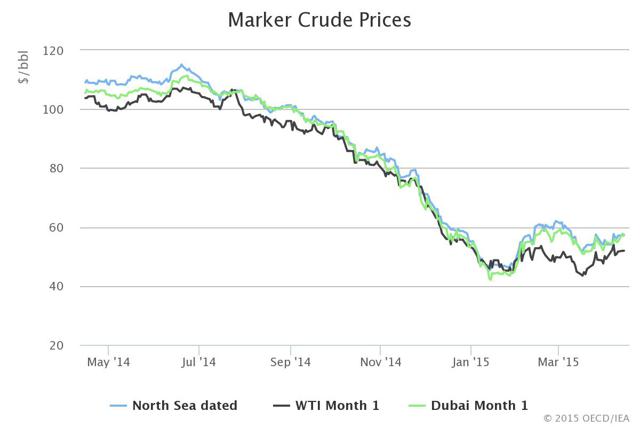 We can draw some interesting conclusions by comparing the above price chart to the US stocks chart above that. Prices collapsed from June 2014 to Jan 2015. Prices have been steady, albeit in a wide range, since January. The large acceleration in oil stock builds and the large supply/demand imbalance did not happen until after prices had fallen. The market saw the imbalance coming and adjusted prices accordingly. Is perhaps the same thing happening now in the other direction? We will try to draw some conclusions below.
Below are two charts from the IEA: A world supply graphic and a world demand graphic. In Q4 of 2014 world supply averaged 94.91 million barrels per day. At the same time, demand only averages 93.72 million barrels per day. This means approximately 1.2 million barrels per day of oil went into storage worldwide in Q4 2014. The US data chart above shows that in Q4 2015, oil stocks in the US rode by 30 million barrels, or about 330,000 barrels per day. Therefore, in Q4 2014, 865,000 barrels per day or 78 million barrels of oil were stored somewhere outside the US.
The same figures for Q1 2015 are very interesting. Q1 global oil supply was 94.55 million barrels per day (a slight drop Q4 vs. Q1) and global demand was only 92.99 million barrels per day, an imbalance of 1.56 million barrels per day. In Q1, oil stocks in the US rose by 100,000,000 barrels or 1.1 million barrels per day. Most of the supply demand imbalance in the world in Q1 was in the USA. If the US oil market rebalances, so will the world market. Oil prices have been rising steadily recently. What does the market know that we need to see?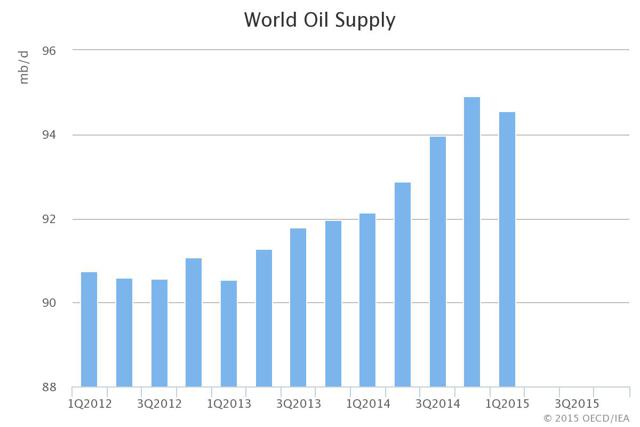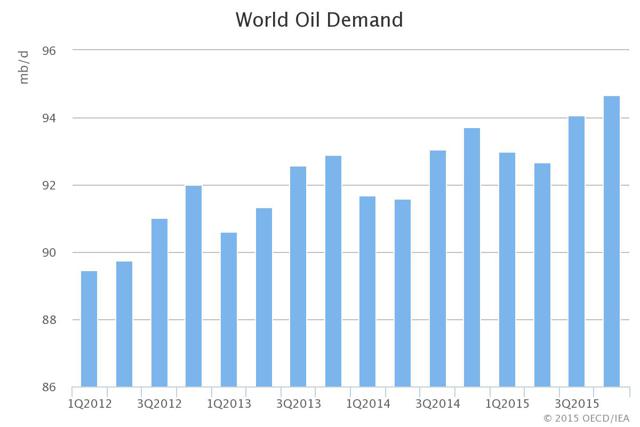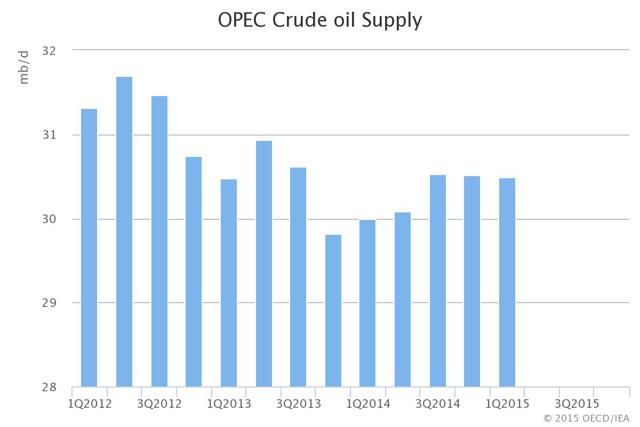 The IEA Oil Market Report states that global supply for the month of March was 95.2 million barrels per day. This was driven by OPEC supply rising to 31 million bbls per day. Looking forward to the balance of the year, supplies could rise a little more, but not by much. The above chart shows that 31 million bbls per day is very near the recent highs for OPEC. It may be able to produce 31.5 million per day, but not much above that. Saudi Arabia's production is at or just above 10 million bbls per day. It claims it can produce more, but experts have long said that it is very difficult for it to produce more than 10 million per day for any length of time. Moreover, additional production from SA is very heavy, very high-sulfur crude that is difficult to refine and not in high demand by anyone. As I and others have opined, any deal with Iran will not affect supplies for 6 months to a year. The recent rumors of a Russian deal with Iran are just that. Torrid supply growth in the US will slow down in 2H 2015 as lower rig counts and lower capital expenditures finally take hold.
The IEA report paints a good picture for demand. The demand side of the oil equation is the key to the market stabilizing, and there are reasons to believe the IEA is being cautious. The IEA predicts Q3 2015 global oil demand to be 94.05 million bbls per day as compared to 92.66 million bbls per day for Q2 of 2015. This is a 1.39 million bbl per day increase quarter over quarter. In 2014, the Q2 vs. Q3 increase was 1.44 million bbls per day; in 2013, 1.23 million bbls per day; in 2012, 1.3 million bbls per day. The economy globally is better this year than last. Economic growth is better. The demand increase going into the summer should be better; significantly better. Before anyone says it was a cold winter, and thus, the demand increase winter to summer should be muted, note this: Oil is a transport fuel not a heating fuel. On any given day in the US, we use 9 million bbls per day of gasoline and 4 million bbls per day of diesel, the majority of our demand.
The US economy is growing steadily, but slowly. We are buying more goods that are transported by truck and train (diesel fuel). Look at car/truck sales. Pick-up trucks and SUVs are selling like mad. This directly affects gasoline demand. Gasoline prices are half of what they were last summer. Americans will hit the road this summer like they have not for years. I predict that there will be weeks in July and August where US gasoline demand tops 10 million bbls per day, levels not seen for years.
The Chinese economy continues to grow at 7%. This is not the torrid pace of years past, but it does translate into steady demand growth for oil. The two great engines for demand growth for oil are the US and China. Both of these engines are driving demand growth in 2015. The IEA demand projection for Q3 is likely to be low by 500,000 bbls per day.
The IEA report does not make any supply projections for Q2 or Q3 of 2015. If demand is 94.55 like I predict and supplies remain the same in Q2 and Q3 as in Q1 - 94.55 - then the global oil market will have balanced itself. Even if supplies rise to 95 million bbls per day, it seems likely the market is that much closer to balancing itself.
The important conclusion here is that the oil armageddon is not coming. Low prices are doing what they are supposed to do: stimulating demand, especially in the USA (the US is more than 20% of global oil demand) and beginning to curb marginal supplies (again especially in the USA). The bottom is in for oil prices and they are likely to range trade between $45 and $70 for this year and next. WTI prices at $54 are still below mid range in my estimation. Prices will remain volatile on a daily, weekly and monthly basis. All the historical factors, in particular the Middle East geopolitics that make oil prices volatile, are still in place.
If you are an oil trader, make the volatility work for you. If you are an energy investor, buy the best, financially-stable names and stick with them. If you are of a risk-taking bent, then buy the weakest names in the oil patch and make a bet on the coming wave of consolidation that will hit the oil patch.
The IEA report is available here.
Disclosure: The author has no positions in any stocks mentioned, and no plans to initiate any positions within the next 72 hours.
The author wrote this article themselves, and it expresses their own opinions. The author is not receiving compensation for it (other than from Seeking Alpha). The author has no business relationship with any company whose stock is mentioned in this article.