Too often, investors forget that some companies' earnings estimates cannot be trusted. But not because they are too high. Rather, it is because they are too low. Some companies tend to be conservative with their guidance, even when the operational metrics prove otherwise. Moments like these, when investors lose sight of that, are the perfect times to buy.
Fluor Corporation (NYSE:FLR) is one of the world's largest engineering firms, with a presence in 60 countries, and an operational history of nearly 100 years. Fluor's business is diversified across a wide variety of industries, insulating it from problems in any particular one. Over the past year, the stock has dropped by just over 2.5%, and we think that the current share price in no way reflects Fluor's true value.

The recent drop in Fluor's share price was caused by the company's Q3 report issuance on November 3. The company posted EPS of 78 cents/share, on revenues of 6 billion, a 10% increase over 2010. The issue with that number, while impressive, is that it missed consensus expectations of 85 cents. However, the entire miss was due to a charge the company took to complete construction on the Greater Gabbard Offshore Wind Project. That $38 million charge is what caused the company to miss expectations. Without it, net income would have topped expectations.
The construction issues were caused by the bankruptcy of a "critical subcontractor" last January. This delayed construction, but the turbines are now generating power, and Fluor expects the wind farm to be complete in early 2012, and there will most likely be no more charges associated with it.
What spooked investors more, however, is Fluor's guidance. The company narrowed its guidance for 2011 to EPS of $3.20-$3.40 and established 2012 EPS guidance at $3.40-$3.80. In the current market environment, where too many investors sell first and ask questions later, this was deemed unacceptable, and Fluor shares promptly fell 6.3%. Yet there are several key factors that investors are overlooking when it comes to Fluor, factors that make the stock a compelling buy at these levels.
The first factor is Fluor's conservatism. There are some companies for whom guidance is nothing more than an arbitrary number. The prime example of this is Apple (NASDAQ:AAPL). Investors largely view its guidance as a meaningless number, for Apple sandbags guidance every quarter with remarkable consistency. Fluor operates in a similar manner, and its management has a penchant for guiding conservatively.
On the conference call, management stated that it is guiding conservatively because it feels that there is a lot of global uncertainty. CFO Michael Steuert, on the conference call, stated that the guidance:
"does reflect a fairly high level of global uncertainty at this point. It also reflects -- this is early November of 2011 so we have a ways to go to get into 2012. And normally, we do adjust our range as we go through there. There's clearly some uncertainty being this far away. But I wouldn't be concerned about that.
In such an environment, investors are concerned that heightened uncertainty will lead to reduced profits. But what many are missing are the underlying numbers.
Secondly, the company has a record backlog. Each industry has key metrics that must be carefully examined to see the health of the underlying business. Oracle (NYSE:ORCL) investors scrutinize new software licenses. Microsoft investors scrutinize deferred revenue. Retail investors examine same-store sales. Investors in engineering firms such as Fluor must look at the backlog.
We have indeed looked at the backlog, and are impressed. Fluor, as of Q3, has a record backlog of business, totaling $41.8 billion. CEO David Seaton has gone on the record that despite the global uncertainty, his customers have not altered their capital spending plans. The company was awarded $6.7 billion in new business across a wide swath of industries, and the backlog has grown at 4 out of 5 business segments. Consensus estimates for new awards was $5.6 billion, and Fluor handily beat those estimates.
| | | | |
| --- | --- | --- | --- |
| Segment | Backlog | Prior Year Backlog | Change |
| Oil & Gas | $14.6 Billion | $11.7 Billion | 24.79% |
| Industrial & Infrastructure | $22.3 Billion | $17.3 Billion | 28.9% |
| Government | $1.8 Billion | $1 Billion | 80% |
| Global Services | $2 Billion | $2.2 Billion | -9.1% |
| Power | $1.1 Billion | $855 Million | 28.65% |
The decline in the backlog at the Global Services segment can be explained by the fact that the prior year's results were boosted by an increase in business due to the Gulf of Mexico oil spill. The decline does not reflect fundamental weakness at the division. In fact, profit at that segment rose 11% to $39 million.
Fluor's book-to-bill ratio this quarter came in at a healthy 1.1, meaning the company has more orders than it can fill. This is a key metric of Fluor's health. Bears may seize on the fact that there is a weak economy, both in Europe and and the US. But, as CEO David Seaton pointed out:
When you look at the prospects that we're pursuing, the prospects that we know we're going to get but we have not yet put into backlog, I think it allows us to grow backlog as we get towards the end of next year. The prospect list is very robust, but it's kind of a change. I mean if you look at us, 80% of our business is outside the United States. That's obviously a historic high for us. I don't see that changing anytime soon. And I think our diversity of market and geography is really starting to pay dividends. I'm really bullish on our ability to grow this thing beyond the $40 billion. But I'd only caution with that lumpiness word that there'll probably be some quarters where our backlog will be reduced from the highs just to return there or above in an out course.
To put it simply, the financial and operational results that Fluor is posting are not those of a company that is facing weakening end-market demand. The developing world is industrializing, and Fluor is well positioned to capitalize on that long-term trend.
It is also important to note that companies in the same industry do not always operate at the same levels. Just ask Intel (NASDAQ:INTC) and AMD (NASDAQ:AMD). The latter is laying off over 10% of its workforce due to "weak PC demand." Yet Intel is posting record profits.
Too often, companies blame a weak economy to mask company-specific weakness. Fluor reported at the same time as Foster Wheeler (FWLT), and while Foster-Wheeler reported a terrible quarter, investors should not lump Fluor together with its smaller peer. Foster Wheeler has none of Fluor's diversity. It specializes in oil and gas, as well as power projects, and thus it is exposed to the dynamics of those fields.
The company's EPS of 31 cents a share missed expectations by 11 cents. Revenues and margins also came in below expectations. New orders at the company's Global Engineering and Construction group fell by over 34% compared to last year, and orders at the power group fell by nearly 50%.
Foster Wheeler is simply not executing at the same level as Fluor is, and the results prove it. Fluor is in a class of its own in the engineering sector, not only in terms of its execution, but its balance sheet as well.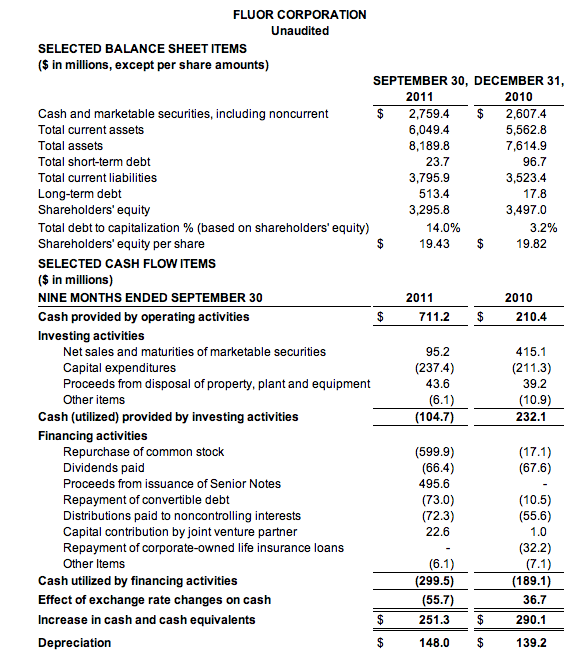 Fluor has nearly $2.8 billion in cash on the balance sheet, and manageable debt. Though debt increased this quarter to over $500 million, as Fitch noted, Fluor's leverage is still at a low level, and shareholders should not be concerned. The company repurchased 4.2 million shares in Q3, and buybacks should continue for the foreseeable future.
In conclusion, Fluor's conservative guidance should not be mistaken for operational weakness, nor should problems at Fluor's peers deter investors. Fluor is a company with a strong record of growth, and we see no signs that the company is slowing down. The dividend has grown to 12.5 cents/share, for a CAGR of 9.3% over the last 5 years. And at a P/E of just under 18, and a forward P/E of 14.8, Fluor's current stock price does not reflect its true value.
Analysts agree. Credit Suisse sees the stock at $73, Barclays sees it at $82, and S&P and UBS see it at $70. The Reuters average price target is $71.38, representing upside of over 34% from current levels. Fluor is helping to develop the world one project at a time, and we think its stock will help any investor develop profits.
Disclosure: I have no positions in any stocks mentioned, and no plans to initiate any positions within the next 72 hours.