Overview
In this series of articles, I will be taking a look at various industry sectors and selecting what I believe will be outperforming stocks for 2015. In Part 1, I reviewed 47 stocks within the Aerospace and Defense industry sector. For part 32, in determining my favorite stocks in this sector for 2015, I will review the following IT Services stocks:
Accenture (NYSE:ACN)
Acxiom (NASDAQ:ACXM)
Alliance Data Systems (NYSE:ADS)
Amdocs (NYSE:DOX)
Automatic Data Processing (NASDAQ:ADP)
Blackhawk Network Holdings (NASDAQ:HAWK)
Booz Allen Hamilton Holding (NYSE:BAH)
Broadridge (NYSE:BR)
CACI International (NYSE:CACI)
Cardtronics (NASDAQ:CATM)
Cass Information Systems (NASDAQ:CASS)
CGI Group (NYSE:GIB)
Cognizant Technology (NASDAQ:CTSH)
Computer Sciences (CSC)
Computer Task Group (NASDAQ:CTG)
Convergys (NYSE:CVG)
CoreLogic (NYSE:CLGX)
CSG Systems International (NASDAQ:CSGS)
Datalink (NASDAQ:DTLK)
DST Systems (NYSE:DST)
EPAM Systems (NYSE:EPAM)
Euronet Worldwide (NASDAQ:EEFT)
Evertec (NYSE:EVTC)
ExlService Holdings (NASDAQ:EXLS)
Fidelity National Information Services (NYSE:FIS)
Fiserv (NASDAQ:FISV)
Fleetcor Technologies (NYSE:FLT)
Forrester Research (NASDAQ:FORR)
Gartner (NYSE:IT)
Global Cash Access (GCA)
Global Payments (NYSE:GPN)
Hackett Group (NASDAQ:HCKT)
Heartland Payment Systems (HPY)
Jack Henry & Associates (NASDAQ:JKHY)
Higher One Holdings (NYSE:ONE)
Igate (NASDAQ:IGTE)
Information Services Group (NASDAQ:III)
International Business Machines (NYSE:IBM)
InterXion Holding (NYSE:INXN)
Leidos Holdings (NYSE:LDOS)
Lionbridge Technologies (NASDAQ:LIOX)
Luxoft Holding (NYSE:LXFT)
Mantech International (NASDAQ:MANT)
MasterCard (NYSE:MA)
Mattersight (NASDAQ:MATR)
Maximus (NYSE:MMS)
ModusLink Global Solutions (MLNK)
MoneyGram International (NYSE:MGI)
NCI (NASDAQ:NCIT)
Net 1 UEPS Technologies (NASDAQ:UEPS)
NeuStar (NYSE:NSR)
Paychex (NASDAQ:PAYX)
Planet Payment (NASDAQ:PLPM)
PRGX Global (NASDAQ:PRGX)
Science Applications International (NYSE:SAIC)
ServiceSource International (NASDAQ:SREV)
Sykes Enterprises (NASDAQ:SYKE)
Syntel (NASDAQ:SYNT)
Teradata (NYSE:TDC)
Total System Services (NYSE:TSS)
Unisys (NYSE:UIS)
Vantiv (VNTV)
VeriFone Systems (NYSE:PAY)
Virtusa (NASDAQ:VRTU)
Visa (NYSE:V)
Western Union (NYSE:WU)
WEX (NYSEMKT:WEX)
WidePoint (NYSEMKT:WYY)
Xerox (NYSE:XRX)
Step 1
The first step I took to narrow down the list of possible options was to look at the earnings over the past five years of these stocks within the industry sector. I removed the following stocks from further review because of their negative or flat (less than 3%) earnings growth over the past five years:
Acxiom
Blackhawk Network Holding
Computer Sciences
CoreLogic
Evertec
Forrester Research
Global Cash Access
Higher One Holdings
InterXion Holding
Leidos Holdings
Mantech International
Mattersight
ModusLink Global Solutions
NCI
PRGX Global
ServiceSource International
Unisys
VeriFone Systems
WidePoint
Step 2
I then took the list of remaining stocks and checked the revenue growth of each over the past two years. I am removing any stocks that had flat (less than 3%) growth or saw a decline in revenue over the past two years. These stocks include:
Booz Allen Hamilton
CACI International
Cass Information Systems
Computer Task Group
CSG Systems International
IBM
Science Applications International
Western Union
Xerox
Step 3
My next move was to examine the trailing PEG ratio of each of the remaining stocks. I removed any stock that had a PEG ratio over 2 to focus more specifically on fairly valued/undervalued stocks. These stocks included:
Accenture
Alliance Data Systems
Automatic Data
Broadridge
EPAM Systems
Euronet Worldwide
Gartner
Heartland Payment Systems
Jack Henry & Associates
Paychex
Teradata
Vantiv
Virtusa
Visa
Step 4
The next set of data I reviewed was the Fundamental and Value Scores for each of the ten remaining stocks. These scores are calculated by YCharts and I have found them to be very useful when researching investment options. More details on each of the scores can be found here and here.
| | Fundamental Score | Value Score |
| --- | --- | --- |
| Amdocs | 9 | 9 |
| Cardtronics | 6 | 8 |
| CGI Group | 9 | 10 |
| Cognizant Technology | 9 | 4 |
| Convergys | 7 | 10 |
| Datalink | 10 | 6 |
| DST Systems | 8 | 10 |
| ExlService Holdings | 9 | 3 |
| Fidelity National | 9 | 3 |
| Fiserv | 8 | 3 |
| Fleetcor Technologies | 8 | 4 |
| Global Payments | 10 | 3 |
| Hackett Group | 9 | 3 |
| iGate | 8 | 3 |
| Information Services | 5 | NA |
| Lionbridge Technologies | 8 | 5 |
| Luxoft Holding | 7 | 4 |
| MasterCard | 9 | 4 |
| Maximus | 10 | 3 |
| MoneyGram International | 4 | 10 |
| Net 1 Ueps Technologies | 9 | 10 |
| NeuStar | 10 | 10 |
| Planet Payment | 6 | NA |
| Sykes Enterprises | 9 | 10 |
| Syntel | 9 | 7 |
| Total System Services | 10 | 8 |
| WEX | 10 | 9 |

To determine the best stocks for 2015, I'm only taking into consideration stocks with a value of 8 or higher for both value and fundamental scores. Doing this left me with the following remaining stocks:
Amdocs
CGI Group
DST Systems
Net 1 Ueps Technologies
NeuStar
Sykes Enterprises
Total System Services
WEX
Step 5
My next step was to look at the book value of each company and to remove any stock that has seen a decrease in its book value over the past five years. However, none of the remaining stocks saw a decline in book value during this time period.
Step 6
I then looked at the remaining stocks and only included stocks with earnings yields of 6% or higher in my final analysis. The stocks that had earnings yields lower than 6% are:
Amdocs
CGI Group
Sykes Enterprises
Total System Services
WEX
Step 7
My next step was to look closer at each stock remaining that passed all previous criteria and determine whether or not there were any reasons to eliminate them as great stock candidates for 2015. In doing so, I reviewed the financials of each company, the most recent quarterly report transcripts, and searched for any news items that warranted concern.
DST Systems
In its last quarter, the company posted a 6% increase in revenue and an increase in earnings per share from $1.34 to $1.73 compared to the same period last year.
While the overall company performed well, it was the growth in the company's Healthcare Services segment that really made a big impact on the quarterly results. Revenue from this segment increased 12%, while income from operations increased by 16%.
I believe that DST's recent organizational changes will continue to help achieve high levels of growth across the company. With improving margins and a high earnings yield, DST is poised to see significant price appreciation moving forward as the stock remains attractively valued at its current price.
Net 1 Ueps Technologies
In its last quarter, the company reported a 12% increase in revenue and an increase in earnings per share from $0.40 to $0.57 compared to the same period last year. Below are some of the areas that affected these results:
Unfavorable impact from the strengthening of the USD against the ZAR: The USD appreciated by 10% against the ZAR during the second quarter of fiscal 2015, which negatively impacted our reported results;
Increased contribution by KSNET: Our results were positively impacted by growth in our Korean operations;
Increase in the number of SASSA grants paid: Our revenue and operating income has increased as a result of the higher number of SASSA UEPS/EMV cardholders paid during fiscal 2015 compared with 2014; and
Continued growth in financial inclusion services: We continued to grow our financial inclusion services offerings during the second quarter of fiscal 2015, which has resulted in higher revenues and operating income from more sales of low-margin prepaid airtime and UEPS-based lending.
The company raised its earnings guidance even though it is seeing a negative impact of foreign currency on its bottom line, which leads me to believe the company is poised to see a pop in its price if it meets/exceeds these estimates as it will make the stock's current price undervalued in my opinion.
NeuStar
In its latest quarter, the company posted a 6% increase in revenue and a 30% increase in earnings per share compared to the same period last year. With strong results both organically and from recent acquisitions, NeuStar appears likely to see continued growth as evidenced by the company's double digit earnings growth guidance for the first six months of 2015.
While, I do think NeuStar will see strong quarterly results for the remainder of this year, I believe that the recent surges in its stock price following news of its buyback launch and contract renewals, will limit further significant stock appreciation throughout this year.
The stock is up over 23% in this past month, and looking at the chart below, you can see that this has caused its PE ratio to soar significantly higher than both Net 1 and DST.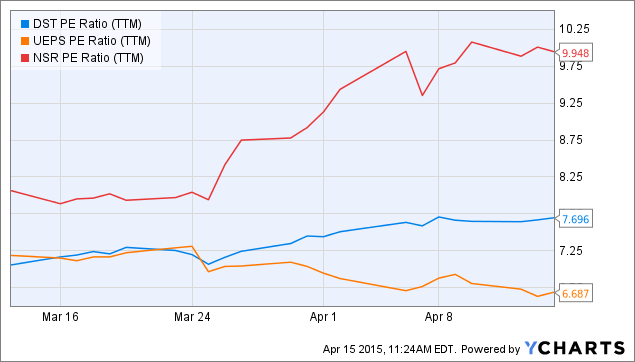 Conclusion
I do believe that all three remaining companies are going to put up solid financial results in the coming quarters, but I feel that the recent hike in NeuStar's price will limit further price appreciation this year, especially when you consider that the company's stock has been negative over the past year and fairly flat over the past five years with under 3% growth in its price during that time.
I believe that DST has the highest potential as it has made significant changes to help ensure future growth and its really the only stock that has a history of long term price appreciation. It has increased by over 150% over the past ten years, while NeuStar has increased by only 5% and Net 1 has actually decreased in price.
I do believe that Net 1's extremely low valuation presents a good entry point and low risk at the moment, as I feel the stock has put itself in a position for a possible repeat of its price performance from 2011 to 2013 when the stock increased by nearly 60% during that period.
For part thirty three of this series, I will be reviewing the Insurance industry sector. As always, I suggest individual investors perform their own research before making any investment decisions.
Disclosure: The author has no positions in any stocks mentioned, and no plans to initiate any positions within the next 72 hours.
The author wrote this article themselves, and it expresses their own opinions. The author is not receiving compensation for it (other than from Seeking Alpha). The author has no business relationship with any company whose stock is mentioned in this article.