In the United States alone, 1,275,000 people are living with paralysis as a result of spinal cord injury (SCI). Each year, about 12,000 other people are added to that count [1]. In 1992, Mr. Frank Reynolds became a part of that statistic. But he was undeterred by his debilitating condition and spent years gaining subject matter expertise on the spine and spinal cord, in search of a cure. He eventually recovered, and in 2005 co-founded InVivo Therapeutics (NASDAQ:NVIV) with Robert S. Langer, ScD, one of the most decorated researchers [2] in the scientific community, to develop and commercialize a technology for the treatment of SCI.
InVivo Therapeutics went on to develop a medical device that could be implanted into lesions within the spinal cord, following injury. They called it a Biopolymer Scaffolding Device (BSD). The premise was to prevent and mitigate a cascading inflammatory response or "secondary injury," as "spinal cord injury involves not only initial cell death at the lesion due to mechanical impact but also a devastating secondary injury pathology that persists for several weeks" (see diagram below) [3].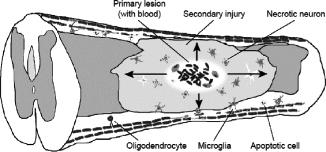 In other words, InVivo developed a product to deal with SCI before it could become a debilitating case for a patient. The company would refer to this as the underlying pathology of SCI – something no one else had looked into.
Others have focused on the symptoms of SCI with little success to show. Geron's (NASDAQ:GERN) GRNOPC1, for example, is a regenerative therapy [4] that uses human embryonic stem cells, which, aside from being a controversial subject of debate, create somewhat of an uncertain and lengthy path to approval (GRNOPC1 is in Phase I studies). In contrast, InVivo's BSD has a simple and relatively short path to market. The product falls under the Investigational Device Exemption (IDE) as a Class III medical device, according to the FDA. What this means is that the clinical data needed to support FDA-approval of the BSD may not be as convoluted as otherwise thought. By the company's own estimates, a pilot 10-patient study would run about 12 months, commencing in early 2012 [5]. The slightest whiff of efficacy would strongly encourage regulators to make available a device that completely alters a SCI patient's quality of life.
But the scaffolding device has broad application, as an initial treatment, and also, perhaps, as a delivery device for FDA-approved drugs, and varying types of cells, including stem cells. What this suggests is that the BSD could eventually be used in combination with human neural stem cells (as the company has previously stated [6]), and even with stem cells from Geron in treating SCI. Other regenerative-medicine companies like Aastrom Biosciences (ASTM), StemCells (STEM), or Pluristem (NASDAQ:PSTI) may also see an opportunity in collaborating with InVivo, in each of their respective product segments. InVivo made this possibility clear in announcing that the company had expanded their IP portfolio to include parts of the peripheral nervous system, the cavernous nerve surrounding the prostate, the brain, the retina and cranial nerves [7]. Those segments could eventually add to a spinal cord injury market already worth an estimated $10.4 Billion each year.
In addition to developing a truly-innovative solution for spinal cord injuries, Chief Executive Frank Reynolds has done a formidable job of bringing together some of the most celebrated scientists, researchers, and Nobel Laureates any biotechnology (or medical device) company has ever seen [8]. To make cunning use of the Geron example (from above), Edward Wirth, M.D., Ph.D., who led the world's first human embryonic stem cell clinical trial as Medical Director for Regenerative Medicine at Geron, agreed to join InVivo Therapeutics in October. That appointment, in itself, should speak volumes to investors.
References:
1. National Spinal Cord Injury Statistical Center
2. InVivo Therapeutics: Dr. Langer has received over 180 major awards including the 2006 United States National Medal of Science; the Charles Stark Draper Prize and the 2008 Millennium Prize; honorary doctorates from 16 national and international universities.
3. SEC Form 424B3, p.28
4. Geron Corporation website: GRNOPC1
5. InVivo news release, Sept 21
6. Annual Report
7. InVivo news release, Jun 8
8. Sir Roberts, a Director and a member of InVivo's scientific advisory board, is a 1993 Nobel Laureate in Medicine and Physiology
Disclosure: I have no positions in any stocks mentioned, but may initiate a long position in NVIV over the next 72 hours.