Chimera Investment Corporation (NYSE:CIM) shareholders should immediately become familiar with a Securities and Exchange potential risk. Chimera has not filed a timely SEC 10-Q report for the 3rd quarter. The rationale is outlined in the below explanation from the company's website. The company, on November 10, filed a notice of late filing due to the following:
Chimera is a non-agency mortgage real estate investment trust (mREIT). Chimera may hold non-agency MBS and agency MBS. Only the agency MBS are guaranteed by the U.S. Federal Government.
My Personal Action Recommendations
1. I believe, and have advocated in prior articles, that Chimera Investment Corporation should simply be sold. The company will benefit when housing prices rise, employment growth appears, and the overall economy is on the uptick. These factors are currently going the wrong direction.
Reason to Sell Shares
Per Chimera's 10-Q notice of filing, here is the explanation and reason for shareholders to be concerned: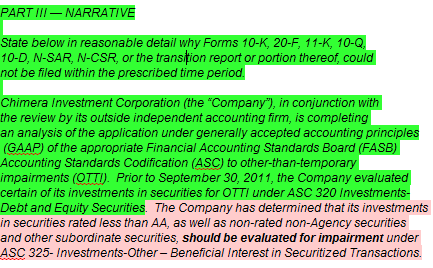 Chimera invests in MBS that are not backed by the Federal Government. This requires Chimera accountants to report these securities as Level 2 or Level 3 assets. This is a fairly complex process especially when securities are being devalued or there is a lack of buyers for securities in question. Chimera is directly stating assets are being evaluated for impairment. This, if impairment occurs to Chimera's balance sheet, is negative for shareholders.
The stock's performance can confirm or deny the value of holding a position. In my opinion, a -27.6% annual rate of return since inception tells the story.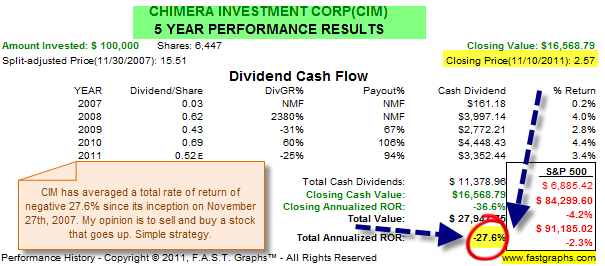 If you must own Chimera, then hold an appropriate sized position for your personal portfolio. I am not a proponent of buying poor performing stocks on dips. Take this time and ensure your Chimera position is appropriate for your risk tolerance.
I would simply sell Chimera and buy American Capital Agency Corp. (NASDAQ:AGNC), Anworth Mortgage Asset Corporation (NYSE:ANH), or Hatteras Financial Corp (NYSE:HTS). American Capital Agency Corp. (AGNC), Anworth Mortgage Asset Corporation (ANH), and Hatteras Financial Corp (HTS) have proven management teams. The companies own only 100% agency mortgage backed securities (MBS). Agency securities are those issued by Government Sponsored Entities (NYSE:GSE). GSE securities are implicitly guaranteed by the U.S. Federal Government.
American Capital Agency, Hatteras Financial Corp or Anworth Mortgage Asset Corporation all own 100%, Level 1 balance sheet assets. If these companies need to liquidate positions, they can do so quickly and timely. All three agency mREITs are trading at attractive valuations, as highlighted in this article: "3 mREITs To Buy (And One To Avoid)."
Once Chimera files its 10-Q, investors can determine if the equity remains an appropriate name to hold. In the meantime, my experience has been stocks that provide positive returns should be bought and losing return stocks sold. I do not mean to sound simplistic, but the strategy works.
Level 1, Level 2, Level 3 Assets
Agency mREITs, such as American Capital Agency, Anworth Mortgage Asset Corp., Hatteras Financial, and ARMOUR Residential REIT, own only 100% GSE mortgage securities. The Federal Government guarantees these MBS and they are considered Level 1 on the balance sheet.
Non-agency mREITs, such as Chimera and Invesco, own Level 2 and Level 3 assets. Level 2 and Level 3 assets are not liquid, and buyers may not exist for these MBS. The assets are not backed by the U.S. Federal Government.
I have highlighted the Level 1, Level 2, and Level 3 definitions at this discussion. In the event an investor wants to fully appreciate Level 2 and Level 3 assets, I highly recommend this book, Mortgage-Backed Securities: Products, Structuring, and Analytical Techniques, by Frank J. Fabozzi. I found pricing Level 2 and Level 3 assets extremely difficult to comprehend, and the subject matter is highly complicated. This is worth noting because non-agency Chimera and Invesco Mortgage own these assets.
Summary
I personally have experienced financial losses when companies file 10-Q notice of late filing documents. In an economy where the business model is moving in the wrong direction for Chimera's business model, prudent action is needed. Investors can not deny the relevance of a SEC notice of late filing. There are issues going on related to GAAP.
FIDAC is the external manager for Chimera; Annaly is the largest agency mREIT. They are the managers for Chimera's holdings. This is a concern as FIDAC and Annaly are highly regarded in the agency mREIT industry.
GAAP is a major factor in the pricing of Chimera shares. Although FIDAC is the external manager of Chimera's MBS holdings, a reduction in the valuation of Chimera's MBS assets could be negative for the stock price.
Chimera's assets are being evaluated for impairment under ASC 325. All shareholders should recognize what this risk means, and why immediate action may be appropriate.
Disclosure: I am long AGNC, ANH, NLY, HTS.