Department stores are making new innovations and strategic planning to support their sales and earnings growth. In addition, they are enhancing their omnichannel businesses along with improving customer-centricity. These companies are also immune from the depressed commodity price environment, which is hurting many other companies. Over the past few months, we have witnessed strong volatility in the stock markets due to falling oil, gas and metal & minerals prices. In addition, slow growth in European region and falling demand from Chinese markets are creating problems for multinational companies.
In such a depressed environment, departmental stores are still offering strong growth. Kohl's Corporation (NYSE:KSS) operate one of the best departmental stores that sell moderately priced exclusive and national brand apparel, footwear, accessories, beauty and home products.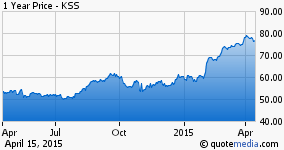 The company's share price gained a lot of momentum in the past twelve months due to its successful and innovative business strategies. In addition to gains in share price, Kohl's is also offering strong dividend growth. It recently increased its quarterly dividend from $0.39 per share to $0.45 per share, yielding at 2.32%. In the latest quarter, it posted comparable-store sales growth of 3.7%, while earnings per share increased 17% over prior year quarter. This is a very strong performance by any company in a competitive business environment.
Its strong management and smart business strategies allowed it to generate attractive results for its shareholder. Its strategy of expanding revenue base by increasing stores count, adding new products to its stores and launching shopper-friendly loyalty programs is working. 25 million people are already enrolled under its "tender neutral" loyalty program and it's expected to enroll 10-12 million in 2015. In addition to these innovative programs, Kohl's is also focusing on adding new products and segments. Its strategy of adding beauty, health and fitness products will expand traffic and sales in the coming quarters. With these plans in place, the company is looking to make a mid-single-digit growth in sales and double-digit growth in earnings in fiscal 2015. Therefore, I'm not seeing any risk to its dividends and share price in the coming days. I strongly believe that Kohl's share price will keep its momentum on the back of strong financial performance and business expansion strategies.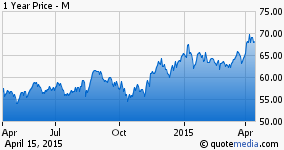 On the other hand, Macy's Inc (NYSE:M) is also coming up with smart business strategies along with investments in technology improvements, innovations and maximizing its real estate portfolio holdings. The company is implementing three key strategies for continued growth in sales, earnings and cash flow in the years ahead.
1. Maximizing the My Macy's localization initiative
2. Driving the omnichannel business
3. Embracing customer-centricity, including engaging customers on the selling floor through the MAGIC Selling program.
With My Macy's localization initiative, it is investing in marketing and technology. This strategy encourages size, ranges, shopping experiences and marketing programs that align with customer needs. My Macy's provides the company with better local decision-making in every Macy's community. Its second and most important strategy is to drive the business in an omnichannel approach. This strategy enables customers to shop flawlessly in stores and online.
Effective business strategies and strong penetration in the U.S. markets led it to post strong financial performance quarter over quarter. Its cash generating potential is also strong enough to support capital requirements and dividend payments. In addition, with the consistent increase in earnings, its cash generating potential is also enhancing. In 2014, it generated operating cash flow of $2.7B and its free cash flow stood at $1.6B when dividend payments were only at $359 million. Therefore, it is strongly working on buybacks, which will have a significant impact on its financial and share price performance.
In Conclusion
Both companies have a strong presence in the United States with a limited exposure to international markets. At present, numbers of companies are struggling on concerns related to slow growth in emerging markets and strengthening of dollar is also impacting their exports. At present, market environment in the U.S. is quite competitive for these retailers, but these big companies are still making growth with strong penetration in markets along with smart and efficient business strategies. I strongly recommend investors to look at these retailers for dividend growth and steady price appreciation.
Disclosure: The author has no positions in any stocks mentioned, and no plans to initiate any positions within the next 72 hours.
The author wrote this article themselves, and it expresses their own opinions. The author is not receiving compensation for it (other than from Seeking Alpha). The author has no business relationship with any company whose stock is mentioned in this article.