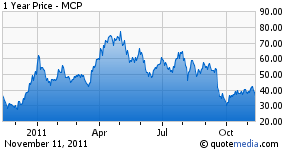 In an effort to mitigate risk and better handle tough swings in the market turmoil, we have recently been extending our overall investment horizon of the fund. We normally make investments that tend to play out to a maximum of six months. We have concluded that today's exuberant sell off in Molycorp (MCP) is far overdone and a thorough lack of understanding behind the firm's future outlook is what is playing out. This is a long term trade and we intend to hold this position throughout 2012 and possibly well into 2013.
MCP has experienced what we believe to be some excellent growth in sales in a market where supply is being flooded in. The rare earth metals space is being flooded by supply out of China which is depressing prices. However, China recently implemented new rules and will limit the total exportation of rare earth metals starting in 2012. This will drive the supply of global rare earths down, prices will rebound significantly, and thus offering MCP the perfect chance to generate additional sales.
Couple the rebounding of rare earth prices with the fact that MCP is spending profusely to open its mine in California three months early it should be evident that MCP is looking great in the long term. The mine in California is the largest rare earth find outside of China. The ramping up of production due to occur in 2012 with higher prices is going to provide MCP with some robust earnings.
Disclosure: I am long MCP.
Additional disclosure: The bulk of our position was purchased on the massive sell-off after earnings.