Why The Polish Zloty Continues To Fall
Summary
Deflation continues to have a hold on Poland's economy.
Moreover, lending rates could decline further to better reflect weak price pressures.
As government bond yields in Poland continue to contract, the zloty will likely decline against the U.S. dollar.
The Polish zloty continues to decline as deflation takes hold of its economy, and interest rates are cut further. Since July, the U.S. dollar has appreciated against the Polish zloty by over 25%, seen below.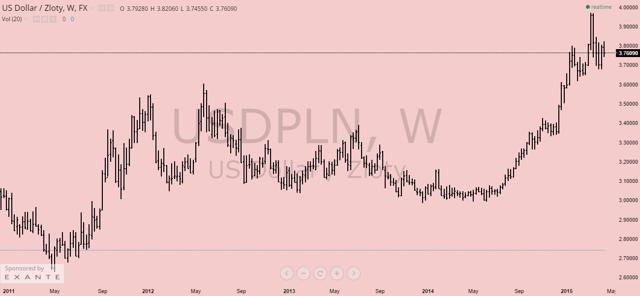 Data provided by Trading View
Polish price pressures remain in a deflationary spiral. In March, the inflation figure came in at an annual pace of -1.5% contraction, down from the previous month's reading of -1.6%, while falling below estimates for -1.3%. Since 2012, inflation has fallen from over 4%, to current levels. Falling commodity prices have been one of the main factors holding down inflation measures.
"After a sharp and long-lasting fall, global commodity prices have stabilized recently. This has weakened disinflationary forces in many countries. However, global price growth remains very low, and in the majority of European economies it is negative.

In these conditions, major central banks are keeping interest rates close to zero and the ECB has launched government bond purchases. This has contributed to some strengthening of the zloty," according to Counting Pips.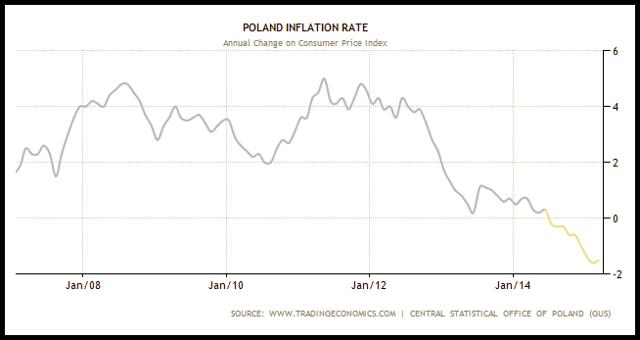 Moreover, falling lending rates have led to declines in the zloty as well. In April, the benchmark lending rate was held at 1.5%, unchanged from the previous month, and in line with estimates. Since 2012, however, the lending rate has been cut from nearly 5%, to current levels. Rates could fall further to keep up with its European neighbors, while attempting to spur higher consumer prices.
"Amid moderate growth in demand and gradual improvement in labor market conditions, there is no demand pressure in the economy, and nominal wage growth remains moderate.

Combined with low commodity prices, this is contributing to continuing deflation, both in terms of consumer and producer prices. Alongside that, inflation expectations continue to be very low," according to Counting Pips.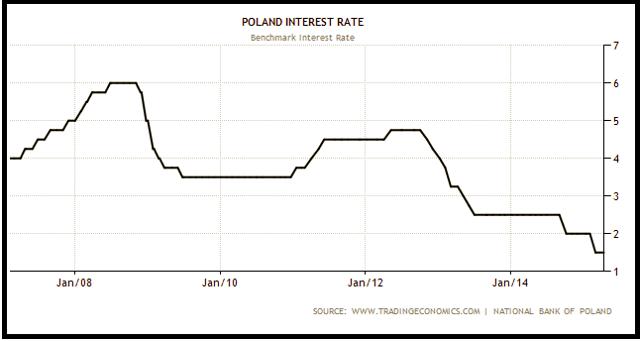 Lastly, Polish government bond yields could fall further, better reflecting the disinflationary forces. In April, Polish 10-year government bond yield was slightly above 2%, well off the 6% level experienced in 2011. As government bonds across Europe continue to experience strong demand, outflows from currencies such as the zloty are expected.
The zloty has fallen as deflation hit Poland, leading to declining lending rates. As commodity prices fell the past few months, deflation took hold of Poland's economy. This led to drastic cuts in the country's main lending rate. With declining government bond yields expected in the future, the zloty could weaken further against the U.S. dollar.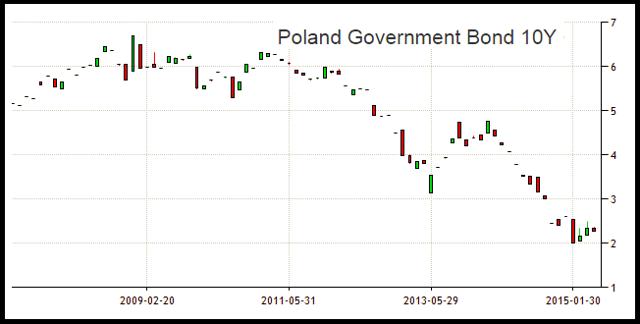 Disclosure: The author has no positions in any stocks mentioned, and no plans to initiate any positions within the next 72 hours. The author wrote this article themselves, and it expresses their own opinions. The author is not receiving compensation for it (other than from Seeking Alpha). The author has no business relationship with any company whose stock is mentioned in this article.