Healthcare and technology companies continue to report strong quarterly results. Sure, there have been a few misses already, with SanDisk (SNDK) coming to mind right away, but for the most part the biggest surprises and the organic growth all appear to be taking place in these two sectors. Healthcare has been one area where we have recommended being overweight in, and depending on how this quarter finishes up we might have to adjust our view on technology moving forward.
All major indices are lower this morning, as are European markets. While earnings across the board were not great, and economic news was mixed, we would look to the close in Europe as a possible point to look for a move higher.
Chart of the Day:
US Treasuries remain stable, with the US 10-year once again having settled around the 1.90% level. One has to wonder whether 2.25% will prove to be strong resistance once again when the Fed finally does raise rates because the market seems to think that the Fed will be one and done for a while, and there is a lot of capital in Europe and Asia which could easily find its way to the US fixed income markets.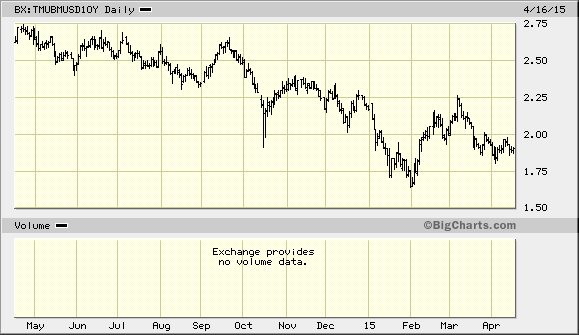 Source: BigCharts
We have economic news today, and it is as follows:
Building Permits (8:30 a.m. EST): Est: 1085k Act: 1039k
Housing Starts (8:30 a.m. EST): Est: 1040k Act: 926k
Initial Claims (8:30 a.m. EST): Est: 280k Act: 294k
Continuing Claims (8:30 a.m. EST): Est: 2325k Act: 2268k
Philadelphia Fed (10:00 a.m. EST): Est: 7.2 Act: 7.5
Nat Gas Inventories (10:30 a.m. EST): Est: N/A
The Asian markets are higher today:
All Ordinaries - up 0.66%
Shanghai Composite - up 2.71%
Nikkei 225 - up 0.08%
NZSE 50 - UNCH
Seoul Composite - up 0.94%
In Europe, markets are lower today:
CAC 40 - down 0.44%
DAX - down 1.47%
FTSE 100 - down 0.30%
OSE - down 0.71%
Netflix Crushes New Subscriber Estimates
It will certainly be hard to tell from the market's reaction today, but last night's quarterly results from Netflix (NASDAQ:NFLX) were not perfect. The company reported EPS of $0.38, which was well below the analysts' consensus of $0.69/share; however, the company showed investors that although this quarter was weak on the earnings front, new subscriber growth was quite strong. It was so strong in fact that Netflix reported almost 5 million new subscribers for the quarter, 25% higher than 4 million that the market was looking for!
The other good news for investors is that Netflix said that it hopes to breakeven by 2016, which is great news for investors because competition is only heating up as Time Warner's (NYSE:TWX) HBO launches its HBO Now streaming service and Amazon.com (NASDAQ:AMZN) continues to beef up its Prime offerings. Netflix has further room to grow, and HBO's move to tap into cord cutters highlights that the overall streaming market is bigger than the 65 million subscribers that Netflix has and the 114 million that HBO has combined. This leaves plenty of room for growth and will allow for multiple players to not only survive but thrive.
For readers wondering just how well Netflix could thrive, look no further than today's analyst upgrades, specifically the call from FBR's Barton Crockett. Mr. Crockett raised his price target on Netflix to $900/share from $400/share based off of projects for growth both domestically and internationally. The $900/share price target is supported by his estimate that the domestic operations can be worth $300/share with the international operations worth twice that. It is an optimistic call to say the least.
UnitedHealth's Strong Quarter
Lately, it has been good to be a UnitedHealth (NYSE:UNH) shareholder as the shares have been on a tear. From solid quarterly reports to smart acquisitions, the company has made all of the right moves and that continues with the latest quarterly report from this morning. The company reported revenues of $35.76 billion which topped analysts' expectations of $34.6 billion and EPS of $1.46 which exceeded the consensus number by $0.09/share.
Results continue to be driven by UnitedHealth's Optum Health Services, and management believes that the outperformance will continue, having increased the company's guidance for the year after the strong quarter. For the year, UnitedHealth now expects to earn between $6.15-$6.30/share, which is up from previous guidance of earnings between $6-$6.25/share.
Shrink To Grow Continues
Proctor & Gamble's (NYSE:PG) strategy of shrinking to grow continues, with the company lining up bidders for its beauty business. There are some big names interested in bidding on the unit, including Coty (NYSE:COTY) and Revlon (NYSE:REV). While this will be the first round of bids, it will be interesting to see how P&G responds because at this point investors do not know exactly how the company is looking to divest the business. What they do know is that P&G is interested in shedding the brands in order to focus on more profitable brands in the overall portfolio.
If the company does decide to sell the beauty business it has various opportunities to pursue. First, it could sell the entire unit as one and be done with it, or it could sell certain lines piecemeal to the highest bidder. Analysts have projected the entire beauty business could fetch $10-$12 billion in a sale, but if broken down one would expect P&G to be able to bring in closer to $12 billion on the low end of the range and maybe as high as $14 billion on the high end if bidders engaged in a bidding war.
Although we find this outcome less likely, P&G could still decide to spin off the beauty business to shareholders in a tax-efficient manner which would reward shareholders and most likely result in higher returns for shareholders.
Disclosure: The author has no positions in any stocks mentioned, and no plans to initiate any positions within the next 72 hours.
The author wrote this article themselves, and it expresses their own opinions. The author is not receiving compensation for it (other than from Seeking Alpha). The author has no business relationship with any company whose stock is mentioned in this article.
Additional disclosure: PG has previously been recommended.