When a stock has declined by a large amount in a short time period, as can happen a lot after a company reports earnings, I will sometimes employ what is called a "strap" strategy. The strap is a great trade if you are bullish on a particular stock, but also have some concerns that there may be further downside. The Strap is centered around purchasing both at-the-money calls and puts, but favoring call options over puts with a 2:1 ratio.
For simplicity in explaining the trade, I will use the minimum amount of contracts required to place the trade accurately. Of course, the trader can purchase any amount of contracts they choose to receive a larger overall profit.
As stated above, the 'strap' is an options trade that has two legs. The first part of the trade (or leg) requires buying two (2) at-the-money call options. The second part of the trade (or leg) is to buy one (1) at-the money put option. In essence, the strategy is more bullish than bearish, but can also provide unlimited profit potential on either side of the trade, There is also limited risk, which is what the trader paid to place the trade as a net debit.
This trade can also work out well if you see a stock that is reporting earnings soon that has a history of large price moves after releasing their earnings. However, because it is more bullish than bearish, you should have confidence that it is more likely that the stock will move up in price rather than down because you are buying twice the number of call options than puts.
Generally, you want to use the strap on stocks that have had a large 52-week price range with bullish sentiment.
At varying times throughout the years, I have successfully used the strap option strategy with the following companies:
Green Mountain Coffee Roasters (NASDAQ:GMCR)
Netflix (NASDAQ:NFLX)
Google (NASDAQ:GOOG)
Intuitive Surgical (NASDAQ:ISRG)
Wynn Resorts (NASDAQ:WYNN)
Chipotle Mexican Grill (NYSE:CMG)
Priceline (PCLN)
Travelzoo (NASDAQ:TZOO)
SodaStream (NASDAQ:SODA)
Amazon.com (NASDAQ:AMZN)
Mastercard (NYSE:MA)
Apple (NASDAQ:AAPL)
Sina Corp. (NASDAQ:SINA)
As you can see, most of the stocks listed are well above $100/share, with the exception of GMCR, TZOO, and SODA. You really do not want to use this strategy on stocks that take too long to break out of a certain price range. An example of a company to not use this strategy with is Microsoft (NASDAQ:MSFT) or AT&T (NYSE:T).
Another good way to use the strap strategy is with stocks that are near their 52-week lows and that have a history of large price swings in a short amount of time. Occasionally, it is possible to profit from both sides of the trade if you have time-value left with your call and put options.
The one major drawback to the strategy is the upfront cost to place the trade. Because the options you will be purchasing are at-the-money strikes, it is not necessarily a cheap trade to initiate. Yet, your initial investment is also the most you can lose.
As an example, Green Mountain Coffee Roasters (GMCR) is an interesting stock to place a strap on right now. GMCR reported their earnings after the market closed last Wednesday. The stock got absolutely clobbered after-hours and it fell even further the next trading day. Overall, GMCR fell almost 40% in a span of one day. It is currently trading at $43.71/share. The 52-week range is $29.55 - $115.98.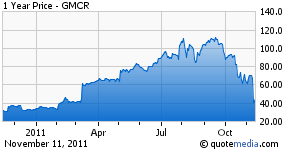 | | |
| --- | --- |
| 52wk high: | 115.9799 |
| 52wk low: | 29.55 |
| EPS: | 1.31 |
| PE: | 33.40 |
| Div Rate: | N/A |
| Yield: | N/A |
| Market Cap: | 6.69 B |
| Volume: | 20.4 M |
Personally, I think that GMCR is reaching a semi-low point at current levels. However, that's not to say it's without risk. Can GMCR fall to the high $20's price per share range? Absolutely. It is just as likely, however, that GMCR could move back to the $60+/share range, and this is why the strap can be a great trade to place. Last week, I recommended a strangle strategy on GMCR, and that worked out well. You can see the article here.
There are variations on the Strap strategy, as well. The opposite, bearish side of the strap is the 'strip strategy', which would entail buying two (2) at-the-money put options and buying one (1) at-the-money call.
To reduce the initial upfront cost, a trader could decide to buy the same amount of contracts, a 2:1 ratio, but purchase the strike prices that are slightly out-of-the-money. The theory will still remain the same.
Again, deciding when to use the strap or strip strategy must be chosen very carefully. The stocks I listed are a good starting point, but there are plenty more with which this strategy can work well.
Disclosure: I am long AAPL.
Additional disclosure: I also trade WYNN, AAPL, CMG,SINA, ISRG on my daily options trades when applicable.