Introduction
U.S. Treasury yields remain on their downtrend, with 10 year yield down by around 100 basis points since January 2014. Long dated bonds are generally less directly influenced by the Fed's policy rate, with their key fundamental drivers being real economic growth and the rate of inflation. Historically, the 10 year yield has tracked the nominal GDP trend, as shown in Ed Yardeni's chart below. This makes sense because a riskless investment should not be yielding more than risky investments that drive the economic growth (such as corporate bonds and equities).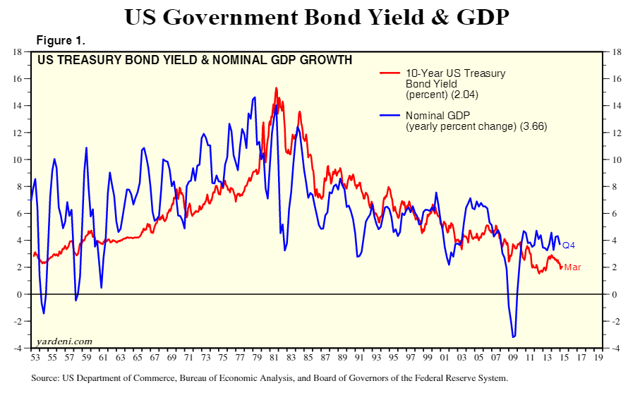 With 10 year yields at 1.90 and inflation expectations between 1.80 and 2.80 (according to the 10 year TIPS breakeven rate and University of Michigan consumer survey, respectively), the question is whether the bond market is expecting very low / negative growth in the US economy going forward. After a stellar second half of 2014, recent weakness in consumer and capital goods spending indicates that GDP growth in the first quarter was between 0% and 1%, according to various forecasts. The rallying US dollar seems to be weighing on corporate earnings and it is looks like a cycle peak has been reached and a risk of a downturn is rising.
Duration squeeze
Another explanation is that the recent strength in the bond market is an outcome of the global "duration squeeze", driven primarily by the extraordinary easing measures taken by the European Central Bank. Interest rate cuts to below zero levels together with €60bn of bond purchases per month led to a profound bull-flattening of the eurozone yield curve. Most of the eurozone bond market strength comes from the expectation monetary policy is going to remain exceptionally easy for some time to come, and ECB is expected to keep buying bonds in excess of their net supply, even if yields continue to decline towards the deposit rate of -0.2%. Japanese bond yields have been very low for a long time, but both U.S. Treasuries and eurozone bonds are held much more by international investors, hence the spill-over effect to US Treasury market due to the international search for yield.
The Eurozone is expected to boom
Forward price to earnings for MSCI EMU have risen sharply from around 12.5 to 15.9 over the last six months, implying that investors are optimistic that eurozone can grow above trend over the medium term, which is also supported by various investor surveys. Lending conditions in the eurozone have improved both due to easing of bank lending standards and tighter credit spreads in the capital markets, helped by Draghi's QE. While bond yields can diverge substantially from fundamentals due to supply and demand in the market, we think that valuations across liquid markets are generally more efficient. Despite the optimism about the euro area growth and worries about the short-medium term outlook for the US, the spread between 10 year bunds and 10 year U.S. Treasuries has increased even further to c. 167bps, levels not seen since the mid-80's (see chart below).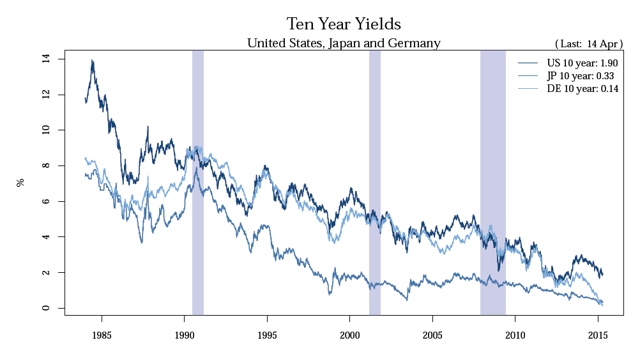 (Source: investing.com)
Conclusion
We believe that bonds have been bid up too high relative to fundamentals due to excess demand and relative yield levels still paint a positive picture for the US. That being said, we do not foresee a catalyst for a sell-off in bonds over the medium term and anticipate that technical factors will continue to dominate over the next 3-12 months. We continue to buy the long end of the curve and look for opportunities to add to our curve flattening position.
Disclosure: The author has no positions in any stocks mentioned, and no plans to initiate any positions within the next 72 hours.
The author wrote this article themselves, and it expresses their own opinions. The author is not receiving compensation for it (other than from Seeking Alpha). The author has no business relationship with any company whose stock is mentioned in this article.