A January 2013 annual review of this portfolio is linked here.
Objective
Provide a sample portfolio of income stocks that have low risk as measured by beta and high dividend yield. Stocks selected will have an increasing dividend growth rate as measured by 5-year dividend growth rate (DGR). Stocks from several sectors will provide diversity. We will use the NYSE activity of November 9, 2011 as our laboratory to test the reaction of this portfolio to a volatile market with a significant decline.
This portfolio will have high current income, increases which will counter inflation, low risk and sector diversity.
The Human Factor: The Scottish Poet Robert Burns penned a poem a mouse after disrupting its nest while plowing a field in 1785. In these selected lines from that poem how much of ourselves can we see as we invest in a volatile and disruptive stock market?
To A Mouse
O, sleek, cowering, timorous beast,
O, what a panic is in your breast!
You need not start away so hasty
With hurrying scamper!


But Mouse, you are not alone,
In proving foresight may be vain:
The best laid schemes of mice and men
Go often askew,
And leaves us nothing but grief and pain,
For promised joy!


Still you are blest, compared with me!
The present only touches you:
But oh! I backward cast my eye,
On prospects dreary!
And forward, though I cannot see,
I guess and fear!
Indeed, the human and the mouse have much in common. Certainly, a panic is in our breast when a tumultuous market dashes our best laid investment plans. Like the mouse, our foresight fails, expected returns elude us and leave us nothing but grief and pain. The mouse, according to the best scientific evidence, lives only in the present. We however, clearly see the dreary past. As for the future, we cannot see any better than the mouse. We guess and fear.
Portfolio Stability
Unforeseen events occur to the lowly mouse in a plowed field and to investors. While very unusual things can happen in markets they are rare. Explosive volatility and strong downturns may be expected. These are times when fear dominates the markets and losses snowball as investors run in droves from the falling stocks. Individuals have different levels of risk tolerance but few are immune to the stresses that lead to group panic. While the individual investor cannot control the fluctuations of the Dow Jones Industrials, reduce its volatility or halt its fall, it is possible to reduce the response of one's portfolio to large market swings. This will reduce your anxiety level and reduce the chances that you will make poor decisions out of fear.
Beta
Beta, pronounced bay'-ta, is the second letter of the Greek alphabet and has a specific meaning in investing. Beta is the measure of the volatility involving the systematic risk of a security in comparison to the market as a whole. It refers to the response of an individual security, or group of securities such as a portfolio, to market swings. The benchmark is the S&P 500, with an assigned beta of 1.00. If a stock only moves, on average, only 60% as much as the S&P 500 does, it has a beta of 0.60. If its swings are 30% more than the overall market, it has a beta of 1.30. Typically, an electric utility or a company producing consumer staples will have a low beta, often in the 0.30 to 0.70 range. The stock of a high technology company or a mining company might have a beta of 1.40 to 3.00 or higher.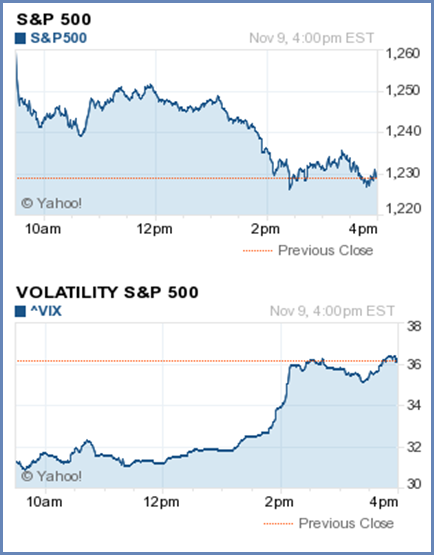 Market Volatility
The volatility of a market is a relative value that compares the magnitude of swings to their norm. The CBOE developed a volatility index, the VIX, based on option activity on S&P 500 futures. This index, sometimes called the "fear index", is high when the numbers are over 30. Values under 20 indicate low volatility and a calm market environment. These charts of the November 9, 2011 market illustrate increased volatility as the market fell between 1:00 pm and 2:00 pm on increasing volume. The VIX went from an already high 30, to 36, as the S&P 500 fell from a morning high above 1,275 to below 1230. The Dow dropped from 12,166 to 11,780, a loss of 386 points.
Selections by Sector
We use two key values to screen stocks for this portfolio. First, we look for a beta 0.60 or lower. Next, we select stocks with a dividend yield of 3.0% or higher. While current income is the primary goal, we seek stocks that have a record of increasing their dividends, which will defer the effects of future inflation. Finally, we will spread our investments over several sectors of the economy to create diversity which will reduce risk further and dampen volatility as sectors usually do not move in concert.
Basic Materials
This group of companies consists of those dealing in commodities such as oil, gold, silver, gas, and copper, many chemicals, and agriculture. It involves not only companies which harvest, explore, mine or drill for the materials but those involved in the processing and transportation of them.
In this area we selected several Master Limited Partnerships, MLPs, which are a special kind of organization under the tax code which requires them to pay out most of their earnings as dividends, therefore they have high yields. These are pipeline operators and because they neither buy nor sell the gas and oil they transport, they function like toll collectors on a highway. They charge by volume of material transported at a fixed per unit price, regardless of the fluctuations in the cost of the commodities. Usually they have long term contracts with their customers. Because their revenues and profits are stable, their stock prices are too and they have low betas.
Consumer Staples
These companies are a relatively safe haven in times of recession, as the demand for their products remains steady. They are consistent performers in good times too. Most of what you might buy at a grocery store is in the category of consumer staples: food products, paper goods, cosmetic items, household cleaners and laundry detergents are included. You are familiar with these firms.
Consumer Discretionary
These are two extremely successful global firms. Some data reporting services put all consumer stocks together in one group. We are following Standard and Poor's sector model and list these separately.
Financial Services The financial services sector encompasses banks, insurance companies, real estate investment trusts and mortgage companies. It also covers most things related to the stock and bond market and investments as well as accounting services. Since most banks have a rocky recent history, few firms, which meet our criteria, remain. Some will find our choice controversial, as they shun any investments that have double-digit yields. The measurable risks, however, are not that large.
Healthcare
In this sector, we have selected two of the largest multinational firms in their industry. Healthcare, which includes drug manufacturers, is a growing and important sector. These firms are drug companies with significant other businesses in healthcare. They fit nicely into our selection criteria also have dividend growth histories of more than 25 years.
Industrials This broad sector includes everything from aerospace to waste management with machinery, construction and textiles in between. This stock meets all our criteria.
Telecommunications
This area, worldwide, is the land of giants. It includes all the firms who have wires and fiber optics for your landlines and internet, as well as the cell phone industry. In addition, there are several hundred Mom and Pop sized regional and local telephone companies. Our pick here is the largest telecommunications company in the U.S.
Utilities
Utilities, sometimes called "widows and orphans" stocks, are indeed a good means of providing steady income without a high risk or much required intervention. Regulatory agencies guarantee equitable revenue and they operate as monopolies. These have an average beta of 0.33 and an average yield of 4.73% and fit our criteria well.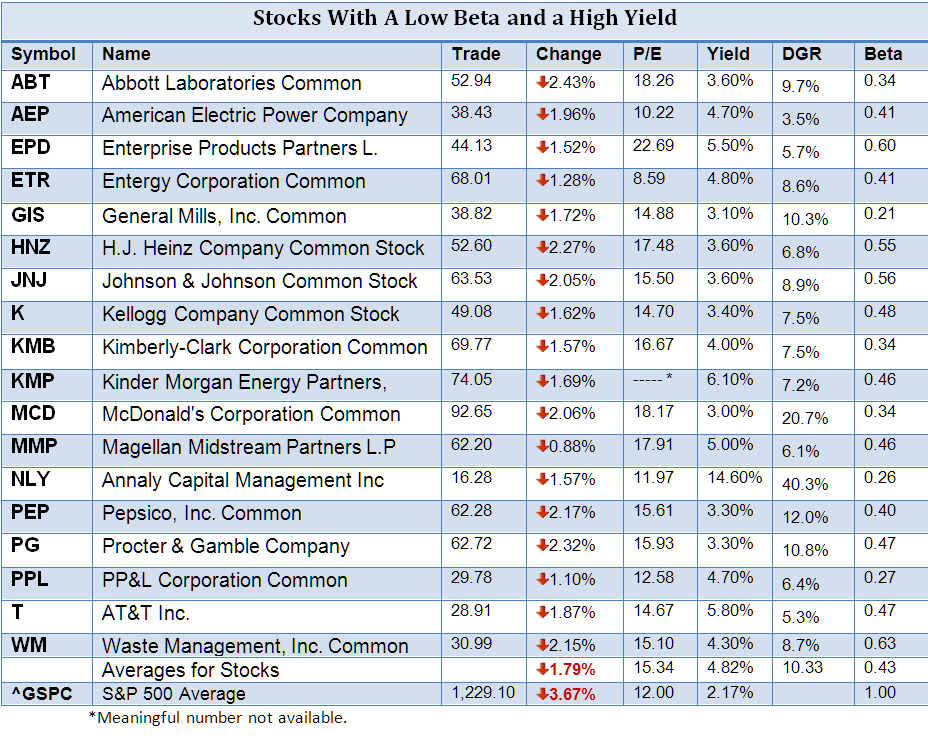 Summary of Portfolio Attributes
This list of stocks has an average beta of 0.43; the S&P 500 stock index beta is 1.00. This list of stocks has an average yield of 4.82% compared to 2.17% for the S&P 500. On November 9, 2011 when the S&P plunged 3.86%, these stocks were down only 1.79%. In addition, our stocks have a 5-year dividend growth rate of 10.33% and represent positions in eight sectors. These stocks will increase your SWAN factor. That is, your ability to Sleep Well At Night.
Your Due Diligence
This list is a starting point in your selection process. It will serve you well if you do your own due diligence for assurance that these are appropriate securities for you to buy, that they are consistent with your goals. For some tips on due diligence see my Seeking Alpha article, "The Importance of Due Diligence".
Disclosure: I currently hold 9 of these stocks: ABT, EPD, JNJ, KMB, MCD, MMP, NLY, PEP and PG in my Dividend Growth Portfolio, which is included in Seeking Alpha article, "Constructing the Core of Your Dividend Growth Portfolio".