Important Note: This article is not an investment recommendation or research report. It is not to be relied upon when making investment decisions - investors should conduct their own comprehensive research. Please read the Disclaimer at the end of this article.
In the past two decades, the general trend in U.S. refining has been towards rationalization of low-complexity capacity and build-out of high-complexity capacity capable of processing a heavier and more sour slate of crudes. The refining industry was effectively responding to the changing global production mix and the increase in the price of crude that made deep processing economic.
The success of shale oil in the U.S. has created the obvious challenge - the U.S. refining system is close to maxing out its capacity to process light and super-light crude grades. With the domestic refining capacity increasingly acting as a bottleneck that may limit crude oil production growth in the U.S. and Canada, a partial solution to the problem in the form of crude oil topping facilities may lend significant help.
The advantage of light and super-light crude grades is that they are generally easier and cheaper to process than heavy and sour grades and have high yields of premium products. Given that new full-scope refining capacity takes significant lead time to develop, due to permitting issues and high capital cost, the less-expensive topping units may provide a bridge solution, converting unexportable crude into a slate of exportable products and intermediate feedstocks for U.S. refineries or petrochemical plants.
Topping units have been a solution broadly used in emerging markets with limited refining capacity but existing local demand for diesel, fuel oil, jet fuel (kerosene), atmospheric gas oil, LPG and asphalt. In the context of the U.S. market where refining capacity is generally highly complex, topping units may be organically integrated into the overall system, with the less valuable by-products absorbed by refiners for deeper processing, without economic loss. It is no surprise that the largest U.S. refiners are taking steps to develop such topping capacity.
Valero Energy (NYSE:VLO) is currently constructing two large topping units - one at its 165,000-b/d Houston refinery (current crude processing capacity is 90,000 b/d) and one at its 325,000-b/d Corpus Christi refinery (current crude processing capacity is 205,000 b/d). The two new units will have a combined capacity to process 160,000 barrels per day of light and super-light crude produced in the Eagle Ford, with both units expected to be operational within approximately one year. Valero's total investment in the two projects is expected to be $750 million (the slides below).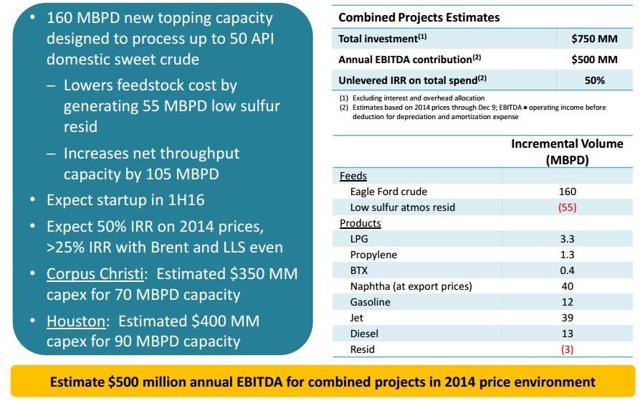 (Source: Valero Energy, January 2015)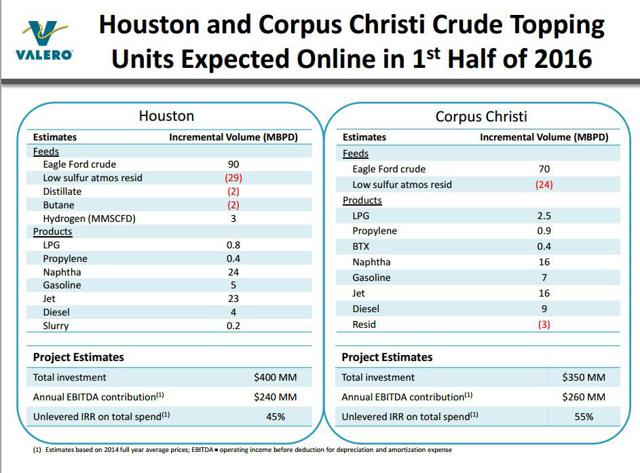 (Source: Valero Energy, March 2015)
As one can see from Valero's slide, not all products from the units will be export-ready. Certain finished products may have to be sold in the U.S. market, whereas the intermediate products will displace feedstocks that Valero's existing refining plants are currently purchasing in the market. The net capacity gain is, therefore, less than the 160,000 b/d, and the net gain in the exported volumes will be even lower. However, even though the resulting relief to the oversupply of domestically-produced light crude in the form of export-ready processed products is not huge, it will arrive quickly (and every little bit certainly helps).
As shown on Valero's slide, the units can be highly economic - Valero estimates the incremental EBITDA from these two projects at $500 million a year, a ~1.5x Capital/EBITDA multiple. The quick payout mitigates the economic risk to refiners from the potential lift of the U.S. crude oil export ban that may significantly alter refiners' economics by reducing the domestic crude price discount.
Valero is also adding a crude unit expansion at its 170,000-b/d McKee, Texas, refinery to increase throughputs of crude supplies from the nearby Permian Basin. That project, which Valero expects to be completed by the end of first-quarter 2015, would increase the refinery's crude processing capacity to just over 185,000 b/d.
What Is A Crude Oil Topping Unit?
Crude oil topping units are essentially atmospheric distillation units that produce hydrocarbon boiling point cuts from resid to LPG. A topping unit can be an inexpensive, technically simple means to enhance the value of crude oil near the source of production.
Crude oil distillation is an energy-intensive process that requires crude oil heaters with cross heat exchangers. Desulfurization and desalting are necessary to achieve product specifications and also to protect the topping unit from fouling and corrosion. A diesel unit is a simplified topping unit that concentrates on diesel range components without the full range of products available in an atmospheric crude oil distillation column.
Hydrocracking, hydrotreating and fluidized catalytic cracking (FCC) are downstream processes that require a complex refinery.
Disclaimer: Opinions expressed herein by the author are not an investment recommendation and are not meant to be relied upon in investment decisions. The author is not acting in an investment, tax, legal or any other advisory capacity. This is not an investment research report. The author's opinions expressed herein address only select aspects of potential investment in securities of the companies mentioned and cannot be a substitute for comprehensive investment analysis. Any analysis presented herein is illustrative in nature, limited in scope, based on an incomplete set of information, and has limitations to its accuracy. The author recommends that potential and existing investors conduct thorough investment research of their own, including detailed review of the companies' SEC filings, and consult a qualified investment advisor. The information upon which this material is based was obtained from sources believed to be reliable, but has not been independently verified. Therefore, the author cannot guarantee its accuracy. Any opinions or estimates constitute the author's best judgment as of the date of publication, and are subject to change without notice. The author explicitly disclaims any liability that may arise from the use of this material.
Disclosure: The author has no positions in any stocks mentioned, and no plans to initiate any positions within the next 72 hours.
The author wrote this article themselves, and it expresses their own opinions. The author is not receiving compensation for it (other than from Seeking Alpha). The author has no business relationship with any company whose stock is mentioned in this article.