My regular readers know by now my philosophy in the small cap biotech space which I dub "Shotgun Investing". This consists of taking much smaller positions in a larger amount of selections than in other sectors. One must realize that there will be many misses within the biotech portion of your portfolio. However, this should be compensated for by the occasional five or ten bagger.
Some hedge funds employ Ph.Ds in biochemistry but still get it wrong as much as they get it right. How drugs/compounds actually do in actual trials is next to impossible to predict consistently. Anyone that says differently is selling something.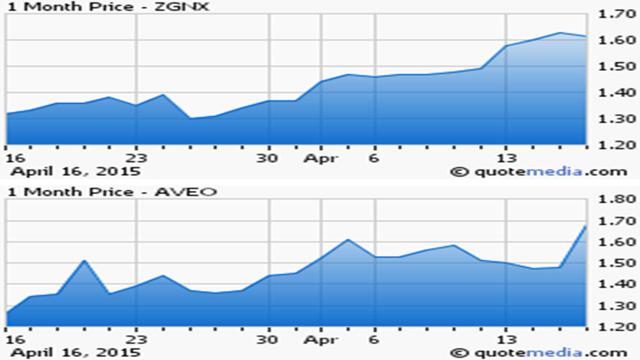 Recently, I have notice two of my Shotgun Investing stocks that are both going for just under $2.00 have been on the march. If things fall their way in 2015, each could still see substantial capital appreciation by the end of the year.
Let's start with Zogenix (NASDAQ:ZGNX). This small biopharma was primarily focused on developing therapies that address specific clinical needs for people living with CNS (Central Nervous System) and pain-related conditions that need innovative treatment alternatives to help them return to normal daily functioning.
The company's main product was Zohydro. This is a compound for chronic severe pain sufferers who have issues with other extended-release opioid medications such as OxyContin and hydrocodone (Vicodin). This population is believed to be some 2.5 million just in the United States. After getting an extended abuse resistant version of Zohyrdro approved by the FDA earlier this year, the company made a momentous decision for the company.
Zogenix decided to sell the rights to Zohydro to Pernix Therapeutics Holdings (PTX) recently. As part of the deal, Zogenix will transfer Zohydro sales team to Pernix. That will slash its employee count to 60 from 200 and reduce operational costs substantially. The company will receive $100 million in upfront payments for selling Zohyrdo to Pernix. It could also earn more than $250 million more in milestone payments if Zohyrdo hits certain regulatory and sales goals. To put in perspective, the company has a current market capitalization of approximately $250 million.
Zogenix still has a few "shots on goal". The company has a proprietary once-monthly subcutaneous formulation of risperidone for the treatment of schizophrenia in phase II trials. Finally, it recently purchased a compound that could potentially be a treatment for Dravet syndrome that will soon start Phase III trials. Zogenix had some $50 million in net cash on the books before the sale of Zohydro to Pernix. The stock currently sells for $1.60 a share after dipping to $1.20 a share on the overreaction of the sale. The five analysts that cover the stock have price targets ranging from $2.25 to $3.50 a share on ZGNX.
Next up is AVEO Pharmaceuticals (NASDAQ:AVEO), a stock with under a $100 million market capitalization. The shares are up nicely since the last time I covered the company on Seeking Alpha last summer and that rise has accelerated lately.
The shares have performed much better since the company licensed its lead product Tivozanib to Ophthotech (OPHT) in November for investigation into the potential treatment of non-oncologic diseases of the eye for a small upfront payment and with Ophthotech bearing the full development cost. If development is successful, AVEO could eventually reap milestone payments roughly equal to the current market capitalization of the stock.
AVEO has some other compounds in early development and a proprietary development process called the Human Response Platform™ it believes can help develop new cancer compounds more efficiently, which might be worth the price of the stock by itself. Finally, approximately 50% of the company's market capitalization is represented by the net cash currently on its books. Zack's just put its highest rating "Strong Buy" on AVEO. RBC Capital has a $3.00 price target on the stock as well.
Disclosure: The author is long AVEO, ZGNX. The author wrote this article themselves, and it expresses their own opinions. The author is not receiving compensation for it (other than from Seeking Alpha). The author has no business relationship with any company whose stock is mentioned in this article.
Editor's Note: This article covers one or more microcap stocks. Please be aware of the risks associated with these stocks.