Although stocks bounce around in random walk most of the time, they spend 7% of their time trending. Solar stocks have certainly been trending since late January. Solar stocks, as measured by the Guggenheim solar index (TAN), are up 43% year to date.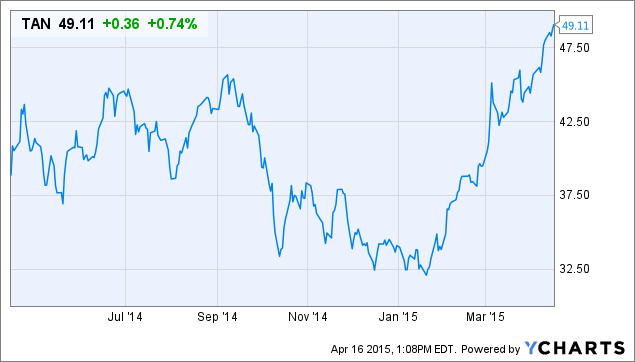 Trends in the solar sector are nothing new. Solar stocks trended lower beginning in 2011 as lower European feed-in-tariffs created industry oversupply problems. They trended higher in 2013 as that oversupply eventually solved itself.
How high can solar stocks trend?
Trending creates its own momentum, where buying leads to more buying. While the leading solar stocks have not reclaimed their 2011 highs, it may be only a matter of time before they do. Solar currently benefits from a number of tailwinds.
First, Chinese interest rates are falling. The Chinese central bank lowered the prime rate from 6% to 5.35% in the past 12 months. Given the weak Chinese economic numbers, the prime rate will likely fall further. Falling interest rates are good for solar in two ways. First it increases the IRR of solar projects, which increases overall solar demand. Second, falling interest rates make debt cheaper, which allows solar companies to build more higher margin downstream projects. The increased solar demand will drive the solar sector's top line while the increased downstream demand will drive the solar sector's bottom line growth.
Second, many Chinese solar companies benefit from the fact that they are Chinese. Because of the rally in the Shanghai index, many Chinese solar companies listed in China/Hong Kong are trading at higher valuations than the Chinese solar companies listed on the American stock exchanges. Hanergy Thin Film Power, for example, trades at a PE of 60.7, versus JinkoSolar's (JKS) PE of 9.48. Because the leading Chinese solar companies such as JinkoSolar plan to spin off their downstream units into yieldco's that might list in China, the valuation gap between the Chinese solar companies listed in China and Chinese solar companies listed in the United States will narrow. As the gap narrows, the leading solar companies such as JinkoSolar and Canadian Solar (CSIQ) who plan on spinning off (all or some of) their downstream units will rally.
Third, although solar has successfully disassociated itself from crude oil, solar could benefit if crude prices continue to rise. As mentioned in this Bloomberg Businessweek article, crude's fall to the $60-$70 per barrel range postpones the mass adoption of renewables and peak demand by as much as 5 years. If crude prices rise above that level, however, mass renewable adoption could come earlier and generate higher revenues and profits for the solar sector.
In terms of long-term stocks to invest in, JinkoSolar and Canadian Solar are good bets. Both trade at forward PE's of ~8. If the two companies traded at the S&P 500's forward multiple of 17, their stocks would double. Given their cheap valuation, the upside catalyst of downstream listings in China, and their long-term growth potential, JinkoSolar and Canadian Solar will likely continue to rally.