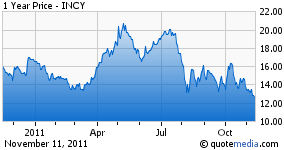 Incyte Corp. (NASDAQ:INCY) is a small biotech company focused on developing treatments for cancer and inflammatory disorders. Lead compound Ruxolitinib (INCB18424) is awaiting FDA approval for the treatment of Myelofibrosis (MF) with an expected decision date on December 3rd. Ruxolitinib is also recruiting patients in a global Phase III study for Polycythemia Vera, a related blood disorder. A second compound, INCB28050, is in Phase IIb testing for Rheumatoid arthritis with anticipated completion early 2011.
Background:
Ruxolitinib and INCB28050 are small molecule inhibitors of JAK1 and JAK2. There are four JAK kinases, JAK1, JAK2, JAK3, and TYK2, key enzymes involved in the signaling of important cytokines. While their functions often overlap, JAK1 and TYK2 play important roles in inflammation, JAK2 is required for G-CSF signaling, and JAK3 regulates B-cell function.
Ruxolitinib was partnered with Novartis (NYSE:NVS) on November 25, 2009. Incyte received upfront payment of $210M and potentially $1,100M in developmental in commercialization milestone payments plus with tiered double digit royalties in exchange ex-U.S. rights to the compound. Incyte retained all U.S. rights; each company will pay for studies in their own territories. The two companies will develop Ruxolitinib in multiple oncology indications.
Less than a month later on December 21, 2009, Incyte inked a global licensing deal with Eli Lilly (NYSE:LLY) for its second candidate, INCB28050, for Rheumatoid arthritis. Incyte netted $90 million upfront and $665 million in milestones. The company has the opportunity to increase its initial 20% royalty rate to the high 20s by opting in and sharing 30% of development costs.
Myelofibrosis:
Incyte presented overwhelmingly positive data from two pivotal Phase III trials, COMFORT-1 and COMFORT-2, for patients with Intermediate-2 or High Risk MF. COMFORT-1 was a U.S. trial enrolling 309 patients randomized 1:1 treatment vs. placebo with final assessment at 24 weeks. The primary endpoint was a 35% reduction in spleen volume as measured by MRI. Secondary endpoints included duration of response, change in total symptom score, and overall survival.
Top line results of COMFORT-1 showed 41.9% of ruxolitinib treated patients achieved a 35% reduction in spleen volume at 24 weeks compared to 0.7% of placebo treated patients, P-value less than 0.0001. 45.9% of treated patients saw a greater than 50% decrease in total symptom score compared to 5.3% for placebo, also highly statistically significant. There was a trend toward an improvement in survival in the ruoxlitinib arm but did not reach statistical significance.
The European COMFORT-2 trial enrolled 219 patients randomized 2:1 drug vs. best available therapy (BAT). Primary endpoint was the same but at 48 weeks instead of 24. Assessment at 48 weeks showed that 28.5% of ruxolitinib treated patients achieved a 35% spleen volume reduction while no patients on BAT did. The response was durable; at the end of the study, 79.7% of patients achieving the 35% spleen volume reduction were still responding. There was a numerical but not statistically significant improvement in overall survival in the treatment arm, p-value 0.58. Symptoms scores also improved in ruxolitinib treated patients compared to BAT, including appetite loss, insomnia, dysnea, pain, and fatigue.
Ruxolitinib has a very good safety profile given at 15 or 20 mg BID in these studies. The only real concerns are anemia (lowering of red blood cells) and thrombocytopenia (lowering of platelets); most patients present with anemia, which the drug may worsen.
If approved, this will be the first drug indicated for the treatment of MF. There is every expectation it will be approved on or before its December 3rd PDUFA date. The company has not been advised of an advisory committee hearing. Technically, the FDA alert the trial sponsor 55 business days ahead of a panel meeting, making October 8th the last day Incyte may be notified. The advisory panel appears increasingly unlikely while an early approval more so. The FDA's oncology division has been issuing quick decisions this year; Pfizer's (NYSE:PFE) Xalkori was approved five weeks ahead of schedule, Roche's (OTCQX:RHHBY) Zelboraf ahead by two months, and Seattle Genetics' (NASDAQ:SGEN) Adcetris got the green light 11 days early.
The risk is not so much on approval as sales. Myelofibrosis is a small market. Incyte estimates there are approximately 16,000 to 18,500 MF patients in the U.S., divided equally between Severe, Moderate, and Mild disease. Both the company and analysts expect high usage in severe patients, less penetration in moderate disease, and limited use in mild disease. The company previously gave pricing estimates of between $40,000 to $60,000 per year, but in the most recent conference call indicated an inclination to tact toward the high end based on pricing of recent oncology drugs and what is believed to be a very good product profile.
Assuming $60,000 per year and 9,000 patients (18,000 total, reach 100% of severe, 50% of moderate, 0% of mild), the U.S. market opportunity is $540 million in MF. Incyte has hired a sales force of 60 reps to detail the drug. All reps have received one round of training. It expects to be able to begin sending product into sales channels within 14 business of approval. Management expects a slow ramp, peaking in
Ruxolitinib has a strong head start as the first in class and first in disease. The closest competition is likely some three years back. Sanofi Aventis (NYSE:SNY) has advanced a compound it got through the acquisition of Targagen into Phase 3, a highly specific JAK2 inhibitor TG101348. It appeared highly effective in reducing spleen size and improving symptoms in midstage trials but is burdened with a poor side-effect profile that includes thrombocytopenia, anemia, diarrhea, nausea, and vomiting. The competitor most are watching is CYT387 from YM Biosciences (YMI). This JAK1 / JAK2 inhibitor appears to have the best safety profile next to ruxolitinib and the potential for an anemia benefit. Interim results presented at ASCO showed 58% of transfusion dependent patients treated with CYT387 were transfusion independent after 12 weeks of treatment.
Polycythemia Vera:
Incyte is currently enrolling patients in a Phase III global trial for patients with Polycythemia Vera (PV). Initial Phase II results from patients refractory or intolerant to hydroxyurea were very promising; after a median follow-up of 21 months, 97% of enrolled patients (n=34) achieved hematocrit control to less-than or equal to 45% in the absence of phlebotomy. All patients continued to maintain phlebotomy-independence at the time of their last follow-up visit. Splenomegaly was present in 74% of patients at entry; 80% of patients achieved a greater-than or equal to 50% reduction in palpable spleen length and 68% have achieved complete resolution.
The Phase III trial was designed to mimic the Phase II, with initial plans to enroll 300 patients randomized 1:1 to ruxolitinib vs. best available therapy. The primary endpoint is a composite of hematocrit control in the absence of phlebotomy and greater than 35% reduction in spleen volume at 32 weeks. Secondary endpoints include complete hematologic remission at week 32 and percent of patients maintaining the composite response at 48 weeks and beyond.
Enrollment has been slow, blamed on additional entry requirements requiring white blood cell counts >15,000 and/or platelet >600,000. The company has petitioned the FDA to remove this requirement from the current special protocol agreement and reduce total patient accrual to 200 in order to speed up enrollment.
These changes were recently accepted by the FDA, the revised Phase III will be basically identical to the original Phase II. Even with a smaller n, strength of the original data gives confidence in the final outcome. It will, however, be worrisome if recruitment fails to improve upon implementation of these changes.
An estimated 95,000 patients in the U.S. suffer from PV, with the company estimating between 20%-25% being hydroxyurea refractory or intolerant. As these patients have a higher quality of life than severe MF patients and longer life expectancy, lower market penetration is expected. Calculating 10% of the PV market at a $60,000 price tag yields $570 million in potential U.S. sales. It is estimated ruxolitinib could become available for PV by 2014. However, there is likely to be off-label use in this indication once the drug is approved.
Rheumatoid Arthritis:
Eli Lilly is running the RA program and has completed Phase IIa studies with INCB28050. Phase IIb trials are fully enrolled with data expected in the first quarter 2012. Primary endpoints of the Phase IIb trial are identical to the Phase IIa: ACR20 response at 12 weeks though the trial extents to 24 weeks. And while the earlier study tested 4, 7, and 10mg once-daily dosing, this trial is looking at 1,2, 4, and 8mg.
Incyte is testing the lower dose due to similar efficacy seen across all three doses in the Phase IIa trial while the lower dose resulted in somewhat less anemia. At 12 weeks, 32% of placebo treated patients reached ACR20 compared to 52%, 59%, and 53% for the 4mg, 7mg, and 10mg cohorts, respectively.
Safety issues to keep an eye on, though mostly mild, are anemia and increases in both HDL and LDL. Final data from the Phase IIb study will hopefully be presented at EULAR in June 2012 with pivotal Phase III studies beginning by the end of the year.
In oral RA treatments, INCB28050 will be following in the footsteps of Pfizer JAK inhibitor, tofacitinib, which met all primary endpoints in five pivotal trials and may be approved as early as 2012. Both drugs have very clean safety profiles and in fact have some similar safety issues including anemia and lipid increases. Approval of the Pfizer drug will bode well for Incyte. Analysts foresee a multi-billion dollar product for Pfizer (PFE).
Incyte's compound has the advantage of once-daily dosing compared to twice-a-day for tofacitinib. So far, efficacy appears similar. Analyst peg potential sales of INCB28050 at $1.8 billion; with royalties in the high 20s, this can add another $500 million to Incyte's top line.
Summary:
Incyte's three most advanced projects, each with good to high probability of success in the next few years have the combined potential to generate roughly $1.6 billion in peak sales. Both ruxolitinib and INCB28050 will certainly be tested in additional indications, increasing their future value. Ruxolitinib is already in Phase II studies for both solid and hematologic tumors.
JAK kinase is an alluring target and competition will be fierce. Hitting the target alone is not enough; with such a central role in signaling pathways, safety has emerged a key differentiator. Incyte's leading position and clean product profiles should allow it to extract considerable value from its discoveries.
Markets are in a "show-me" mode. Even approval may not give much lift to the stock price. It will likely take product sales before the stock really moves. To that end, the company recently showed off an abstract for presentation at ASH next month demonstrating a strong overall survival advantage for ruxolitinib over placebo. This data has the potential to improve the drug's sales outlook.
Incyte has a real story, and if it plays its cards right, can graduate into the big leagues of biotechs.
Disclosure: I am long INCY.