Apple (NASDAQ:AAPL) was co-founded by the late visionary Steven Paul Jobs and has completely transformed every industry it operates in. The perpetual focus on innovation has made this one of the largest, fastest growing companies and Apple investors have been handsomely rewarded. I have recommended option strategies on Apple since 2010 with tremendous results. For reference, please view the first and other articles in the series to fully understand the strategy and its strong potential returns. As we enter the post-Jobs era, it is even more important to keep a close eye on your investment and execute care with your trades.
Click to enlarge

A brief recap of this week in Apple (Down $15.29 (-3.8%)):
iPhone 4S Domestic Demand Still Strong (November 7 Apple Insider)
Barnes & Noble (NYSE:BKS) Announces New Nook Tablet (November 7 Barnes & Noble)
Apple May Open Grand Central Store By Black Friday (November 8 CNet)
Apple Most Desirable Brand in China (November 9 Apple Insider)
Amazon (NASDAQ:AMZN) Acquires Voice Service to Rival Siri (November 9 The Atlantic)
Conflicting Production Reports Derail Apple (November 11 Marketwatch)
Apple continued the sell-off from last week as it violently broke through $396 support late in the week and stabilized 10 points lower around $385. In the past two weeks Apple has declined nearly $20 and is now trading at the same price as it was exactly one month ago. The question that everyone is asking recently is what is wrong with Apple? There are lingering questions about the iPhone 4S battery and European lawsuits but can those really be the cause of the decline? The good news has certainly outweighed the bad news recently yet here we are trying to piece together why Apple is being punished more than the market despite having minimal relative exposure to the Greek/Italian ills facing the global economy. The Wall Street Journal takes the position that the lack of Adobe Flash on iOS will help competitors but Flash has really become a non-factor with the rise of apps. Sure there is a possibility that developers will shift their efforts to HTML 5 websites but sidestepping the Apple iTunes ecosystem is too large of a risk.
The only truly "damaging" report this week revolved around rumors and channel checks that indicated that Apple is reducing orders for the iPhone 4S as well as facing supply constraints. We have been down this road before as a few times per year (notably in 2011 near the iPad 2 launch) we will hear reports that Apple has cut production and the script is always the same:
Analyst A will warn about production based on channel checks
Apple declines decently for a portion of the week
Analyst B will dispute Analyst A's assertion
Apple quickly rebounds when the dust settles
I believe we are watching the same plot unfold again so I want you to take advantage of the unfounded dip. Unlike previous weeks in which I thought Apple would be more range-bound, I suggest that you take more aggressive stances with Apple and engage in less conservative option plays. With Apple trading like a value stock (14 PE before adjusting for cash) and having unprecedented growth future growth prospects the reward well outweighs the risk.
Below I present three possible scenarios and the potential returns for the November 19 monthly options. The first scenario represents a negative outlook for Apple while the final two scenarios are more reasonable. These scenarios are just projections and there is no guarantee that they will come to fruition. As a general rule, selling calls with higher strike prices has greater potential return but additional risk of loss due to the lower (or lack of) downside protection. For more information on the fundamentals of covered calls, consult Investopedia.
Click to enlarge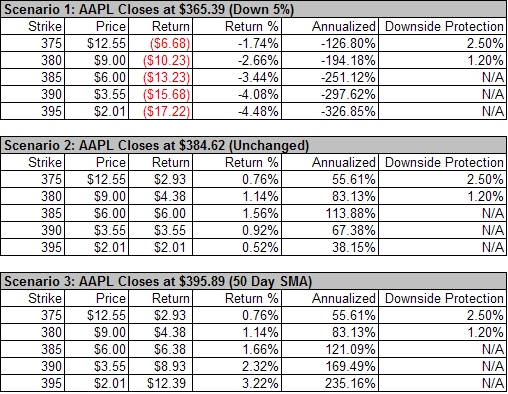 Additionally, if you would like even more information, I have prepared a sensitivity analysis for absolute return and percent returns, respectively. After studying the information above, these two charts make it easy to pick a strike price based on where you believe Apple will close on Friday.
Click to enlarge

With this information, executing a buy-write on AAPL November 19 (Monthly) 395s is the optimal risk-return strategy. If you are uncomfortable with this strategy I suggest a buy-write 385s or 390s. Even if you are extremely bullish you can still profitably sell covered calls. Apple is volatile enough that you will have opportunities to repurchase on dips. An alternative approach is to sell out-of-the-money 380 puts and collect the premium without having to purchase the stock outright. Note that if the stock declines to the strike price, you are obligated to buy the stock (or closeout the position).
Disclosure: Author is long AAPL, plans to write AAPL November 19 395 Calls.
Disclosure: I am long AAPL.
Additional disclosure: Disclosure: Author is long AAPL; plans to write AAPL November 19 395 Calls.