By Stuart McPhee
Australia 200 for Friday, April 17, 2015
Throughout last week the Australian 200 index showed some signs and moved well towards the resistance at 6000 before easing away slightly, however it remains fixed on the level and looks poised to move through it. In the last few days it has eased away yet again however remains well within reach of this key level. A few weeks ago the Australia 200 index pushed higher to a multi-year high to just above the key resistance level at 6000, before easing lower throughout the last couple of weeks to below 5900. It is receiving ongoing support at 5800, which is helping its latest push towards 6000. The key 6000 level remains firm and a significant obstacle and the index and markets are firmly fixed on it. Several weeks ago the ASX200 index found some support at the key 5800 level which has propped it up and allowed it to rally a little and move higher, and of course it will be hoping to receive the same again. Back in early March the ASX200 index reversed from its highs near 6000 and started to establish a new medium term down trend before rallying higher a couple of weeks ago.
It enjoyed a strong move higher throughout February, moving from below the key 5800 level up to another multi-year high near 6000, where it met stiff resistance. At the beginning of February, it spent a week or so battling with resistance at the key 5800 level which repeatedly fended off the index, resulting in it easing back a little. This level has resumed its key role and is currently having an impact on the index. Throughout the second half of January the Australian 200 index did very well and surged higher to move back above the key 5400 level and push on through to the new highs. At this time, the resistance at 5500 stood tall and fended off all advances, however this now been broken strongly through.
Throughout most of November and December, the Australia 200 Index fell steadily lower down towards support around 5150 and two month lows before rallying back above 5400 again. Over the last few weeks the Australia 200 index has struggled with resistance at 5400 which has forced it lower time and time again. The 5400 level has been a major player for the last 12 months and the index must get back above this level to encourage more buying and bullish sentiment. It enjoyed a solid resurgence throughout October after getting much needed support from the 5200 level, which has resulted in it moving back above the 5400 and 5500 levels, around a two month high.
Australia's jobless rate unexpectedly fell in March, spurring a jump in the local dollar on optimism the central bank's effort to shore up the economy with record-low interest rates is paying off. Unemployment dropped to 6.1 percent from a revised 6.2 percent in February, as the number of people employed rose 37,700, the statistics bureau said in Sydney on Thursday. The currency extended gains as traders pared bets on the scale of rate cuts, after the report reinforced data showing improved business confidence in March. The Reserve Bank of Australia kept borrowing costs at 2.25 percent last week, after cutting in February, as it seeks to encourage spending by consumers and companies to offset falling mining investment.
(Daily chart below)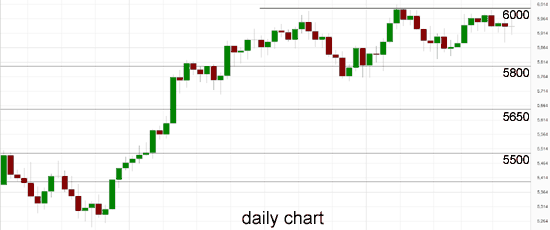 Australia 200 April 17 at 00:25 GMT 5937 H: 5965 L: 5908
Australia 200 Technical
| | | | | | |
| --- | --- | --- | --- | --- | --- |
| S3 | S2 | S1 | R1 | R2 | R3 |
| 5800 | 5400 | 5150 | 6000 | - | - |
During the hours of the Asian trading session on Friday, the Australia 200 Index will be looking to the resistance at 6000 again and trying to push higher, whilst relying on support at 5800.
Further levels in both directions:
• Below: 5800, 5400 and 5150.
• Above: 6000.
Economic Releases
05:00 JP Consumer Confidence (Mar)
08:00 EU Current Account (sa) (Feb)
08:30 UK Average Earnings (incl. bonus) (Feb)
08:30 UK Claimant Count (Mar)
08:30 UK ILO Unemployment Rate (Feb)
09:00 EU HICP (Mar)
12:30 CA CPI (Mar)
12:30 CA Retail Sales (Feb)
12:30 US CPI (Mar)
14:00 US Leading Indicator (Mar)
14:00 US Univ of Mich Sent. (Prelim.) (Apr)
US World Bank and IMF Spring Meeting
* All release times are GMT