By Josh Rank, Portfolio Manager-Global High Yield, Principal Global Fixed Income
When investors think of high yield fixed income, the old term "junk bonds" often comes to mind. While the term "junk" carries a negative connotation, referring to the early years of high yield where high default rates were expected, the current reality is that high yield securities have a history of providing investors with equity-like returns at only half of the volatility. In the chart below, look at the positions of "High-yield bonds" (JPMorgan Domestic High Yield Index) and the S&P 500 (our proxy for U.S. equities); returns over the 25-year period are comparable, but volatility on the S&P 500 is 1.7 times higher. This is even more impressive when you recognize that high yield offers principal protection compared to equities because of the higher priority of recovery in the event of bankruptcy.
Returns and Volatility: 25-year Annualized Returns vs. Annualized Volatility
(as of 31 December 2014)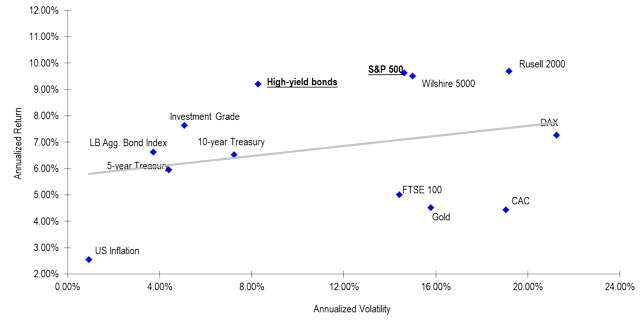 Source: JPMorgan
Let's take a look at some of the main reasons why we think investing in high yield bonds makes sense.
For starters, typical credit cycles are about seven years in length. However, the current credit cycle has been extended by global quantitative easing (QE) initiatives, which have allowed many companies to refinance their debt at very low interest rates while extending maturities. Ultimately, this has the effect of delaying the default cycle for high yield securities. Additionally, companies have been cautious to add leverage in the wake of the Great Recession. In fact, over 60% of new issuance since the global financial crisis has been used to refinance existing debt.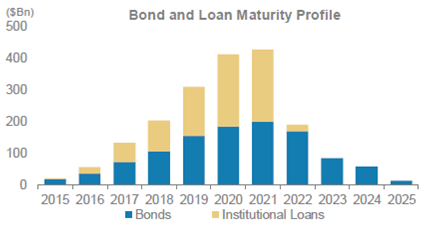 Low interest rates globally have allowed companies to restore their financial health. Benefiting from low coupon rates and a moderately expanding economy, companies' cash flows (or EBITDA) have been covering their debt interest payments by a multiple of over 4.5 times. As the chart below illustrates, interest coverage is nearing record levels and provides companies with financial flexibility to address their annual coupon obligations.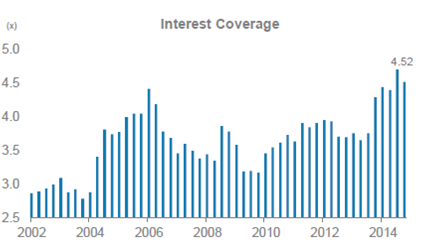 Source: Morgan Stanley
One final note is that current yield in the high yield market is a powerful income stream in times of elevated volatility. The current yield of the high yield asset class averages 7% and can provide a healthy income stream against the backdrop of low global yields. When combined with an expected low default rate, we believe the high yield asset class is well-positioned to provide investors with attractive risk-adjusted returns.
---
The information in this article has been derived from sources believed to be accurate as of April 2015. Information derived from sources other than Principal Global Investors or its affiliates is believed to be reliable; however, we do not independently verify or guarantee its accuracy or validity.
The information in this article contains general information only on investment matters and should not be considered as a comprehensive statement on any matter and should not be relied upon as such. The general information it contains does not take account of any investor's investment objectives, particular needs or financial situation, nor should it be relied upon in any way as a forecast or guarantee of future events regarding a particular investment or the markets in general. All expressions of opinion and predictions in this document are subject to change without notice.
Subject to any contrary provisions of applicable law, no company in the Principal Financial Group nor any of their employees or directors gives any warranty of reliability or accuracy nor accepts any responsibility arising in any other way (including by reason of negligence) for errors or omissions in this article. Any reference to a specific investment or security does not constitute a recommendation to buy, sell, or hold such investment or security.
Links contained in some blog posts may take you to third-party sites and Principal Global Investors makes no guarantees to the accuracy of the information provided.