Huge strides have been made in pursuit of a self-sustaining solar industry. China's domestic subsidies created a forty percent component price drop last year alone. Long-term, solar grid parity is getting ever so close and will benefit the industry. Kees van der Leun of Ecofys predicts that solar could be competitive with fossil fuels by 2018. Short-term success is reliant on politics which is unstable with the world debt crisis, to say the least. Short-term problems include oversupply of modules and components as well as risk to demand, such as tax grant program 1603 going away.
The tax grant program 1603 has been a large part of the US solar industry success but is up for expiration December 31, 2011. Total program funding to 22,747 alternative energy projects has been $9.6 billion as of October 31. Going forward environmentally and economically speaking, it is hard to deny that solar will be a major part of our energy mix. There is simply too much prime residential and commercial wasted roof space waiting for a cost effective energy solution. If you believe what I do, short-term problems may be a great opportunity for a long term investment.
So where do you go if you want to profit with solar energy in equities? You simply can't make educated solar investments, trusting current guidance, with so much risk to individual equity revenue and earnings. Don't try and be stock picker; buy a portfolio or an exchange traded fund like Market Vectors Solar Energy ETF (NYSEARCA:KWT) or Guggenheim Solar ETF (NYSEARCA:TAN).
Though solar is here to stay, some individual companies might not be. Compare the performance of two solar exchange traded funds relative to individual equities. Though investors have seen substantial losses in the past few years, trends should reverse and long term investors could profit from this out of favor industry. The world needs renewable energy sources and it's hard to think we will improve on solar, nature's number one choice.
The individual stocks in the charts below include: Energy Conversion Devices (NASDAQ:ENER), First Solar (NASDAQ:FSLR), GT Advanced Technologies (GTAT), JinkoSolar (NYSE:JKS), LDK Solar (NYSE:LDK), Renesola (NYSE:SOL), SunPower (SPWRA), Suntech Power (NYSE:STP), and MEMC Electronic Materials (WFR).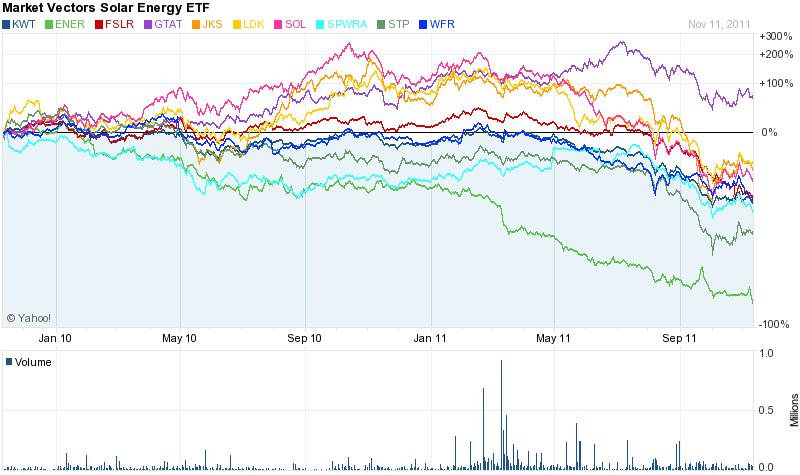 The two ETFs below include: Market Vectors Solar Energy ETF (KWT) and Guggenheim Solar ETF (TAN).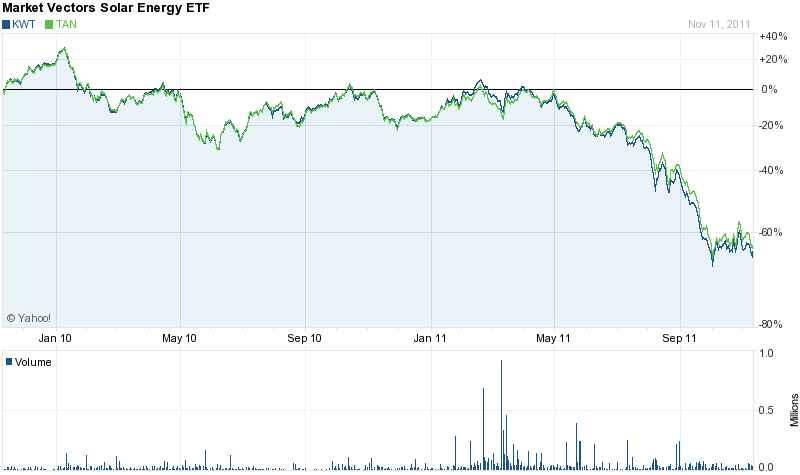 Over a two-year period, GT Advanced Technologies has been the biggest, albeit an uncommon, winner -- up 74%. One of the biggest losers has been Energy Conversion Devices, down 97%. The Market Vectors Solar Energy ETF is down 65%, closer to the industry average. With imminent growth long-term, the solar industry appears to have some spectacular values. Picking one stock is just too risky; buying an ETF, on the other hand, might prove lucrative.
Disclosure: I have no positions in any stocks mentioned, and no plans to initiate any positions within the next 72 hours.