If you've got a dollar in your pocket, you can buy just about anything on the shelf in a Dollar Tree (NASDAQ:DLTR) store. It really is amazing how much merchandise you can buy for a dollar.
With the tepid economy, shoppers are going to Dollar Tree instead of other retailers in order to stretch their dollar as far as possible. As a result, Dollar Tree has been doing very well over the last four years, and in addition, the company's stock price is up around 400%. And, over the last two years Dollar Tree's stock price has doubled as shown below: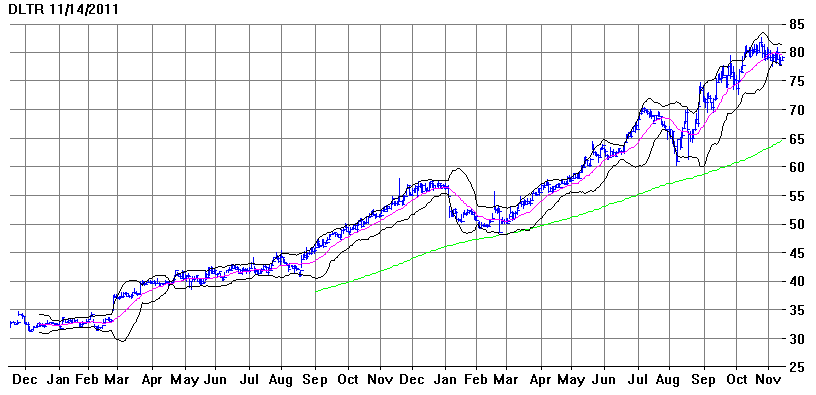 Dollar Tree has had 10 consecutive quarters of EPS growth of more than 20% and has also improved its profit margins. The company indicated it is able to manage its margins over varying economic cycles by changing products or changing the source. In other words, the company thinks it can perform well in any type economic environment.
Top-performing products for the company includes food, party supplies, toys, health and beauty and home oriented. The company also sells seasonal products for special occasions and holidays, like Halloween.
In its most recent conference call, the company indicated it has 4,242 stores and plans to add 275 new stores. Additionally, the company has 90 Dollar Giant stores it purchased, which are located in Canada. The company indicated it believes it can add an additional 7,000 Dollar Trees in the U.S. and around 900 Dollar Giant stores in Canada before the market is saturated.
The company is expanding its distribution center in Savannah, Georgia, in order to satisfy the appetite for its products in the Southeast, and it is also expanding its line of frozen and refrigerated products, even though the company insists it does not plan on becoming a grocery store.
In addition to Dollar Tree stores and Dollar Giant stores, the company has 177 multi-price Deal$ stores, which are also performing well. Dollar Tree is opening new stores with improved formats, new markets and new channels.
You can even purchase Dollar Tree's products online. The company now offers 2,200 items via its online store. Bet you can't guess how much their online products cost? That's right -- a dollar, but you do have to pay shipping unless you want to pick up your order at one of their stores.
At its current growth rate, I estimate the company will saturate its market in the U.S. and Canada over the next 11 years. Based on this and assuming a growth rate of 10% per year in free cash flow, the current estimated price for the company's stock is around $52. I hope their online business does well, as the company's stock price looks kind of expensive when just considering the potential brick-and-mortar retail market.
Also, the company is not alone in its market segment: It has 99 Cents Only Stores (NYSE:NDN), Dollar General (NYSE:DG) and Family Dollar Stores (NYSE:FDO) to contend with.
An investor with a large profit in the stock could be getting nervous at this point and might be considering an exit for the position. But, this might incur a taxable event, with a large chunk of the profit going to the IRS. A queasy investor in Dollar Tree might also consider a collar position for the company. A collar position may be entered by selling a call option against the stock and using some of the proceeds to purchase a put option for protection.
As an example, using PowerOptions search tools, a collar position is available for Dollar Tree with a potential return of 2.1% and a maximum risk of 9.5%. The specific call option to sell is the 2011 December 80 call option for $2.45 and the put option to purchase is the 2011 December 70 for $0.80.
If the price of DLTR is the same price as today at expiration, the position will return 2.1%. As a bonus, if the price of DLTR is greater in price than the $80 strike price of the call option at expiration, the position will return 3.5%. And, if the price of Dollar Tree tanks, the maximum loss that an investor will experience is 9.5%. A profit/loss graph for the collar position is shown below: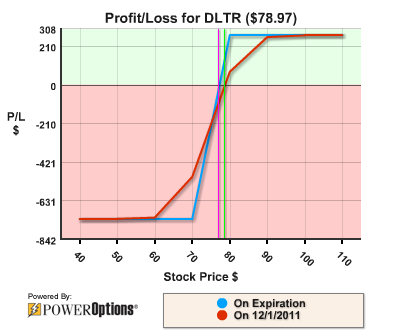 I'm not sure when the economy recovers (if it ever does) that Dollar Tree will continue to perform as well as it has during the tepid economy. If the company doesn't continue its previous performance when the economy recovers, its stock price will surely take a hit. However, an investor using a collar position for income and protection may not have to suffer as significantly as an investor holding the stock by itself.
Disclosure: I have no positions in any stocks mentioned, and no plans to initiate any positions within the next 72 hours.