Investors can expect more job cuts in the oil field services industry as Schlumberger (NYSE:SLB) announced that the company would cut another 11,000 jobs and continue to trim back capital spending in response to weak oil prices. The industry continues to siphon off jobs as it looks to maintain profitability and companies look to put themselves in a position of strength to not only take advantage of potential opportunities but also simply survive until the next bull cycle begins. Schlumberger's revenues for the quarter missed estimates, but EPS exceeded expectations by $0.17/share.
Looking at the commodity market today we notice a few things. First, the strength in oil and copper continues, and although oil is down today, it is holding gains and that is a healthy sign. Copper is also holding onto gains and quite close to taking out the $2.80/lb level. The second thing we think important to point out is that gold is once again trading above $1,200/ounce. The gold bugs are relentless right now and have gold prices hanging around this important level.
Chart of the Day:
The below chart shows just how significant the $1,200/ounce price level is for gold. This is why we are interested.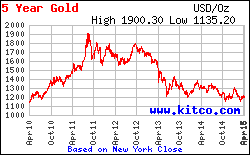 Source: Kitco
Commodity prices are as follows (at time of submission):
Gold: $1,201.70/ounce, up by $3.70/ounce
Silver: $16.22/ounce, down by $0.064/ounce
Oil: $56.08/barrel, down by $0.63/barrel
RBOB Gas: $1.9346/gallon, down by $0.0008/gallon
Natural Gas: $2.636/MMbtu, down by $0.048/MMbtu
Copper: $2.771/pound, down by $0.003/pound
Platinum: $1,166.00/ounce, up by $8.00/ounce
Gulfport's Strength
Yesterday was a very surprising day in our opinion for shares of Gulfport Energy (NASDAQ:GPOR). The stock actually finished higher after announcing that they would raise cash via a secondary offering, which they increased shortly after announcing, and a debt offering, which was subsequently raised. A portion of the cash raised from these transactions was to help pay for a $300 million acquisition that the company announced in the core of the Utica's dry gas window, which left us underwhelmed. Sure the dry gas window has proven to be prolific, but natural gas prices have continued to be depressed as the country swims in a glut of the stuff.
So what is the takeaway from this? Well first, we do think that the purchase price for unproductive acreage highlights a willingness among some buyers to pay top dollar, which means that there are a few companies that could raise capital simply by selling some of their Utica holdings. More importantly though, it appears that the market is prepared to reward those companies with strong balance sheets and which are able to maneuver to take advantage of opportunities that arise. From our view, it seems yesterday's rally may have been less about a purchase which the market thought was a steal and more about the market rewarding Gulfport for its financial wherewithal.
This morning Morgan Stanley raised its price target on Gulfport to $54/share from $52/share based off of strong production growth and the belief that the acquisition will be accretive to future earnings. The firm maintained its 'Equal-Weight' rating on the company's shares.
Anti-Carbon Movement and Endowments
While there are two sides to every debate, there is also a middle ground which is where our opinion lies in the ongoing debate over whether university endowments should continue to own fossil fuel related investments or any investments related to carbon at all. There have been calls for some of America's largest endowments to exit positions in such blue chip names as Exxon Mobil (NYSE:XOM), Chevron (NYSE:CVX) and BP (NYSE:BP) in the name of being environmentally friendly and socially correct. While a portfolio manager could still find ways to balance the portfolio and reallocate those funds, the endowment loses out on a large portion of the S&P 500 and many other indices by simply ignoring those investment opportunities.
The logic behind shunning carbon related stocks is that there are long-term risks associated with owning them and many unanswered questions. While that type of talk is great for headlines and instilling fear in casual observers, what about the risk of underperforming the market due to this investment policy? The opportunity cost is real and it is important that we as investors not forget that we have seen periods such as this before.
We have seen solar crash and burn a couple of times and numerous other green energy initiatives have fallen flat on their face after just getting out of the starting blocks. Are endowments supposed to rotate out of well financed, blue chip names with proven track records to invest in far more speculative names which might not be here next year, let alone in a decade? It is never a good policy to make investment decisions based off of political pressures and we hope that the endowments which are bowing to this pressure do not see these moves backfire in their faces.
Disclosure: The author has no positions in any stocks mentioned, and no plans to initiate any positions within the next 72 hours.
The author wrote this article themselves, and it expresses their own opinions. The author is not receiving compensation for it (other than from Seeking Alpha). The author has no business relationship with any company whose stock is mentioned in this article.
Additional disclosure: BP has previously been recommended.