The stock of Wal-Mart (NYSE:WMT) has been breaking out lately, but it has been range-bound over the last decade between a low of $42 and a high of $63 per share. Wal-Mart is currently trading at the upper end of its 10-year long trading range. Is it finally getting ready to break out and begin a new major up-leg?
12 Month Chart of Wal-Mart (WMT)
Click to enlarge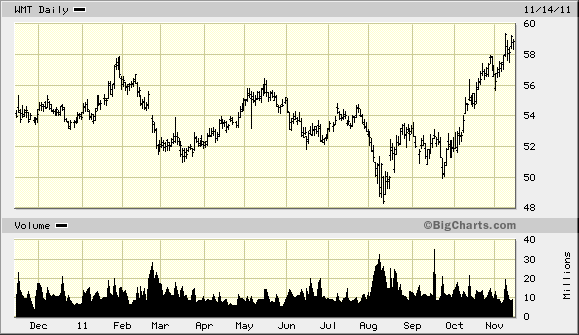 When I am not managing money and writing research reports, I am an avid baseball fan, even though I rarely have much to cheer about here in San Diego. Nevertheless, there is nothing like a major league baseball game on a nice evening in America's finest city.
When an opposing player comes to bat, the first thing I do is check out the players track record (stats) on the scoreboard. I want to know the players age, batting average, home run record and how many RBIs he has driven in. Generally speaking, after glancing at the player's track record, I know right away what kind of player is currently in the batter's box.
Likewise, when analyzing a stock, I want to know the company's track record. It has always amazed me that track record is so critical to most in mutual fund analysis, yet many times completely overlooked in stock analysis.
Let's take a look at the current track record of Wal-Mart and see how it stacks up against the rest of the league: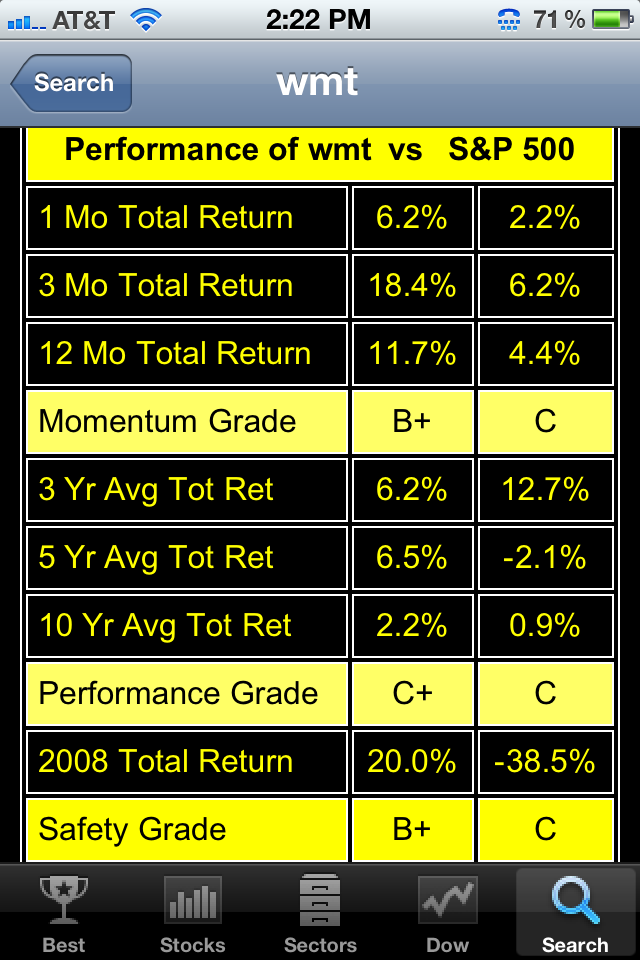 Data From Best Stocks Now App
As you can see from the stock chart of Wal-Mart and the short-term track record, the stock has had a fairly good run as of late. The stock has outperformed the S&P 500 over the last one-month, three months, and one year. Believe it or not, this $204 billion market cap company actually earns a momentum grade of B+ when compared to 2,700 other stocks.
Wal-Mart has underperformed the market over the last three years, handily outperformed the market over the last five years, and has just barely outpaced the market over the last decade. Wal-Mart earns an overall performance grade of C+ when compared to rest of the market.
It should be noted that Wal-Mart did very well with a positive return of 20% in the year 2008, when the market was down a whopping 38.5%. Wal-Mart is definitely a good defensive stock during hard times, and it also currently pays a dividend yield of 2.5%.
Overall, I have a hard time getting too excited about the track record of this mega-cap stock. It is very difficult for a company that has grown this large to deliver alpha to its investors.
After examining the track record, I next like to examine the valuation of the stock.
Wal-Mart is expected to report earnings per share of $0.98 per share for the quarter ended October 31, 2011. For the next year, Wal-Mart is expected to earn $4.91 per share.
Wal-Mart's earnings have been growing at a 9% pace over the last five years, and the consensus analyst estimate for the next five years is 9.8% per years. At this pace, Wal-Mart would be earning $7.13 per share five years from now.
What would an appropriate multiple be for the stock at that time, if it indeed it is able to meet analyst estimates?
Wal-Mart currently has a PE ratio of 14, and over the last four quarters the PE ratio of Wal-Mart has ranged between 11-14, and over the last five years the PE of Wal-Mart has averaged 14.7.
I am using a multiple of 13 on those potential earnings of $7.13 and also adding in the results of a 2.5% dividend over the next five years. My earnings and dividend based valuation formula calculates just 68% upside potential for the stock over the next five years.
I like to buy stocks that have 80-100% or more upside potential. Wal-Mart falls far short of that at its current price. Here is a snapshot of my valuation on Wal-Mart at the current time: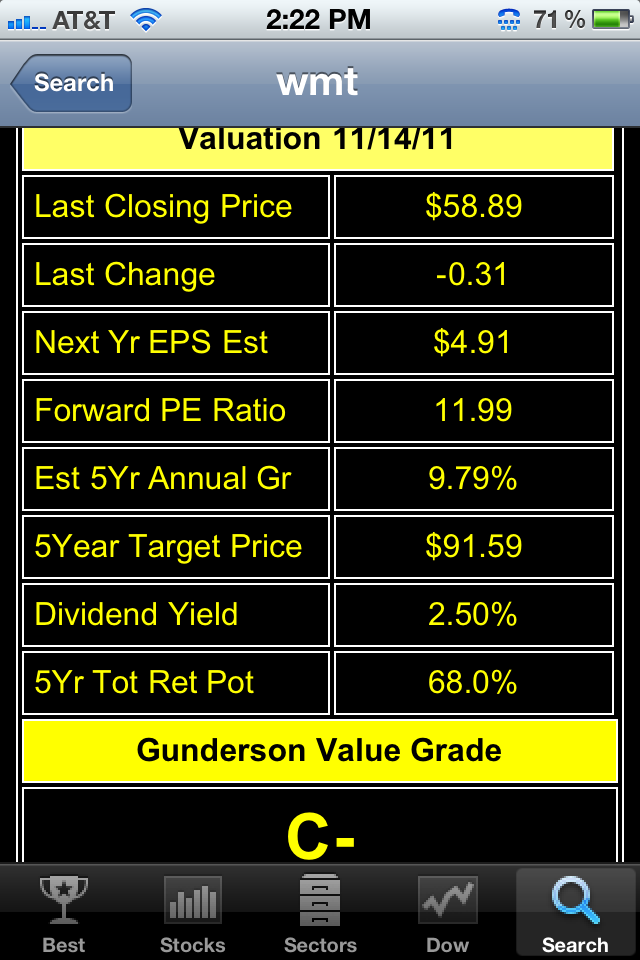 Data From Best Stocks Now
Overall, Wal-Mart only scores a C- value grade. The stock's performance grade was a little better at C+, and the safety grade is a very good B+. My roster (portfolio) only has room for about 25 players (stocks) on it. I want to own the very best 25 that I can find. Wal-Mart currently comes in at a very mediocre ranking of 1,045 out of 2,700 stocks.
Much will be made about Wal-Mart's earnings report. Many analysts will weigh in on Wal-Mart's prospects for the coming holiday season. I benched Wal-Mart a long, long time ago, and I don't see it returning to my lineup any time soon. What would I buy instead? Check out some of my recent articles. There are plenty of all-stars to have in your starting lineup right now.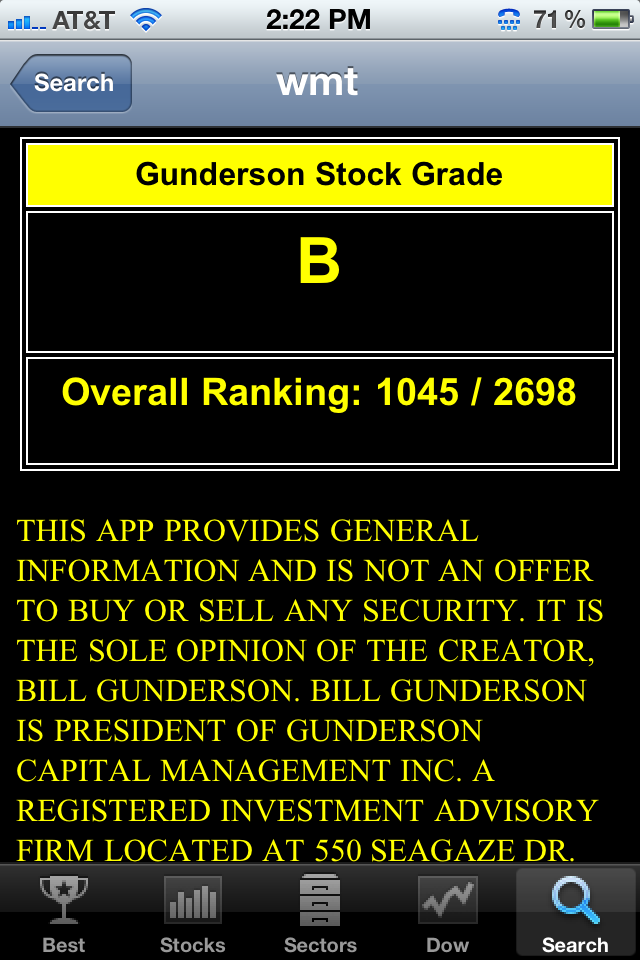 Disclosure: I have no positions in any stocks mentioned, and no plans to initiate any positions within the next 72 hours.