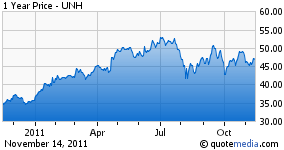 Over the last 12 months, healthcare providers UnitedHealth Group (NYSE:UNH) and Aetna (NYSE:AET) have significantly appreciated in value. UnitedHealth is up 27.9% while Aetna is up 38.5%.
This comes at a time when there are macro headwinds from the healthcare reform law and forecasts of rising costs. I nevertheless believe that both represent value plays, as they are attractively priced given the strong fundamentals. Accordingly, analysts currently rate shares of both companies a "strong buy."
From a multiples perspective, Aetna is the cheaper of the two. It trades at a respective 8.8x and 8.3x past and forward earnings. UnitedHealth Group trades at a respective 10.5x and 9.9x earnings. In addition, Aetna also offers a slightly higher dividend yield of 1.45%. This nevertheless comes with increased risk due to greater volatility (beta of 1.24 versus 0.9).
Perhaps one of the most overlooked assets of UnitedHealth Group is its cash holdings. Net cash of $4.5B stands at an impressive 8.9% of market value, providing an ideal amount of liquidity for acquisitions, increases to scale and successful navigation of a challenging macro period.
On the third quarter earnings call, UnitedHealth Group's CEO, Stephen Hemsley, noted strong performance, but remained cautious on the near-future outlook.
"UnitedHealth Group earned $1.17 per share in the third quarter. Our results show consistent growth and continued strong, broad-based execution across the enterprise. People are purchasing more of our offerings, and we are doing a strong job delivering ever-improving value and service to them. Deeper and more diverse relationships across many aspects of healthcare, consistent fundamental execution, practical innovation and our diversified offerings are increasingly important to driving top line growth.

The pace of change in healthcare is accelerating, and people are looking for strong partners who can deliver comprehensive solutions to the challenges they face. Our consistent and strong third quarter financial performance was driven by organic growth, careful cost management and continued moderate trends in the level of care utilization, along with the benefits of our broader diversification of offerings to the market."
The top-line grew by 7% and operating margins were strong at 8.2%. Margins, as a whole, however, are likely on the decline due to slightly higher utilization trends and rebate obligations. Going forward, these factors will raise costs at a pressing time when the firm has signaled decreased pricing and exposure to Medicare Advantage. Even still, UnitedHealth Group is a market leader that is well diversified and thus has tremendous flexibility over costs. In addition, the firm is shifting over to higher growth segments that will provide a foundation for long-term value creation. Projections for ROIC over the next three years have been low, but I forecast only a modest decline of around 100 basis points given the strong brand and shift to less regulated services.
As for catalysts, Optum and acquisitions provide opportunities to fuel ROIC expansion. The firm will benefit from new clinical offerings in Optum that will help offset many of the risks inherent in reform implementation. During the third quarter alone, Optum experienced double-digit growth.
Consensus estimates for EPS are that it will increase by 7.1% to $4.51 in 2011 and then by 5.5% and 13.4% in the following two years. Of the 19 revisions to EPS, all have gone up. Assuming a modest multiple of 12x and a conservative 2012 EPS of $4.65, the rough intrinsic value of the stock is $55.80. This margin of safety for a strong brand, in my view, more than justifies the risk.
Disclosure: I have no positions in any stocks mentioned, and no plans to initiate any positions within the next 72 hours.