Description of Business
Pandora (NYSE:P) is currently the leader of internet radio with over 50% of the top 20 internet radio listening time. It differentiates itself from other radio stations by using a proprietary playlist algorithm developed from its Music Genome Project. This enables Pandora to develop a playlist that is customized for each individual user.
According to Abitron Marketing, more than 93% of American consumers aged 12 years and older listen to the radio at least once a week (~242 million people). As of 2011, the Pandora service library includes over 900,000 songs and 80,000 artists. There are currently over 90 million registered users and an average of one new user every second; Over 3.8 trillion hours listened in 2010 and an estimated 7.6 trillion hours in 2011. The Pandora App is the #1 all-time downloaded free iPad app, #2 all-time downloaded free iPhone, #2 for most popular Android App (#1 was Facebook in both cases).
Music Genome Project
The Music Genome Project is an initiative by Pandora that breaks a song down into 450 attributes such as melody or rhythm. The characteristics are defined by a specialist. As users identify songs that they like and dislike, the proprietary algorithm utilizes the song attributes to identify other songs the user may like and creates a playlist. Users are able to provide feedback on the quality of the recommendation to help refine the process and improve its accuracy. The project started in 2000 and currently has over 900,000 songs analyzed and over 10 billion user feedback data points.
Business Model
Pandora currently offers 3 online music streaming services:
1. Free online ad-supported (three – four 15 second ads per hour)
2. Ad-free subscription – Pandora One ($36/year)
3. Ad-free business license ($25/month)
Over 5 main distribution channels:
1. Desktop/Laptop: Users access the service via the Pandora.com website or the Pandora One application. Usage example: An office employee can stream music during work.
2. Mobile: Pandora app is one of the most downloaded app across all platforms (iPhone, iPad, Droid, and Blackberry). This channel currently accounts for 70% of Pandora's listened hours. Usage example: A commuter listens to music through his/her smartphone.
3. Automobiles: The Pandora service is a feature offered in some cars. Current partnerships include BMW (ETR:BMW), GM (NYSE:GM), Mini, Hyundai (SEO:005380), Ford (NYSE:F), and Toyota (NYSE:TM). BMW awarded Pandora in Nov 2011 with the Supplier Innovation award. Toyota announced on Nov 10, 2011 that the Prius V will have Pandora integrated. Currently only a few available cars offer the Pandora system so the bottom line impacts are not realized yet.
4. Consumer electronics: Some set top boxes and other home media players offer the Pandora service as feature. In Nov 2011, Roku signed up as a new partner to offer Pandora in its media player systems. Amazon (NASDAQ:AMZN) also announced on Nov 9, 2011 that Pandora will be featured in its new Kindle Fire reader. Usage example: Using a set-top box, one can stream music through the home theater system when cleaning the house.
5. Small business: Pandora announced on Nov 4, 2011 that it is offering a service line for business owners to stream music for their businesses. This is directly competed against a similar service offered by Sirius XM Radio (NASDAQ:SIRI), but $10 (or 28.5%) cheaper per month. Usage example: A coffee house can streams relaxing music for its patrons.

Distribution channels 3-5 are relatively new and provide a large growth opportunity for Pandora to expand its business. These are new segments that Pandora is starting to break into now, so their value isn't reflected in the bottom line yet. This leads me to believe that the growth rate and value of the company may be underestimated.
Thesis
Margins are improving
The royalty rates with SoundExchange are locked in until 2015, but they were favorably renegotiated specifically for Pandora and do not take effect until 2011. This would drive down the cost significantly compared to historic costs. The original negotiated rate was $0.0019 per song in 2011. The new rate is $0.00102 for non-subscription users and $0.0017 for subscription users. Since the majority of Pandora's users are non-subscription, this could effectively reduce the cost by almost half.
There is also an opportunity to increase revenue per ad due to Pandora's ability to target specific audiences and track ad effectiveness. This would justify a premium pricing for its advertisement space. I believe the current rates are underpriced since mobile advertising is still gaining traction. There is an opportunity for Pandora to utilize more local specific ads as the user base grows.
"Competitive" landscape is not very competitive
The market view right now is that pick-to-play services (iTunes, Rhapsody, Spotify,etc) are direct competitors to Pandora, a radio. I believe that the two types of services are more like compliments. Pick-to-play services allow users to play their favorite music, but they don't use that service to discover new music. Consumers typically rely on traditional broadcast radio or word of mouth to discover new songs or artists. Pandora fills a niche that pick-to-play can't fill. All of these services compete for user listening time, but they can co-exist (e.g. FM radio and music store).
Direct competitors to Pandora would be broadcast radio such as CBS radio (NYSE:CBS) and Sirius XM Radio. I believe that Pandora possesses a competitive advantage compared to both. It offers a better user experience since the playlist is tailored specifically for the user's taste and costs less. It pushes fewer ads compared to traditional broadcast radio. It is cheaper than Sirius XM as an ad-free subscription service. Pandora is also available through more distribution channels compared to either one.
Value grows with additional users
A commonly cited issue with Pandora's business model is its inability to become more profitable through scale. As the service is used more, the cost (specifically the royalty cost) increases proportionally. Compared to other tech firms, like Facebook, with low incremental cost per new user...Pandora will sound like a bad business model. That is why this company isn't a $100bn company, but it doesn't mean that it is a bad or unsustainable business. It still serves a need, can be done profitably, and is best in its class.
Value to advertisers
The ability to identify the user in much more detail compared to other mediums (such as traditional broadcast radio) enables the advertisers to better target their ads and track its effectiveness. A greater amount of users translates to a larger pool of the target demographic.
Value to consumers
Additional data points allow Pandora to develop a better recommendation algorithm. The company's high user engagement allows continuously improve its interface and system. Multiple distribution channels (mobile, auto, desktops, etc) will ensure consistent service and ability to act as an all-in-shop for a consumer's radio needs.
Value to record labels
The recommendation algorithm allows Pandora to suggest artists that the user may not have heard of. This would be especially beneficial to record labels trying to build up exposure for new artists. The royalty generated from the additional usage of existing songs would be a new source of revenue for the label.
Valuation
Target Price
Given that it is a growth company and it is currently unprofitable, I've decided to use a Price/Sales (P/S) ratio to do my valuation. The trailing twelve month (TTM) revenue is ~$230M and the market cap is $2,220M (as of 11/12/2011) so it trades at 9.6x P/S. The established comps would be CBS Radio and Sirius XM Radio. They both trade around 2-3x TTM P/S. Given the expected 150%+ growth in revenue in the new few years, I think this premium valuation is justified. My model below forecasts revenue to be $413 by Dec 2012. Using a P/S ratio of 7.5x, the stock should be valued at ~$20 by the end of 2012.
Catalyst
I think the company will beat street estimate in the coming quarters once the royalty rates and new revenue sources are captured on the financial statements. The catalyst would be a quarterly earnings report that beats market expectation. Right now the street believes that Pandora will be unprofitable until 2014, but I believe that it would reach breakeven or profit sooner than that, possibly even mid-late 2012. Once investors realize that margins are improving and the distribution channels are paying off, I expect the price to be more aligned with the company's true value.
Risks
Royalty rates
The currently royalty contract with SoundExchange expires in 2015. The new rate negotiation will take place in 2014. There is a risk that the new costs could cause the business to become unprofitable. I think this is unlikely since Pandora was not at the previous negotiations, but Pandora was still able to lobby for a special rate that is about half of the contract cost. I believe that SoundExchange will set a price that will be similar to the prices we see today. I don't think that it is in SoundExchange's interest in bankrupting a partner that is bringing in over $100M in annual royalty revenue.
There is also a risk that Pandora is unable to control its royalty cost as a % of its revenue. It has historically hovered around 50%, but it recently spiked to 57% in 1Q 2011. There isn't any guidance from management on why the cost spiked, but I believe that it is a one-time event since it has historically been lower, but it is worth keeping an eye on.
Price per ad doesn't increase
I believe the cost to advertisers for ads will increase as the user base continues to grow and it becomes more appealing to advertisers. It should command a premium from the reasons given in a previous section, but if it does not, it may put a squeeze on profit margins.
Competition gains market share
There are other services trying to compete on the internet radio front such as iheartradio and last.fm. They lack the sophistication and usefulness of the Pandora recommendation algorithm, so I believe that while they will take some marketshare, Pandora will still continue as the industry leader.
Current Institutional Investors
Crosslink Capital 35M shares (21.7%)
Walden Venture 28.5M shares (17.6%)
Grelock Venture 18.3M shares (11.4%)
King Street Capital 5.5M shares (3.4%)
Fidelity 2.8M shares (1.8%)
Short Squeeze Target
There are currently 50M floating shares with an 8.7M (17%) floating interest. With ~10 days to cover, this makes this a short squeeze candidate if a catalyst hits.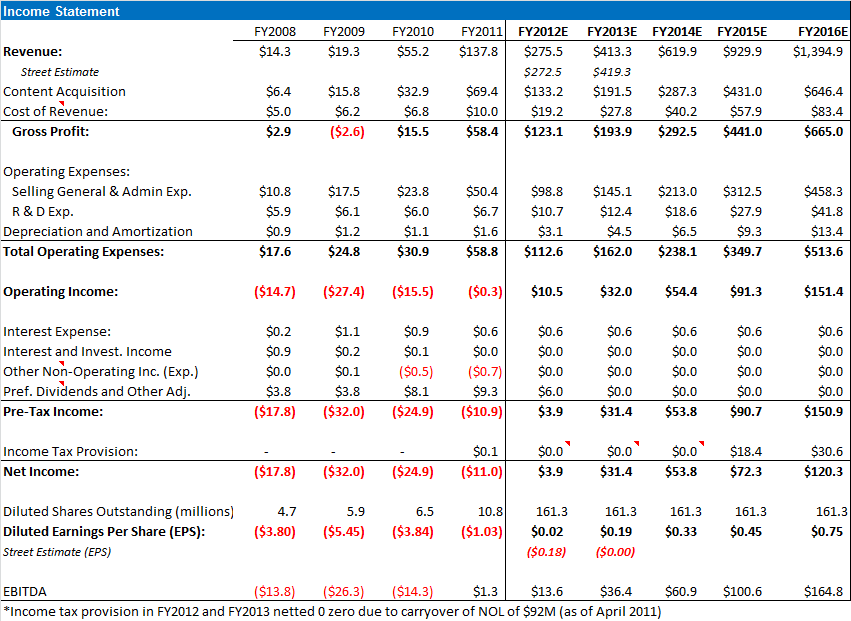 Disclosure: I have no positions in any stocks mentioned, but may initiate a long position in P over the next 72 hours.