We can count on one hand - with fingers left over - how many investors anticipated plummeting commodity prices - oil, iron ore, steel, you name it. The result being a lot of blown up institutional portfolios in 2014 but also an expectation that prices would "bounce back." That isn't happening.
The rising U.S. dollar has translated into a 2-4% incremental translation headwind that's largely not yet in Street models. In addition, here is what our industrial companies are dealing with.
Energy prices will remain weak
We continue to caution clients that energy sector capital spending cuts will be worse than consensus (down 25%). The conventional "wisdom" is that midstream and downstream activity should remain robust.
We question that judgment. Basic logic:
Every industry is revenue - expense.
Energy sector revenue is production X price.
Energy (NYSEARCA:OIL) price is down > 50%.
Therefore, operating cash flow should fall > 50% before activity cuts.
We also note the following:
Saudi Arabia will keep pumping > 10 million barrels per day.
Iranian production could become free of sanctions.
Shell $70 billion purchase of BG Group - justified with $2.5 billion in cost reductions!
Saudi Arabia is combating geopolitical enemies and competitors (Iran, Russia) as well as high cost business competitors (U.S. shale). Expect the spigot to remain on and prices low.
China game change slaughters mining
The old wisdom was "new China leadership, take reins, spend crazily on infrastructure and then commodity prices shoot skyward." Nothing of the sort is going to happen.
Cyclical change: Xi Jinping - now referred to as "Big Uncle Xi" - continues to drive a clamp down on corruption (good) and political rivals (bad). When kingpins are taken out the lower decks tremble or at least tread water.
Structural change: Western capacity expansion in China is long past. The focus is now on consumption-driven growth and economic efficiency. The outlook for consumer-driven demand is bright - infrastructure, construction, automotive, healthcare - and enabling automation. But don't expect China to come back for huge commodity binges.
Which leads to charts that look like this…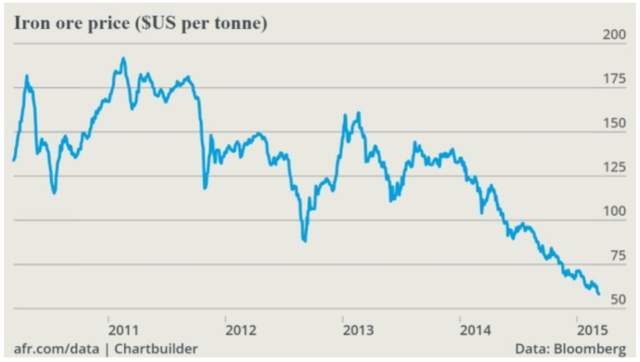 And makes currencies like the Australian dollar (below) or the Brazilian Real act like this….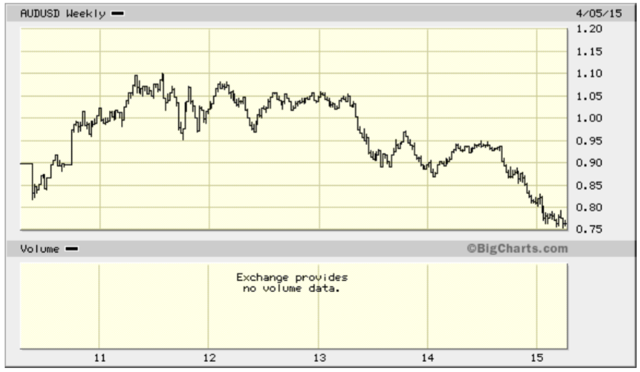 Then citizens of countries dependent upon oil and/or iron ore exports to thrive start to notice corruption, their disappointments in the economy and protest like this…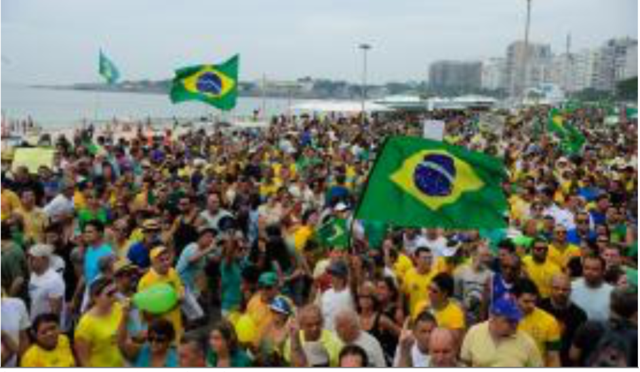 Source: Agencia Brasil March 15, 2015
And then you scratch your head and wonder "well, what is bad for them might be good for somebody else…."
Which is in fact the case.
The "no brainer" trades of 2014
Institutional investors piled into three major trades the past few years with nary a bearish thought until oil cracked in mid 2014:
1. Energy
2. Commercial aerospace
3. Non-residential and residential construction
The energy sure thing thesis has become the "it comes back sooner or later " thesis and strikes us as wishful thinking. News flow - lower rig counts, capex cuts, consolidation - is arguably in our favor.
Commercial aviation benefits from lower fuel prices when they are not a sign of a slower economy. Additionally, flight hour growth and strong airline profits support continued fleet upgrades and expansion.
Non-residential and residential remains a positive theme - but now with upsides.
U.S. construction - a two-minute primer
Non-residential activity represents about 75-80% of building activity with residential another 20-25%. The timing and impact of a construction cycle is complex but the most cited leading indicator is the Architectural Billings Index, or "ABI." Note this is a U.S. only index. Here's a ridiculously simplified framework for what happens and in what order:
1. Design
2. Specify
3. Move dirt
4. Pour cement
5. Erect the structure
6. Plumbing, piping
7. Electrical
Shown below are the ABI sub-indexes for Commercial/Industrial, Institutional and Residential. Remember, residential is much smaller, and headlines of big percentage swings off depressed activity can be misleading.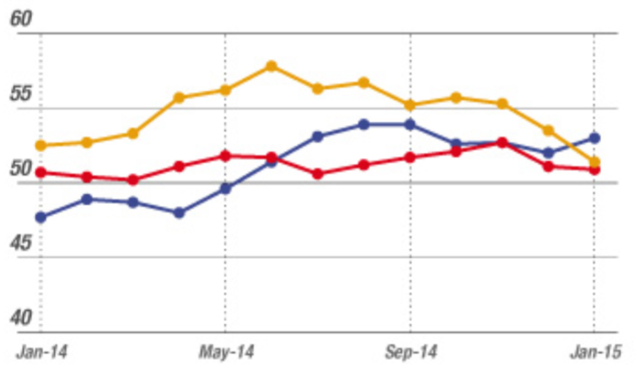 Commercial/Industrial activity has been talked about, and heavily invested in, over the past 4-5 years. The only thing that hasn't happened is a big upswing, given plenty of excess capacity. The typical recovery: a) landlords get through downturn of lower rents, constrained cash flow, and sometimes distressed situations, then b) refurbish what they have and only then do they c) start to think about building. Right now we are between "b" and "c" - but that is a big gap.
Institutional markets, including schools, government, healthcare and related have dealt with budget/funding pressures but also have trended modestly upward.
Residential markets continue to improve, at a more modest rate, now that recovering home prices are now making new home purchases a bit tougher.
Every coin has two sides
United Rentals (NYSE:URI) remains optimistic on North American construction activity and is well positioned to opine. While Gulf Coast and fracking regions may see some headwind in their regional economy we see significant upside from lower costs.
In many ways construction and shipbuilding are quite similar. A ship is made up of a) steel, b) labor and c) the stuff you put in. Material costs are a huge swing factor.
In construction the total material costs will approach 60% of total building cost. Prior to the commodity boom that started in 2003, the steel/iron ore portion approximated 10-15% as iron ore (required for steel) was stable in the $30 ton area. With the 2003-2004 take off in commodity prices iron ore peaked near $200/ton and material costs approached 30-35% of total project cost. The Great Recession cured the cost issue with lower demand, falling rents and lack of credit availability.
Now the question is demand - how much, which market segments and how quickly? We argue that a) U.S.-based demand is solid, incremental demand is greatest for select institutional markets but also C&I, and that falling commodity prices can allow the customer (government) to move forward if not accelerate their construction plans.
Place those coins here:
Here are three companies with significant exposure to North American (and global) non-residential construction activity:
Eaton Corporation (NYSE:ETN): Strong global electrical products, systems and services franchise with a machinery kicker (currently a modest headwind from mining and ag).
United Technologies (NYSE:UTX): 45% construction related, particularly their Otis Elevator and Carrier air conditioning units. Remaining 55% is primarily aerospace.
Oshkosh Corporation (NYSE:OSK): Company boasts a solid, growing Access Equipment segment, cement mixers and refuse collection as the low-margin Defense business shrinks.
What about Caterpillar (NYSE:CAT)? We think the stock is cheap here (at $80) and with very low expectations. At the same time headwinds from oil and gas, mining and probably rail make the shares untimely. Can make sense for the patient.

Disclosure: The author has no positions in any stocks mentioned, and no plans to initiate any positions within the next 72 hours.
The author wrote this article themselves, and it expresses their own opinions. The author is not receiving compensation for it (other than from Seeking Alpha). The author has no business relationship with any company whose stock is mentioned in this article.