Last week, I wrote that J.C. Penney (NYSE:JCP) was a disaster waiting to happen. I argued that J.C. Penney has been hit with declining sales and profits, yet is valued at a very generous P/E ratio over 20. On Monday morning, J.C. Penney announced Q3 adjusted EPS of 11 cents, which met the company's lowered October guidance range of 10-15 cents. On the other hand, one time charges were much higher than expected, leading to a GAAP loss of 67 cents per share.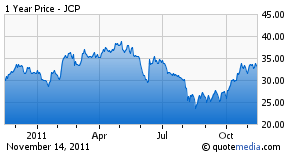 The one thing that J.C. Penney seems to be doing well is managing SG&A (selling, general, and administrative) expenses. SG&A was down by 50 basis points to 31.2% of sales. The biggest one time charge this quarter was due to a voluntary early retirement program for employees 55 and older with at least 20 years of experience. Management stated on the earnings conference call that this initiative will lower SG&A expenses by about $50 million next year and even more in future years. All in all, I think this program will be a good thing for the company. There is a risk, though, that J.C. Penney's cost-cutting campaign is leading to under-spending on marketing and customer service initiatives.
On the other hand, when it comes to selling merchandise profitably, J.C. Penney is clearly having trouble. As reported earlier this month, same store sales decreased 1.6% in Q3, while total sales fell by 4.8%. These are disturbing trends when competitors Kohl's (NYSE:KSS), Macy's (NYSE:M), and Dillard's (NYSE:DDS) all reported significant sales gains for the quarter. Monday we learned that gross margin dropped from 39.0% in last year's Q3 to 37.4% last quarter. This indicates that J.C. Penney has largely been unable to pass higher costs along to customers.
J.C. Penney also provided a fairly dismal outlook for Q4. The company projected adjusted EPS of $1.05-$1.15: slightly below analyst estimates. Further restructuring and management transition charges will leave GAAP EPS at a rather paltry 64-74 cents in what is usually a highly profitable quarter. The company expects same store sales to be flat to slightly up in the quarter, total sales down 2-3%, and gross margin "down modestly when compared to last year". Even these numbers may be wishful thinking, though.
J.C. Penney reported inventory up 2.6% from last year. (All data comes from the earnings press release.) Given that the company projects total sales to be down from last year, it definitely appears that J.C. Penney is overstocked. If the company cannot sell this merchandise during the holiday season, they will be forced to put it on clearance in January, leading to a major gross margin hit.
Lastly, the balance sheet is showing weakness, as expected. Cash and cash equivalents are down to $1.085 billion from $1.666 billion last year. Shareholder's equity (or book value) is down to $4.555 billion from $4.941 billion last year. The company is not creating value, and continuing weakness could lead to credit downgrades and higher borrowing costs.
J.C. Penney closed at $32.98 on Monday, down nearly 3% on the day in volatile trade. There's still a lot of room for J.C. Penney to fall. If the company cannot put together comparable store gains of at least 1-2% in November and December, I don't see how they will manage to hit their earnings target. One must bear in mind that the company forecasted adjusted EPS of $2.00-$2.10 for this year in February, and this would have been boosted an additional 10% by this year's share repurchase. The current guidance now calls for only $1.51-$1.61 in adjusted EPS. The company thus does not have a good recent track record of forecasting its earnings.
If you want to be long in the mid-price department store segment, Macy's is a better bet. For now, J.C. Penney is still a short.
Disclosure: I am short JCP.