The U.S. dollar is falling as weak inflation pressures lead to a contracting Treasury yield curve, pushing funds out of the currency. The U.S. dollar is represented by PowerShares DB US Dollar Index Bullish (NYSEARCA:UUP).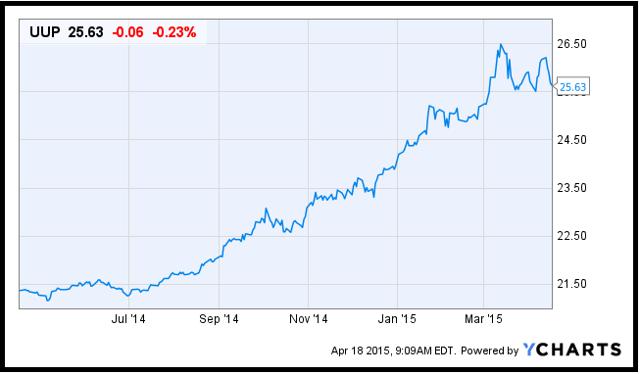 U.S. inflation measures continue to contract. In March, the inflation figure came in at an annual pace of -0.1%, down from the previous month's reading of 0.0%, while also missing estimates for 0.0%. Since peaking at nearly 4% in 2011, inflation has fallen significantly lower. Falling energy prices continue to offset other factors in the measure.
"Year-on-year, the energy index declined 18.3 percent, more than offsetting increases in the indexes for food (up 2.3 percent) and all items less food and energy (up 1.8 percent)," according to Trading Economics.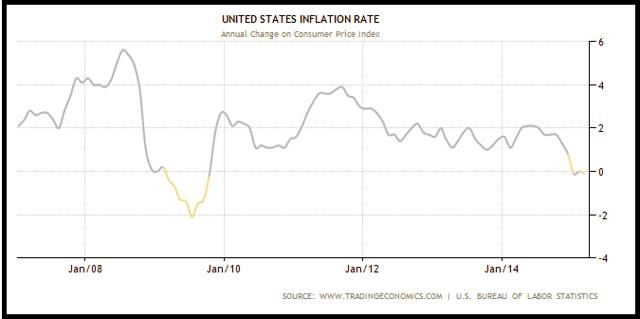 Moreover, core-inflation readings have been adversely affected by wages in recent months. In March, the wage measure came in at an annual pace of 2.18%, down from 2.34% the previous month. While wages did begin pushing higher in 2012, the indicator has since lost momentum, seen below. With wages declining, spending measures have been hurt, signaling further slack in the labor market.

Data provided by the Federal Reserve
Lastly, as inflation measure receded, the bond market began pricing in a later date for interest rate hikes. The indicator below is of iShares Barclays 7-10 Year Treasury (NYSEARCA:IEF) over iShares Barclays 20+ Year Treasury Bond (NYSEARCA:TLT), which represents the Treasury yield curve. When the indicator falls, it signals the yield curve is contracting, and thus the dollar should trend lower as well.
On Friday, the weak inflation measure led to a spike lower in the curve as investors favored long dated bonds. While the market is still uncertain over when rate hikes will occur, Friday's move signals pessimism regarding higher rates.
The U.S. dollar has been weighed down as falling inflation pushes the time frame of a Federal Reserve rate hike further into the future. Inflation measures are currently being hindered by both weak commodity prices, as well as receding wages. With the yield curve contracting, the U.S. dollar could show weakness in coming months.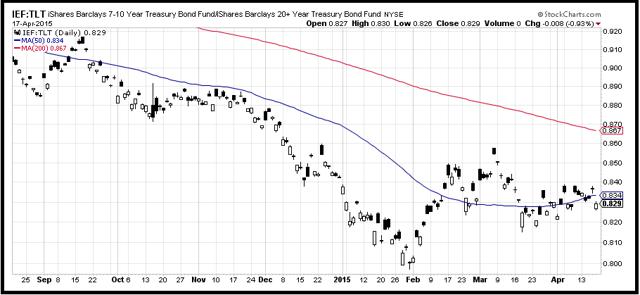 Disclosure: The author has no positions in any stocks mentioned, and no plans to initiate any positions within the next 72 hours.
The author wrote this article themselves, and it expresses their own opinions. The author is not receiving compensation for it (other than from Seeking Alpha). The author has no business relationship with any company whose stock is mentioned in this article.